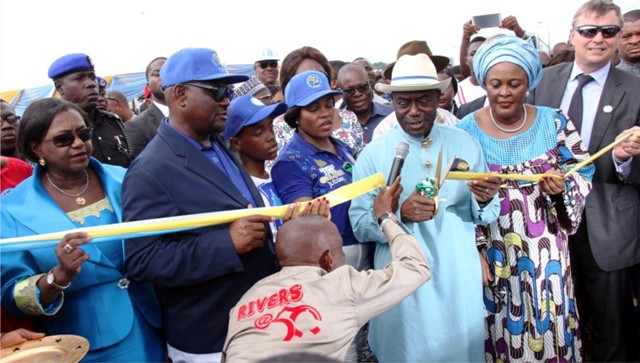 Former Rivers State Governor, Dr. Peter Odili, was full of praises, yesterday, for Chief Nyesom Wike over his visionary approach to governance and numerous projects executed in the state.
Odili, who spoke at the unveiling of the Pleasure Park, yesterday, in Port Harcourt, said those who thought Wike's governorship was not fair are having second thought, following his performance.
The ex-governor declared, "I think you are the correct person for Rivers State", adding that "I am tempted to say that you are doing better than any governor I have seen."
He, therefore, appealed to elders and political leaders in the state to give the governor support to do more.
Commenting on the park, Odili said the facility was unique in all ramifications, adding that in over 30 countries he had visited, he has not seen something close to it.
Odili further said the park was a revenue spinner, stressing that it will encourage family values and bonding.
On his part, the state Governor, Chief Nyesom Wike said the project would not have seen the light of the day but for the cooperation and support of the host communities.
He commended former Commander of the 2nd Brigade of the Nigerian Army, at Bori Camp, who suggested that the piece of land be used for park following activities in the area.
Wike urged the people to utilize the services provided by the park by ensuring that all their leisure and relaxation were done there rather than spending money travelling abroad.
Special Adviser to the Governor on Projects, Cyril Dum Witee, recalled that the park was a former den of hoodlums but now converted into first-class leisure facility.
Dum-Witee stated that the park will brand the state in the next 50 years as it was designed to provide all forms of relaxation and recreation for both children and adults, emphasising that, "this is a flagship in Africa".
He revealed that soon, a restaurant and designer shops will be added to other facilities such children play ground, climbing tour, obstacles and boat ride.