'Use Of Technocrats'll Cut Governance Cost'
A lecturer at the Rivers State University (RSU), Dele Momodu, has called for the use of technocrats in governance in order to reduce cost.
Momodu, who is a Professor of Economics stated in a radio programme recently, that the appointment of Ministers should be done through the civil service in contrast to political appointment., adding that such a move would reduce the rate of contention between labour and governments,.
"If I am the President of this country, no political appointment and if I want a minister of Agriculture, I will go to the Ministry of Agriculture, because there are experts, doctors, professors and professionals there", he said.
He added that such appointments would only attract allowances in order to forestall a situation where a Minister earns 10 times more than the salary of a Permanent Secretary.
Momodu also said that the government called do more in curtailing the wasted resources if Nigeria hope to come out of recession.
"Do we have a guarantee that the 2017 budget will take us out of recession, no, I do not know how it will do it", he said.
According to him, what created the recession in the first instance are still there.
He called for a journey back into history, adding that the wastages that characterised expenses that are not needed are still in place.
Edo, BoI Unveil Fund For 50,000 Entrepreneurs
The Edo State Government and the Bank of Industry (BoI), have unveiled a Micro, Small and Medium Enterprise (MSME) development fund worth N2 billion to support entrepreneurs in the state.
The fund was launched during a citizens' engagement session organised by the Edo State Skills Development Agency, also known as Edo Jobs, held at the Government House in Benin City.
Speaking at the event, Governor Godwin Obaseki said, "The Bank of Industry (BoI), which is a reliable partner, is here today to launch the MSME fund. The initial amount is N2 billion. Edo State Government provided N1 billion, while BoI provided the other N1 billion, making it N2 billion, with an attractive interest rate."
"In addition, we have a N165 million fund, as part of the first tranche from the Edo State Government. It will be made available to small businesses, which are currently domiciled in our production hub, to support and encourage them to grow their businesses.
"BoI has the capacity and resources to support this kind of programme. From this N2 billion fund, we estimate that we can impact as many as 50,000 businesses in Edo State. We have other facilities with other institutions like the Central Bank of Nigeria (CBN). This is a start-up fund, as we expect it to continue to grow: If you start with N50,000, now and when you do well tomorrow in your business, you will need N200,000.
Borrowing is part of business, provided you continue to grow," the governor stated.
The Governor assured that despite the Covid-19 pandemic, his administration remained committed to improving the livelihoods of the people and creating opportunities for the youths to thrive.
He stated: "We have continued to create opportunities for Edo youths as our administration is open, transparent and competent in all we do. We urge Edo people to trust us, as all the opportunities that we present are real, and life-transforming for Edo people."
On his part, Managing Director/Chief Executive Officer, BoI, Mr. Olukayode Pitan, said that "in a quest to grow and develop MSME businesses in the country, the bank has resolved to continue to collaborate with existing enterprises, as well as reputable local and international partners.
"This MSME fund is aimed at providing business loans to enterprises located within the state, while the second fund is the N165 million Edo Production Hub Fund, financed by the Edo State Government. The Edo Production Hub Fund is managed by the BOI and is to support businesses located within the state-owned production hub."
Later, the governor and his team, as well as his guests were also taken on a guided tour of the Edo Production Hub. They also commissioned the new Bank of Industry building in Benin City.
PHED Loses 215 Transformers To Vandals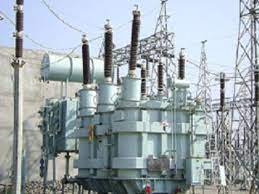 The Port Harcourt Electricity Distribution Company has raised the alarm that over 215 of its electricity transformers have been vandalized in the last few weeks in Akwa Ibom, Rivers, Bayelsa and Cross River States.
To this end, the Disco has appealed to members of the public to desist from the despicable act of tampering with its network, fittings, meters, wires and especially carting away of power transformers.
The Managing Director of PHED, Dr. Henry Ajagbawa, lamented that despite the huge investment in infrastructures gulping millions to overhaul ageing assets for efficient service delivery, all effort were being stifled by the horrendous action of these vandals.
Ajagbawa regretted that despite numerous campaigns on vandalism and its associate dangers, including electrocution and untimely death, faceless individuals were still having a field day in their chosen career path of vandalism.
He warned that PHED will not relent in tackling any further case of suspected and purposeful act of vandalism hence, the company will invoke every extant laws against vandals, as vandalism of electricity assets remains a jailable crime under the Miscellaneous Offence Act, Laws of the Federation.
"In recent weeks, the company has recorded more cases of vandalism of its assets than it has ever experienced from inception in 2013, as over 215 power transformers in our franchise area have been vandalized with no end in sight.
"A grave concern for PHED is that the replacement of those vandalized power assets costing millions of naira, is capital intensive and also has the propensity to keep other responsible customers in unforeseen darkness which is a disservice.
"Assuming that the vandals are not interested or choose to ignore the gravity of their actions as law breakers, the willfull destruction and theft of critical power assets is a jail-able offence under the laws guiding public utilities.
"The general public is therefore informed that PHED is more than prepared to tackle any further case of suspected and purposeful act of vandalism hence, the vandals should be warming up for a real battle for their freedom as PHED will invoke extant laws below against the vandals."
The PHED boss further stated that the habitual act of vandalism poses a highs risk of instigating societal crimes in such a period where the citizenry are experiencing relative peace in the State.
He assured all PHED customers that the company will continue to fulfill its promise of delivering reliable and safe power supply in all its area of coverage.
"Unrepentant vandals heading to their next destination to unleash their plot should note that vandalism is not only wrong but also absurd as the Miscellaneous Offences Act contains provisions dealing with tampering with electrical equipment.
"Clearly, Section 1(9) of the Act provides that 'any person who unlawfully disconnects, removes, damages, tampers, meddles with or in any way whatsoever interferes with any plant, works, cables, wire or assembly of wires designed or used for transforming or converting electricity shall be guilty of an offence and liable on conviction to be sentenced to imprisonment for life.
PH Escapes Petrol Tanker Fire Disaster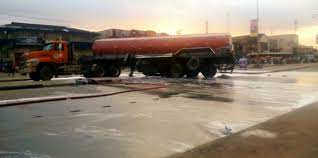 Residents of the Diobu axis of Port Harcourt, the Rivers State capital are counting themselves lucky for escaping what would have been a tragedy in the metropolis , last Friday, following the falling over of a petroleum tanker laden with 33,000 litres of product at Education Bus-stop, Mile One Diobu, Ikwerre Road.
The Tide gathered that the truck had lost its balance in an attempt to make a U-turn on the road, thereby falling over on its side onto both sides of the dual carriage road and spilling its content on the road.
This led to a commotion on the road as commuters and residents scampered to scoop the spilled product from the ground, while motorists hurried away as traders in the area were also seen gathering their wares to vacate the area to avoid explosion and fire incident.
An eye witnesses who simply gave his name as Nnamdi noted that it took the urgent intervention of operatives of the Federal Road Safety Commission (FRSC) State Fire Service and the Mile One police station to bring the situation under control.
According to Nnamdi, "the truck driver was trying to make a U-turn before the driver lost control of the gear".
A visit to the site of the incident showed groups of people discussing the incident which occurred between 4:30 and 5:00pm,and thanking God for the quick intervention of the emergency safety operatives who helped to avert what would have been a disaster in the state.
By: Tonye Nria-Dappa