Group Blasts Dickson Over Comments Against Jonathan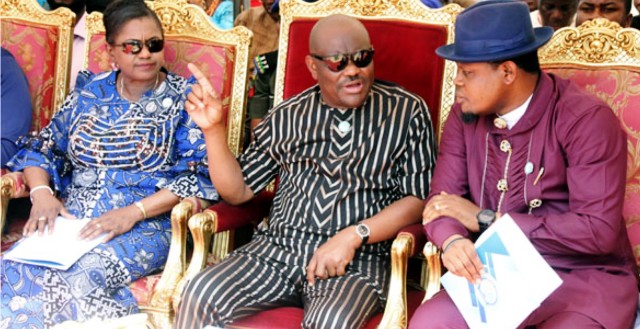 For claiming that the Dr Goodluck Jonathan-led administration did nothing for the Ijaw, a Niger Delta rights group, the Movement for the Sustainability of Ijaw People (MSIP), has described Bayelsa State Governor, Hon Seriake Dickson, as a stone-hearted traitor who is scheming to take the place of the former president as the foremost Ijaw leader.
Dickson seemed to have stirred the hornets' nest by describing the administration of former President,. Goodluck Jonathan, as wasted years for the Ijaw nation.
Reacting to the development, in a press statement issued, yesterday, National Leader of the Movement for the Sustainability of Ijaw People, Mr. Tonbra Ebitimi, described Dickson as an overtly too ambitious "lesser star" who disparages the former president, while pretending to love him.
The statement said: "We believe that only a stone-hearted traitor would move against a man who regularly comes to his rescue in times of danger."
The group further compared Dickson to Brutus, a villain who dealt Caesar the heaviest blow from his hidden hand while pretending to be a friend.
The statement reads in part, "our attention has been drawn to a trending news story in which Bayelsa State Governor, Seriake Dickson, was said to have rubbished the administration of former President,Goodluck Jonathan. While speaking at the Ijaw House in Yenagoa, on Tuesday, at this year's Adaka Boroh memorial, Dickson had described the six years that Goodluck Jonathan spent as Nigeria's president, as 'wasted opportunity for the Ijaw'.
"Initially, we did not believe that such toxic arrow could be shot from the bow of a political godson in the direction of his highly revered mentor and fellow kinsman. But having waited for about two days for Dickson's clarification or rebuttal to no avail, we have no choice but conclude that the attack was a carefully orchestrated denunciation trained to achieve a desired end.
"We suspect that the aim was to rubbish the achievements of the Jonathan administration, pull down its vestiges, and damage the former president's persona as a prominent Ijaw leader, in order to pave the way for the ascendancy of a lesser star, who is evidently too ambitious to take his place. Well, it is obvious that this experiment has failed woefully.
"All that Dickson needs to do to see that he has shot himself on the leg is to go online and read the acerbic comments from angry Nigerians against him and his sanctimonious diatribe.
"We will not say much here because that would amount to publicly disparaging one of our sons in defence of another.
"But Dickson should realize that this was one statement he shouldn't have made, no matter the weight of the disdain and grudge he nurses against the former president and his immediate family.
"It is instructive that Dickson is not only Jonathan's godson but the governor of his state! Ordinarily, he should be the one to rise to Jonathan's defence in all circumstances, even when others are criticizing him. Unfortunately, the reverse is the case. Like Brutus, his knife is the first to go in.
"But does Dickson really have any good case against Jonathan? We don't think so because we are all witnesses to the successes recorded by the Jonathan administration towards not only advancing the cause of the Ijaw, but also working assiduously to make life better across the country.
"We are also aware of how much the former president boosted Dickson's political career by supporting his gubernatorial ambition while still president. Even out of power Jonathan gave his all to team up with Dickson against a very formidable opponent; an unconditional support that helped him win a second term.
"We believe that only a stone-hearted traitor would move against a man who regularly comes to his rescue in times of danger.
"While other governors, and even President Muhammadu Buhari's ministers, are positively appraising the achievements of the former President, Dickson is lurking behind him pretending to be his brother, but with his invisible dagger drawn.
"We will not condemn Dickson. But we won't hesitate to let him realize that the unkindest cut, the ultimate treachery is usually not from the enemy. It is the blow thrown from the hidden hand of the one pretending to be a friend. We can only warn him that Karma rewards every man according to his deeds," the group added.
PH Law School Campus'll Be Best, Chiroma Confirms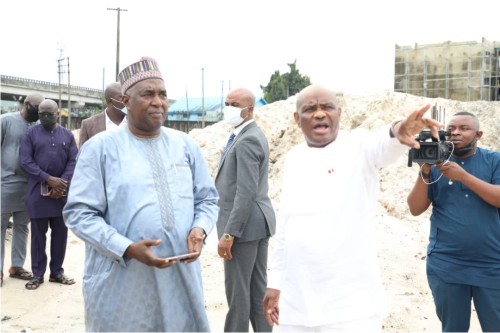 Director General, Nigerian Law School, Prof Isa Hayatu Chiroma, has expressed optimism that the new Port Harcourt campus of the institution would be the best in the country.
Chiroma made the assertion when he paid a working visit to inspect ongoing civil construction work at the Nabo Bekinbo Graham-Douglas Campus of the Nigerian Law School in Port Harcourt, yesterday.
The director general was accompanied the Rivers State Governor, Chief Nyesom Wike, to assess progress of work at both the Nabo Graham Douglas Campus, Rumueme and staff quarters at New Government Residential Area, Port Harcourt.
He expressed gratitude to the state government for the intervention to build and deliver the Port Harcourt campus in order to help address the challenge of inadequate lecture and accommodation space for the ever-increasing number of students seeking to acquire vocational legal training at the current campuses of the Nigerian Law School in the country.
"The last time we were here was when the ground-breaking ceremony took place, and today, there is massive construction going on, and there is progress. I want to thank the governor and the good people of Rivers State for this progress."
Chiroma, who observed that the teeming rainy season in Rivers State has slowed down the pace of work, noted that the amazing aspect of the project is that the quality of materials used for the raft foundation at the Nabo Bekinbo Graham-Douglas campus is world class.
"The kind of materials used with what we have seen on ground, it is unimaginable, it is excellent. I can assure you that the problem we will be having is about our students, who will prefer to be posted to this place with what I have seen.
"That is the battle we are going to be faced with. But, I can assure you that all our Law School Campus are the same, but with the development going on here, it is going to be a problem for us to decide who comes to Port Harcourt. From what I have seen it is going to be the best."
Facilities under construction at the Port Harcourt campus will comprise 14 structures, including 1,500-capacity classroom blocks, hostel blocks, students' multipurpose hall, 16 units' 3-bedroom flat staff quarters with swimming pool, gymnasium and lawn tennis court.
Other facilities are, library, moot court/law clinic building, sick bay, administrative block, cafeteria and sporting facilities for students.
Nigeria, Suffering From Leadership Failure, Wike Affirms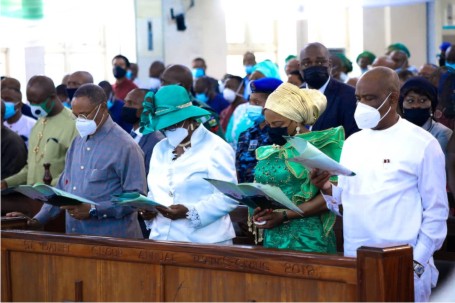 Rivers State Governor, Chief Nyesom Wike, has said that it was regrettable that 61 years after Independence, Nigeria was still grappling with leadership challenge.
The governor pointed out that because of such leadership failure, Nigeria was now at a point in its history needing God more than ever.
Wike made the assertion at the Interdenominational Church Service organised in commemoration of the 61st Independence Anniversary of Nigeria at the St. Paul's Anglican Church in Port Harcourt, yesterday.
The governor stated that there was hardly anything for Nigerians to celebrate as the country marks 61st Independence anniversary because its leadership continues to entrench hatred, mediocrity, promote ethnicity and religion.
"This is the time that Nigeria needs God more. The country is gone. Insecurity everywhere! Everyone needs to say God; we need you because man's leadership has failed this country."
The governor noted that, perhaps, the only thing Nigerians can boast of celebrating was the existence of the name, Nigeria.
"At 61 years, Nigeria is full of enmity, full of divisions, hatred, and ethnicity: A country that cannot put itself together.
"Everybody has responsibility; so, ask yourself questions, have I done my own part?"
Wike also observed the sorry state of Nigeria, and said at 61, it was far removed from being a country that can compete favourably with prosperous countries of the world, given its abundant resources.
The governor bemoaned what has become of the nation's Legislature that continues to approve anything for the Presidency, and not minding the consequences.
He also decried how the nation's Judiciary has succumbed to intimidation because its judges have abandoned their responsibilities out of fear, and wondered what fate Nigerians would have under such seeming tyrannical atmosphere.
"We cannot do the right things. Other countries are talking about how their elections will be transparent; we are talking about how we will rig the election in 2023.
"Simple thing, transmit election results electronically to show transparency, that really that the person you're declaring won the election but we are afraid."
"Where is the Legislature? A Legislature that cannot think, a Legislature, anything they bring is right, a Legislature that cannot say that Nigeria has nothing to regret from conducting free and fair election.
"A Legislature that you'll close your eyes, anything they bring, about borrowing, you say borrow. A Legislature that cannot say that this money we are borrowing, where is it? Where are you applying it? You have no confidence to ask questions.
"The courts have been intimidated. The judges have abandoned their responsibilities out of fear. You're seeing something that is wrong, but because you will be summoned in the night, you abandoned your responsibility."
Wike also blamed the woes the country has suffered on all Nigerians who have refused to do the right things, but rather allowed the wrong things to be perpetrated in all facets of the society.
He noted how ascendancy to leadership was no longer by merit but by ethnic affinity and religious consideration, even when such persons do not have the capacity required to function in such offices.
Speaking further, Wike berated the church leadership over the inordinate dressing of a young man that he saw in the church, and attributed such sight to lack of enforcement of discipline in the church.
In his sermon, Bishop of the Diocese of Niger Delta North, Rt. Rev. Wisdom Ihunwo, noted that only foolish people despise God and attribute their successes in life to personal efforts and ingenuity.
Ihunwo said such foolish people abound in Nigeria because they have hearts of corruption, treat humanity with disdain and delight in doing abominable things and divert public funds for personal use.
According to Ihunwo, it was baffling that despite having leadership over the country, there was unabated spree of killings, a seemingly thriving kidnapping business with some officers of the military killed without drastic measures taken to return Nigeria to the path of sanity.
While charging the church to rise to speak courageously against wickedness in the land, Ihunwo declared the judgement of God upon the sponsors of such killings and kidnapping that have put Nigeria in a pitiable state that its people cannot celebrate independence of the country at 61 years.
Special prayers were said at the service for God's favour and grace upon Nigeria and its leaders, Rivers State Executive Council, Judiciary and the Legislature, for the governor and his family, as well as the church and its leaders.
Dreams To Achieve Peace, Dev In N'Delta Achieved, FG Boasts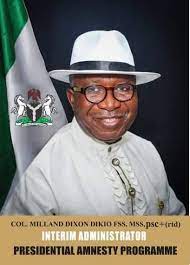 The Interim Administrator, Presidential Amnesty Programme (PAP), Col. Milland Dixon Dikio, has said that the Federal Government has achieved its dream of moving the Niger Delta from incessant protest to peace and development.
Dikio said this, last weekend, when an ex-militant, High Chief Biobopere Ajube, was conferred with a chieftaincy title in Arogbo Ijaw Ibe, Beleukoriwei (Pathfinder) by the Paramount Ruler of the kingdom, Pere Zaccheaus Doubara Ebgunu, in his palace in Arogbo, Ondo State.
According to him, the present administration has succeeded in curtailing the restiveness in the region through engagements with the ex-militants.
He assured them that government would not renege in its promises to ensure that the region and its people are developed.
Dikio called on ex-agitators to emulate the disposition of Ajube in peace and entrepreneurship.
He lauded Ajube for leading the charge for a peaceful and prosperous Niger Delta, noting that he was the face of what can happen in the region.
According to him, "with the likes of Ajube, who had undertaken the task of having 400 ex-agitators trained in his Bradama facility under the PAP's Train, Employ and Mentor (TEM) model, the dream of moving the Niger Delta from incessant protest to peace and development is achievable.
"We're here to tell this community and indeed the world what Ajube means to us. He is very special and we're excited that he bought into our vision in PAP which is tailored to change the narrative in the region.
"He took the lead of our Train, Employ and Mentor initiative and has pledged to have 400 of our people trained in his facility.
"He is the face of what can happen in the region and there is no doubt that with people like him, the Niger Delta can truly be the place to live and do business"
Ondo State Governor, Rotimi Akeredolu, who was represented by his Deputy, Hon Lucky Aiyedatiwa, described Ajube as a proud son of Ondo, who had made a tremendous impact in the lives of his people.
He said the honour was a testament of all he had been doing for his people, and urged him not to relent but extend similar gestures to other parts of the state.
"We're gathered here to celebrate a man who through self-development and engagement is where he is today. We're proud of him as a true son of Ondo State. All he thinks about is development, peace and empowerment which is a good thing".
Also speaking, former Managing Director of the Niger Delta Development Commission (NDDC), Timi Alaibe said Ajube, during the height of militancy in the Niger Delta, was grossly misunderstood by the Federal Government but as head of the Amnesty Programme, he stood firmly by his side, to explain that he meant well.
He said, "This honour is well deserved. The story and struggle of the emancipation and dealing with the issues in the Niger Delta will not be complete without the mention of High Chief Bibopere Ajube. The story is deep for some of us.
"So, I'm proud that we're gathered here to celebrate peace, excellence, leadership, strive for sustainable development, honest, and sincere man that loves his God. I know him when he had nothing. He is a man that has the interest of his people in his heart".
The Traditional Ruler of Arogbo Ijaw Ibe, Pere Zaccheaus Doubara Ebgunu, said it was not a mistake that Ajube was honoured with the highest title, noting that the kingdom has been blessed by him and decided to display that by conferring the prestigious title on him.