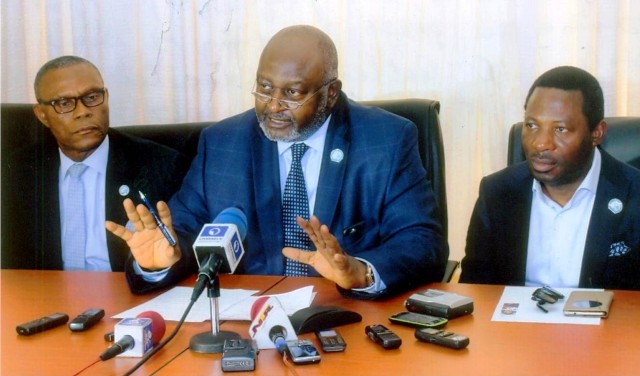 The Rivers State Government has declared, Samuel Ogosu, a notorious cultist in Eleme Local Government Area, popularly called 'Supremo', wanted.
Ogosu was declared wanted at Eleme by the Rivers State Amnesty Committee, after failing to meet the ultimatum given to him by the committee to drop his arms and embrace amnesty offer of the government.
The Chairman of the Rivers State Amnesty Committee, Ken Chinda, at the disarmament exercise in Ogale, Eleme, therefore, directed security agencies to ensure the immediate arrest of cult kingpin.
Chinda, had earlier given Ogosu a deadline of 9am on April 19, to submit his arms and ammunition, or face severe consequences.
At the event, dozens of criminals and cultists in Eleme Local Government Area embraced the fresh amnesty offered them by the state Governor, Chief Nyesom Wike.
While granting amnesty to the repentant cultists, Chinda said the government was not pleased with the number of weapons submitted.
In his speech, the Chairman, Caretaker Committee of Eleme Local Government Area, Obarillomate Ollor, promised to work with security agencies to bring to justice anyone who violates the terms and conditions of the amnesty programme.
Ollor pledged to initiate empowerment programmes to positively engage the repentant cultists.
The Tide gathered that some of the weapons submitted by the repentant cultists and criminals in Eleme Local Government Area include three AK-47 rifles, four locally-made guns, five locally-made pistols, four wraps of dynamite, and 120 rounds of 7.62mm ammunition.
However, the Amnesty Committee has suspended its programme at Gokana Local Government Area of the state, warning of dare consequences for those flouting the law.
Chinda, who is also the special adviser to Governor Nyesom Wike on amnesty, berated the action of cultists in Gokana, adding that the youth were taking the programme for granted.
He said the youth failed to submit the sophisticated weapons they used in perpetrating heinous crimes in the local government, but instead, presented unserviceable and non-functional weapons to the committee, in an apparent attempt to deceive the government.
According to him, "Look at Bomu. Look at what they brought. They brought toys, what they called guns are not working, but when you go into the streets, you will see shells of GPMG all over the place. Where is that GPMP? Where are the AK-47 rifles? Where are all the dangerous weapons you have been using to kill people and destroy properties?
"I can see you people have decided to turn this into deceit. Even the chiefs said there are no weapons. Well, let me tell you, the government has decided to suspend the amnesty programme in Gokana.
"We give you one extra week to make up your minds for this disarmament. If not, we promise you that the law will take its full course on you people," Chinda warned.
Susan Serekara-Nwikhana