Jobs on Jiji: Great Opportunities and No Scammers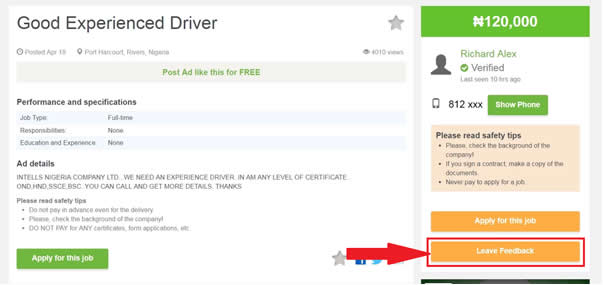 Some people still keep wondering: are Jiji jobs real? On the one hand, it is not surprising, for the wide variety of opportunities and offers often make job seekers question whether an attractive description is true or another ad among scam jobs posted by some frauds. On the other hand, it is not how Jiji works.
Jiji's customer support is available 24/7. All this time, we are communicating with our users, monitoring website activity, detecting suspicious processes, and controlling automatic mechanisms for employment scams detection.
For your safety and security (find the safety tips here https://jiji.ng/safety-tips.html) , we check user's personal data, including email, phone etc., so everybody has to pass verification process to use all benefits of the website. Also, we keep track on browsing activity, monitor users' behavior, typical patterns, proxy, access IP and location in case of need, check history, apply velocity etc.
Altogether, it helps to protect every employer and employee from job scams in Nigeria.
After we detect scammers, we put them in the general list, which is left in the open access on the website and goes to the police department, so criminals will not avoid the punishment.
Every user can join preventive actions for reducing job scams on Jiji and Nigeria in general. In case you notice scam job offers or resume scams, feel free to leave a comment about an employer or illegal actions on the website at support@jiji.ng. All your complaints are forwarded to managers and subject to verifications. In case everything is confirmed, an employer will be blocked. support@jiji.ng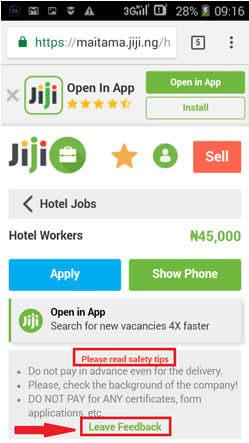 You don't have to be afraid to look for a job online. You just need to be careful and remember several simple rules.
Always double check company's background.
Look through their website before going for an interview – it will be helpful both for your conversation with an employer and inner peace.
Never submit any upfront fees for a job application.
Avoid going to remote, unfamiliar or suspicious places for an interview.
Do not disclose any personal information, like bank account number, financial data, ID photo copy etc.
Joining forces to support local entrepreneurs
Within only three months, the Aspire Small Business Fund a joint effort of GroFin and Shell Petroleum Development Company of Nigeria Limited (SPDC) to create sustainable growth in the Niger Delta Region, has helped Dezionite Interiors to position itself in as a strong brand and growing business.
Dezionite Interiors & General Services located in Port Harcourt is an interior decoration and commercial cleaning business founded by Mercy Ikeji. With only 13 employees and very little equipment, Ikeji contacted GroFin for support. Her desire to grow the business was perfectly in line with the Aspire Fund's mission to create sustainable employment, economic growth and social development.
Friday Essienenkak, Investment Executivefor GroFin in Nigeria, says "The Aspire Fund, with its anchor investor SPDC, is the perfect solution for entrepreneurs in the region struggling with obtaining finance integrated with business advice and support." The contribution of small and growing businesses to the overall economic growth of the country is much lower than that of countries with the same level of development as Nigeria. The main constraints associated with the development and growth of this sec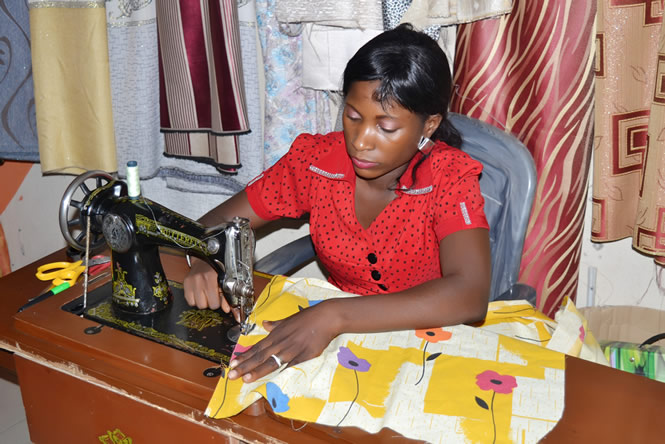 tor are electricity supply, road infrastructure, access to finance, tax administration, security, vocational education and business skill training. "With the mind-set to solve these many issues and improve on the facilities, together with SPDC, we are working to support more entrepreneurs like Ms.Ikeji," Friday added.
GroFin assisted Ikeji in the creation of her first set of financial statements from sales records from the business' three years of operation, then trained her on the running the accounting system. She is now comfortable with the financial management of Dezionite and feels confident in her ability to manage the business efficiently. However, she says she still appreciates the monthly visits from GroFin staff and their quick response time to her requests. "GroFin does not only finance you, they also help to organise the business so that it can run efficiently. We have hired more employees and Dezionite's sales have improved significantly," the proud business owner states, "The business has achieved over 100% of budgeted sales in January 2015."
With this investment, Aspire Fund has helped to actualise the dream of a female entrepreneur whilst simultaneously serving its purposes of creating jobs."I want to thank GroFin for making me a professional business woman. I can compete anywhere in the world!"concluded Ikeji.
Simple Accounting Software for Small Businesses

IFRS Compliant
Great software should work with little configuration and setup. Our Accounting Software is designed to get you up and running and fully functional within minutes.
An easy to use accounting software that helps you manage your finances, invoice customers, pay bills, payroll, tax reports, and manage inventory.
We work hard to make sure every release is in keeping with this philosophy. Have a look at some of the design principles that drive us when we design Our Accounting Software.
To place an order and for more enquirers:
Call E.commerce Systems International
+234 (0)8034780061, +234 (0)8026030456
 Email: info@eproafrica.com
Website: www.eproafrica.com
First-class Support for Every Country
We understand the frustration users experience when they discover their software doesn't work properly in their country. That's why Our Accounting Software  has been designed to adapt to any country. Our software is being translated to multiple languages. It supports local tax codes, local date formats, local currency formats, country-specific tax reports and more. Accounting principles are universal and there is no reason why universal accounting software shouldn't be suitable for all countries. We are more committed to delivering universal accounting software than any other accounting software developer in the world.
Convention over Configuration
We are developers and would love to create the most flexible software available, but flexibility comes at price. While users want flexible software, they don't want to spend hours trying to understand how to configure everything before using their software. That's why we work hard to come up with the best conventions that work for most people. That doesn't mean we will leave you out if you have custom requirements or different preferences. You can always override any convention.
The Last Responsible Moment
Traditional accounting software requires you to enter opening balances, setup chart of accounts, configure tax variables, select when your financial year starts and so on before you can issue your first invoice or record a payment. This is not needed because accounting software doesn't require all of these set up actions before you are able to simply issue an invoice. Our Accounting Software doesn't impose onerous set up before getting started. For example, Our Accounting Software doesn't need the financial year starting date until the financial year ends which can be a whole year after you start using the program. This greatly reduces the options to decide on and the actions to take before users are able to get started.
Striving for Simplicity
We're never done with simplicity. We aim to make Our Accounting Software easier to use with every upgrade. Our goal is to develop accounting software that is simple enough to use without a manual but provides guidance in case you have the slightest uncertainty anywhere within the program. We want everything to flow smoothly without any need for you to stop and think while using Our Accounting Software.
To place an order and for more enquirers:
Call E.commerce Systems International
+234 (0)8034780061
 Email: info@eproafrica.com
Website: www.eproafrica.com
Credit Repair: Doing It Right!
A credit score is compiled from information collected by a consumer credit agency. To get the best rates, you'll usually have to have a score of at least low- to mid-700s.
The first step in raising your score is to make sure the information used to calculate it is correct and up-to-date. For that, you'll need to get copies from a credit agency; you can get one free every year by going to this website — a website set up under a federal law requiring the credit agencies who collect all this information on you to give you access to a free copy of your reports once a year. You'll see a number of other pitches out there for "free" reports; when you get to the fine print, you have to supply a credit card, sign up for a "credit monitoring" service and then cancel after they've charged your account.
While the exact formula for calculating your score is not public, the basics are available on the, along with guidance on how to raise your score.
Written by Okwum Uchechukwu