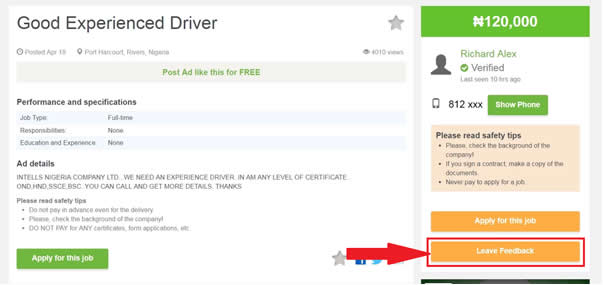 Some people still keep wondering: are Jiji jobs real? On the one hand, it is not surprising, for the wide variety of opportunities and offers often make job seekers question whether an attractive description is true or another ad among scam jobs posted by some frauds. On the other hand, it is not how Jiji works.
Jiji's customer support is available 24/7. All this time, we are communicating with our users, monitoring website activity, detecting suspicious processes, and controlling automatic mechanisms for employment scams detection.
For your safety and security (find the safety tips here https://jiji.ng/safety-tips.html) , we check user's personal data, including email, phone etc., so everybody has to pass verification process to use all benefits of the website. Also, we keep track on browsing activity, monitor users' behavior, typical patterns, proxy, access IP and location in case of need, check history, apply velocity etc.
Altogether, it helps to protect every employer and employee from job scams in Nigeria.
After we detect scammers, we put them in the general list, which is left in the open access on the website and goes to the police department, so criminals will not avoid the punishment.
Every user can join preventive actions for reducing job scams on Jiji and Nigeria in general. In case you notice scam job offers or resume scams, feel free to leave a comment about an employer or illegal actions on the website at support@jiji.ng. All your complaints are forwarded to managers and subject to verifications. In case everything is confirmed, an employer will be blocked. support@jiji.ng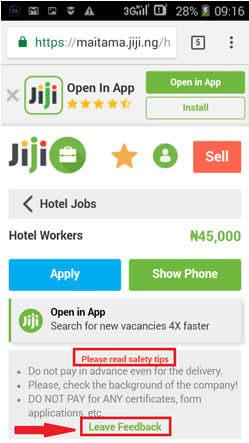 You don't have to be afraid to look for a job online. You just need to be careful and remember several simple rules.
Always double check company's background.
Look through their website before going for an interview – it will be helpful both for your conversation with an employer and inner peace.
Never submit any upfront fees for a job application.
Avoid going to remote, unfamiliar or suspicious places for an interview.
Do not disclose any personal information, like bank account number, financial data, ID photo copy etc.