Experts To Develop Commercial Models For Cassava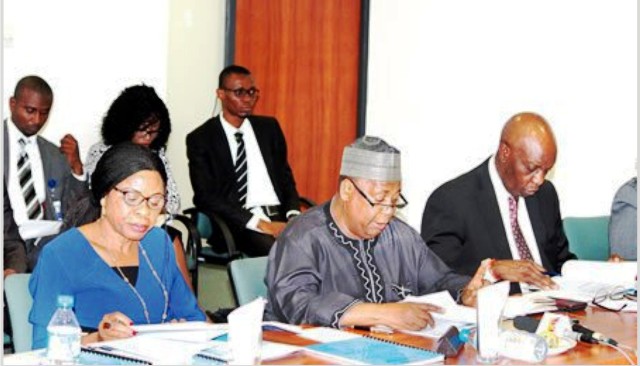 Experts working on the project to develop commercial models for cassava seed system in Nigeria will meet at International Institute of Tropical Agriculture (IITA), Ibadan, tomorrow to map out strategies for development.
A statement by the IITA Communication Specialist, Mrs Adaobi Umeokoro, said that the experts would meet to strategise on how the potential of emerging cassava technologies could harnessed to create wealth for all.
The statement said that the experts were planning to develop a sustainable mechanism through which smallholder farmers could get timely and affordable access to high-quality planting materials such as improved cassava varieties.
It said that they would consider how to make cassava, an important staple crop for millions of families in sub-Saharan Africa, more profitable for those whose livelihoods and sustenance depended on it.
" Building a Sustainable, Integrated Seed System for Cassava in Nigeria (BASICS) project will hold its first annual review and planning meeting.
"It promises to strategise on the best available options for making planting materials of superior variety and quality readily available and accessible to Nigerian farmers at the appropriate time, place, and price," it said.
The statement quoted the Project Director, Dr Hemant Nitturkar, as saying that although Nigeria was the largest cassava producer in the world, its average yield of about 14 tonnes/ha was less than half of what could be produced in a realistic way.
"Given the potential of this crop and the vast number of Nigerians depending on it, there is an urgent need for improvement at all levels of the cassava value chain.
"Increased adoption of improved varieties and usage of quality materials have the potential to improve the productivity of cassava, thus positively impacting on food security and livelihoods in Nigeria.
"It can earn valuable foreign exchange for the country through increased exports and import substitution; BASICS is catalysing the build-up of a sustainable seed value chain in Nigeria," he reportedly said.
The statement said that Nitturkar stressed that BASICS would sensitise farmers to the need to use high-quality seeds of improved varieties to achieve higher net profits from cassava cultivation.
"BASICS is piloting two business models for seed multiplication and distribution.  The first is a decentralised Village Seed Entrepreneur (VSE) model, where over 130 VSEs will be developed in Benue, Abia, Imo, Akwa-Ibom, and Cross River states.
"The second is the Processor Led Model (PLM), where cassava processors will multiply good quality improved cassava varieties for supply to outgrowers to plant under a buy-back arrangement for the roots produced.
"The project has developed an online platform called Cassava Seed Tracker (CST) to facilitate easy registration of seed producers and real time monitoring of field inspections and certification by National Agricultural Seed Council (NASC).
"CST is also designed to link seed producers with needy farmers and many more features will be added to this platform over time.''
The statement said that Nitturkar emphasised that the project would also address one of the key bottlenecks of cassava seed system, which was slow and low seed multiplication ratio.
"It is piloting the use of an innovative rapid seed multiplication technology called Semi Autotrophic Hydroponics (SAH), which has been successfully used in commercial potato seed multiplication in Argentina.
"SAH is expected to significantly help the cassava seed system by enhancing the capacity of pre-BASICS and BASICs seed producers to make available adequate quantities of certified planting materials of improved varieties for further multiplication by certified seed producers.
"The technologies and models being piloted in this initiative are tailored towards creating a win-win scenario for farmers, processors and seed entrepreneurs in Nigeria.
"The processors benefit from an assured supply of better quality cassava roots for processing.
"Youths and women, among other seed entrepreneurs, benefit from an expanding cassava seed market as an economic opportunity and the nation benefits from the resulting enhanced productivity across the cassava value chain," Nitturkar said in the statement.
The project director said in the statement that BASICS, a four-year project (2016-2019), was funded by the Bill & Melinda Gates Foundation.
"The project partners include the NASC, National Root Crops Research Institute (NRCRI), Context Global Development, Food and Environment Research Agency of the UK (FERA), among others," Nitturkar was quoted as saying.
Don Advocates Diversity for Economic Growth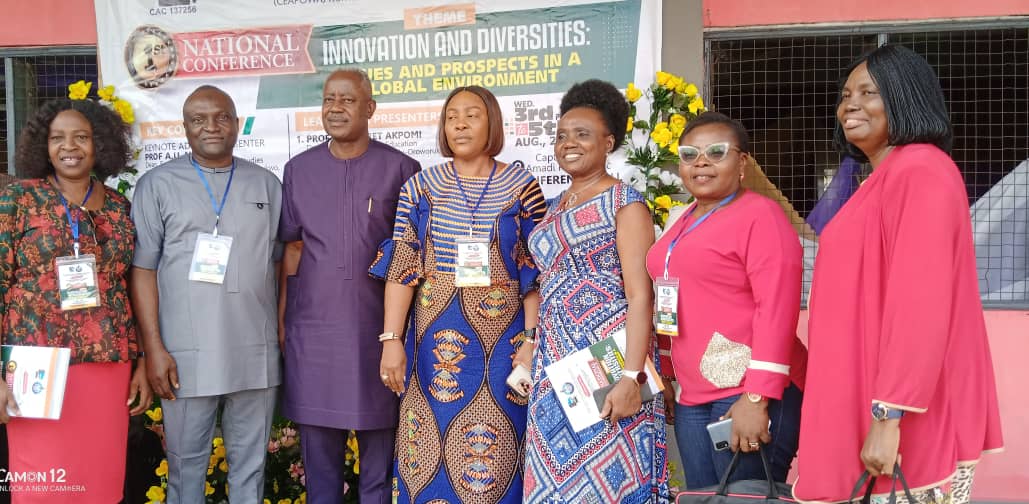 A university Don, Professor Anthony U. Nnodim, has called on companies to diversify in other to be economically relevant to society.
Prof Nnodim, who made the call, Thursday, at the first National Conference of the Association for Encouraging Qualitative Functional Education in Nigeria, in collaboration with Captain Elechi Amadi Polytechnic Women Association, Port Harcourt, said any company that does not diversify will easily 'die'.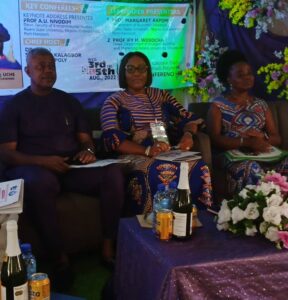 According to him, the phrase, "diversify of die", amounts to a warning to corporate organisations of the danger of staying the same place for too long.
He said it is "a reminder that to avoid stagnation, companies must innovate. In today's global environment, diversity is the bedrock of innovation.
"Diverse and inclusive team is the engine room within which innovations develop through the combination of desperate ideas and desciplines in ways that look weird in the first instance, but culminate into emergence of real innovation", he said.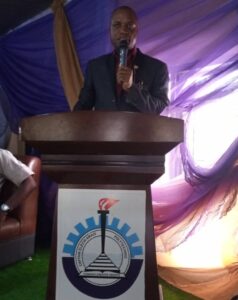 Nnodim, who made the call in his Keynote address tittled, "Innovation and Diversification: Issues and Prospects in a Global Environment ", said diversification has numerous prospects.
One of the key prospects, he said, is that diversification improves critical thinking and problem-solving skills.
This, he explained, "would provoke critical thinking that provides alternative approaches to finding solutions to identified problems".
Other prospects, he continued, include enhanced employees growth and development, unification of diversified strength, and encouragement of innovations.
In her Keynote address, Prof. Margaret E. Akpomi harped on the need for Nigeria to emulate what she called "the Australian Model of Education" christened "Technical And Functional Education (TAFE).
"What it (TAFE) does is that they first of all identify the needs of the society, and then they build-in the needs of the society into the curriculum, and it is with that they bring up their citizens to fill in various manpower positions in the society. We can borrow a leaf from here", she said.
In her welcome address, the President, Captain Elechi Amadi Polytechnic Women Association (CEAPOWA), Dr. Victoria O. Sam-Kalagbo, explained that the conference, with the theme, "Innovation and Diversities: Issues and Prospects in a Global Environment ", is in line with the CEAPOWA's objective of contributing to societal growth.
"The aims and objectives of CEAPOWA are, among others, to organize conferences, workshops, seminars and symposia aimed at impacting positively on Members of the association, the entire polytechnic community, and society at large.
"This conference provides a rare platform for scholars in various disciplines to examine and prescribe practical innovative and diversified strategies, approaches, and mechanisms to contain the multifarious global threats and challenges in education, economy, politics, business, technology, Entrepreneurship, etc.", She said.
By: Sogbeba Dokubo
NECA Wants Forex Allocation Prioritisation To Manufacturers 
The Nigeria Employers Consultative Association (NECA) has urged the Federal Government to give priority of allocation of available forex to manufacturing and other productive sectors of the economy as forex scarcity persists.
Director-General, NECA, Mr Wale Oyerinde, while speaking on the state of the economy in Lagos, called for a holistic and multi-pronged approach towards resolving the challenges faced by the nation.
He urged the Federal Government, as a matter of urgency, to  encourage the development of modular refineries as a precursor to total subsidy removal.
Oyerinde said, "In the medium term, the Federal Government should, as a matter of urgency, fix the four national refineries and encourage the development of modular ones as a precursor to total removal of fuel subsidy.
"With over N5tn budgeted for subsidy payment in 2022, an amount larger than the budget for education and agriculture, this is unrealistic and unsustainable.
"Economic interventions aimed at improving living standards (to stimulate consumption) and enterprise sustainability (to promote job creation) should be implemented.
"While forex scarcity persists, allocation of the available forex to manufacturing and other productive sectors of the economy should be given priority."
According to him, this was better time for the government to deepen its engagement with the Organised Private Sector, adding that the government's efforts to salvage the economy was commendable.
He said "the nation is currently faced with multiple challenges, with dire combination of spiraling inflation, rising energy cost (aviation fuel, diesel, etc.), scarcity of forex, dwindling value of the naira, an almost comatose aviation sector, stuttering education system, rising debt, depleting foreign reserve and rising fuel subsidy expenses among others, which threatens to lay bare the country's economy.
"There is no better time for government to reappraise current economic policies and deepen its engagement with the Organized Private Sector. While Government's effort to salvage the economy is commendable, there is, however, need for a More holistic approach to resuscitate the stuttering economy", he said.
Agency Puts Nigeria's Gas Flaring Losses At N891bn
The Nigerian Oil Spill Monitor, a sub of the Oil Spill Detection and Response Agency (NOSDRA), has put the losses in gas flaring in Nigerian at N891 billion.
The oil spill agency in a release on Sunday said Nigeria lost N891 billion to gas flaring in 18 months.
It revealed that the country lost a total of N707 billion in 2021 and N184 billion in the first half of 2022, totaling N891 billion.
According to the NOSDRA report, oil and gas companies operating in the country flared a total of 126 billion standard cubic feet (SCF) of gas in the first half of 2022, leading to a loss of $441.2million (about N183.54 bn) in the six-month period.
On the other hand, in 2021, about 23,862.271 barrels of oil (3,770,238.864 litres/119 tanker trucks) were spilled.
Brent International was sold for an average of $71 per barrel in 2021, bringing total revenue loss in that year to $1.7million
The estimation put the equivalent of the volume of gas flared in the first half of 2022 to carbon dioxide, CO2 emission of 6.7 million tonnes in the oil producing areas, which was 4.56 per cent higher than the 120.5 billion SCF of gas flared in the second half of 2021, and capable of generating 12,600 gigawatts hours of electricity.
Also, the quantity of gas flared in the first six months of 2021 was capable of generating 14,000 gigawatt-hour of electricity, and an equivalent of 7.4 million tonnes of CO2 emission.
Giving a breakdown of the gas flared in the country in the first six months of 2022, the agency disclosed that while companies operating in the offshore oilfields flared 62.2 billion SCF of gas, companies operating onshore flared 63.9 billion SCF of gas, valued at $223.6 million.
In 2021, there were around 382 publicly available oil spill records. Out of the 382 occurrences, a total of 33 of these oil spill sites were not visited by a joint investigation team, and 122 of these had no estimated quantity of oil spilled provided by the companies involved.
Two major oil spills were recorded in 2021, with over 250 barrels spilled into inland waters, or over 2,500 barrels spilled on land, swamp, shoreline and open sea, the report said.
By: Corlins Walter