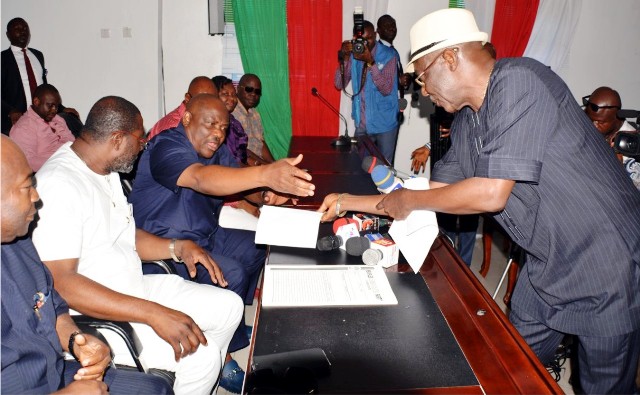 Rivers Elders Consultative Council, has condemned in its entirety the attempt by former Governor of the State, Chibuike Rotimi Amaechi to introduce divisive tendencies in the state.
The elders' reaction was against the background of the Town Hall meeting of members of All Progressives Congress in the state with the Acting President of Nigeria, Prof. Yemi Osinbajo last Tuesday in Port Harcourt.
In a statement signed by the Executive Secretary of the Rivers Elders Consultative Council, Chief (Dr.) Granville Abiye Georgewill, the elders, who are leaders and custodians of the cultural heritage of the state, expressed dismay that the Acting President could be deceived to attending an APC function arranged by Rotimi Amaechi with the impression that the participants were apolitical Rivers people.
The statement read in part: "Even though party slogans were chanted at the meeting, there were two things the former Governor of the state, Rt Hon Amaechi would have set out to achieve. It may be that he wanted the acting President to have an impression that there exists an APC in the state and therefore paid all sorts of persons, some were made to dress in chieftaincy regalia when they are not, just to make the crowd appreciable to the visiting acting President.
"The other reason may be that Rotimi Amaechi intended to clear the shame he would have received at the airport when he did not receive the courtesies he perhaps expected from the people of Rivers State", the statement further maintained.
The Rivers Consultative Council believes that it is disrespectful to the constituted authority, and indeed to the government and people of Rivers State for Mr. Amaechi to organise another so called stakeholders meeting 24 hours after a properly attended reception, stakeholders meeting and banquet  organised by the government and people of Rivers State in honour of the visiting Acting President Osinbajo at the Brick House. Clarifying that the position of Rivers people was well articulated and  presented to Prof. Osinbajo by Alabo Graham Douglas, Chief OCJ Okocha, SAN,  Annkio Briggs and others at the stakeholders meeting,  the elders council queried what the second unrepresentative and parallel meeting achieved at the end of the day.  The elders wondered what impression Amaechi was creating to the federal government, of a state that in the past one and half years has been properly managed, united and focused under the enviable leadership of the triple award winning Best Performing Governor in Nigeria, Chief Ezenwo Nyesom Wike.
The elders warned that they will not tolerate any person or group of persons attempting to cause disaffection, division and hatred and called for unity of purpose, cooperation and understanding so as to advance the cause of development in Rivers State.