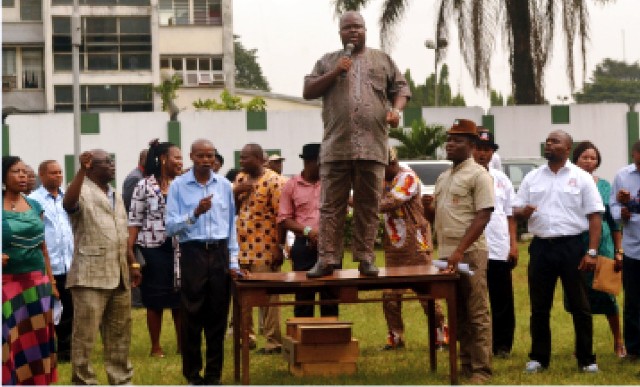 Union Bank of Nigeria (UBN) Plc says it has concluded arrangements to partner with a leading technology innovation hub to explore new ideas aimed at using technology to impart it's larger environment.
The Chief Executive Officer of the bank, Mr Emeka Emuwa, who stated this at a news conference to mark the bank's 100th anniversary in Lagos on Tuesday declined to mention the name of the institution.
He said that the bank would make public the name of the institution at the appropriate time.
Emuwa stated that the partnership would provide a lot of opportunities for the bank to service its customers better and impart the larger environment.
He said that the bank going forward would use technology to solve various problems to impart its various communities.
"We want to focus on how to deploy technology in solving common problems,'' Emuwa said.
The chief executive officer said that the various vices in the country could only be addressed if corporate institutions come together and impart their communities.
He said that UBN had positioned itself to drive sustainable impart in the country through innovations and efficient service delivery.
Emuwa added that the bank would provide simpler and smarter solutions in banking for its customers and urged the staff to continue to support the bank to walk into the next 100 years.
"One hundred years is an incredible milestone and we take pride in the sense that we are 100 years, if you withered 100 years, certainly you must have learnt a lot,'' he said.
Emuwa stated that the bank would use the learning of the past 100 years to celebrate the future, adding that it would continue to be a leader in the industry through innovations.
According to him, the bank will continue to celebrate its customers,  shareholders and communities for their various support.
The bank's Chairman, Mr Cyril Odu,   said that it was a grand day to witness 100 years celebration, and said he was proud to be part of the family.
"It's good to see that the bank is not only still standing, but reawakening with innovations, the bank has completely reawaken and it is doing very well,'' Odu stated.