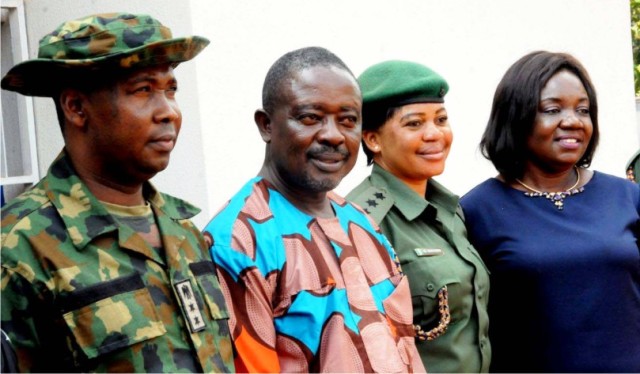 The new President-General of the apex Igbo socio-cultural organisation, the Ohanaeze Ndigbo, Chief John Nnia Nwodo, has expressed his readiness to work with the Independent Peoples of Biafra (IPOB) and Movement for the Actualisation of Sovereign State of Biafra (MASSOB), currently agitating for Igbo secession from Nigeria.
"As President of Ohanaeze, I intend to extend my warm hand of partnership to IPOB and MASSOB, they are my children. I shall never desert them.
According to him, the on-going agitations for Biafra by IPOB and MASSOB, were caused by the ceaseless marginalisation of Ndigbo.
Nwodo, whose election is currently been challenged in court by some aggrieved members of the Igbo socio cultural body, added that "their struggle is my struggle".
He added that "On my part, I promise that I shall stand up for you; I will fight for you; I am ready to sacrifice for you and if necessary die for you."
The Ohaneze helmsman, who spoke during his maiden media briefing in Enugu yesterday, said this is an era of "a sustained and active fight for the restructuring of our federation, an era of a strong and all involving Ohanaeze.
Nwodo, a one-time minister of information and aviation in Nigeria, posited that both IPOB and the MASSOB, "no matter how divided they appear in public, are basically motivated by the same sense of outrage and bitterness, our young men and women can no longer tolerate a second class status in their own country.
"They can no longer forgive the President for arguing before he came into office that Niger Delta militants were meekly treated and tolerated by President Umaru Musa Yar'Adua, while Boko Haram was harshly treated by President Goodluck Jonathan, when his law enforcement agents literally open fire and maim and kill unarmed members of MASSOB and IPOB, this is a ticking time bomb."
He, however, berated President Muhammadu Buhari over what he termed abysmal representation of the Igbo race in the present Federal Government.
This is also as he warned journalists to ensure that he was not mis-quoted, threatening that as a lawyer, he would not hesitate to engage any media house that misquote him in a legal battle.
His words: "I know what will be in the papers tomorrow; don't use me for sensationalism", he warned.
Nwodo, equally lambasted Buhari for throwing the Nigeria constitution to the mud as it relates to the Federal Character principle, saying, "under the current Federal Government, Igbo representation is abysmal and fall extremely short of the constitutional provisions for the reflection of federal character in the appointment into important government positions.
He noted that "No arm of government namely, the Executive, the Judiciary or the Legislature is headed by an Igbo, no section of the armed forces or parliamentary organisation is headed by an Igbo".
"Neither the Supreme Court, Court of Appeal nor the Federal High Court is headed by an Igbo, we know in the history of this country when a lieutenant colonel was appointed to the position of Chief of General Staff over and above his superiors just to ensure ethnic balance.
"We know when a Minister of Justice and Attorney General of the Federation was appointed Chief Justice of Nigeria just to ensure ethnic balance.
"We know when a former military head of State was drafted to run for President just to douse ethnic tensions.
"What is very perturbing is the declaration of Mr. President that his appointment must favour the States that voted overwhelmingly for him and those he trusts even against the provisions of our constitution relating to federal character.
"No wonder he defied the zoning structure of his party and appointed a non-Igbo man as Secretary to Government of the Federation, no wonder the ministries with lean capital votes are the ones assigned to Ndigbo.
"No wonder he nominated Ambassadors for confirmation to the National Assembly, naming three ambassadors for some states and only one ambassador for each of the Igbo States. No wonder one year and eight months into his tenure as president, he has not visited any Igbo state.