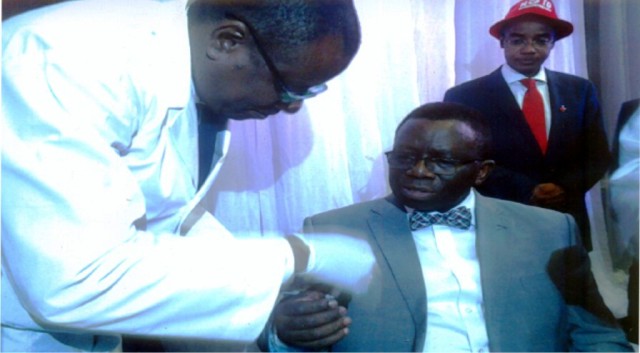 Over the years, awareness in HIV/AIDS issues such as prevention, treatment, care and support have developed from stage to stage across the globe, Nigeria inclusive. In fact, approach to HIV-related issues has been diversified, including Prevention of Mother-To-Child Transmission (PMTCT) of HIV. One of the most recent approaches is what is popularly called "Option B" and "Option B+".
The crux of the matter in PMTCT is to prevent the transmission of HIV to an unborn child from the infected mother as a fetus during pregnancy, delivery and while breastfeeding. This has been widely executed successfully globally.
PMTCT, which is a clinical intervention, has lowered new infection rates among newborns to nearly zero in many parts of the world's developed countries. As a developing country, Nigeria had first adopted "Option B", a clinical protocol, which provides antiretroviral therapy to HIV-positive pregnant and lactating women, and allows for HIV-free newborns.
Under Option B, the extent to which a woman access antiretroviral therapy depends on certain biomarkers, including CD4 count. Consequently, some women discontinue the medication, only to restart when their CD4 count drops below a certain level.
Newer protocols by the World Health Organisation (WHO), however, recommend that lifelong antiretroviral therapy be provided to all pregnant and lactating women living with HIV, regardless of CD4 count. This protocol, known as "Option B+," is less complex and more efficient than Option B.
Option B+ requires increased antiretroviral therapy financing throughout a mother's life (as well as the accompanying clinical monitoring), but ultimately saves the lives of women of reproductive age and their children.
It offers all HIV-positive pregnant or breastfeeding women life-saving Antiretroviral Treatment (ART) for their entire lives. Option B+ simplifies the ART regimen to one pill once a day making it much easier for the patient to take and far easier to implement.
Not only does this approach help to ensure mother-to-child transmission is reduced to less than 5 percent for all future pregnancies, it also maintains the mother's health, reduces HIV transmission to uninfected sexual partners, and prevents all of her children from becoming orphaned.
The implication of Option B+ being executed effectively is that ART regimen has to be readily available at all times in all facilities. This means that necessary funds has to be available, as well as HIV test kits. The concern would thus be availability of funds to enhance procurment and distribution of the ART regimen to the various health facilities in the country.
Currently, in Nigeria, major funding to HIV/AIDS response have been donor-driven, with the President's Emergency Plan for AIDS Relief (PEPFAR) contributing a high proportion.
At the 2016 National HIV/AIDS Prevention Conference held in Abuja, Nigeria, the Country Director, U.S. Centre for Disease Control and Prevention, Dr. Hank Tomlinson, said the U.S. Government spent 4 billion Naira in HIV response (prevention, care and treatment) in Nigeria.
Among other contributions, he said, currently PEPFAR alone has provided life-saving ARV therapy for 700,000 Nigerians. This does not include what other international donor agencies have done in this wise.
Meanwhile, the Minister of Health, Professor Isaac Adewale, said during the 2016 World AIDS Day (WAD) celebration in Abuja that over 800,000 Nigerians are currently on ARV therapy.
When this is placed pari passu with the fact that while PEPFAR alone takes care of the ARV therapy of about 700,000 Nigerians, and other international donor agencies are also key contributors, the level of contribution by the Nigerian Government in terms of funding becomes cause for concern.
This is in view of the fact that test-and-treat strategy, which is the crux of Option B+, involves an aggressive expansion of HIV testing to identify HIV infected persons, and immediate initiation of antiretroviral therapy.
For those diagnosed HIV positive, they are immediately placed on ARV without waiting for the results of laboratory investigations such as the CD4 count. That is, patients are started on ARV drugs irrespective of their CD4 count result as stipulated by the 2013 WHO PMTCT guideline.
This being the case, the question that readily comes to mind, if Option B+ must be a success, is, if the bulk of HIV response in Nigeria is donor-driven with Nigeria's financial contributions virtually negligible, what would be the country's fate in the face of gradual withdrawal by donor agencies in terms of funding, or what Dr. Abiola Davies calls "matching programme with funds"?
In other words, how can Nigeria sustain the demands of Option B+, or Test and Treat, in the face of inadequate financing of HIV/AIDS commodities by the government?
Dr. Davies, the UNICEF representative and HIV specialist for care cum team leader for PMTCT and Paediatrics Programming in Nigeria, believes that this scenario should not be cause for alarm because Nigeria has what it takes to make Option B+ work.
But this, as she hinted, would require some level of discipline and prudence in resource generation, distribution and management by various levels of government in the country, not just the Federal Government.
"There is non-availability of funds which has to do with domestic funding. We need to bring our domestic resources, not just at the national level, because Federal Government is putting in some money which is inadequate.
"But if you come to the level of the State and Local Government, the proport on of funding is very minimal. So, to all tiers of government, we really need to see how they can mobilise funding to finance the (HIV) response", she said.
This is very pertinent, considering that Test and Treat means that test kits and sundry HIV consumables need to be readily available at all times in all approved health facilities in the country.
What this amounts to is that for Option B+ to succeed, the necessary test kits and HIV drugs have to be available in the about 22,726 health facilities across Nigeria, and be made easily accessible to people living with the virus. All of these boil down first to the availability of the required funds.
Taking a cue from other countries, Dr. Davies recommends that Nigeria can earmark a given percentage of crude oil sales to HIV response in the form of taxation.
"Let me say that countries that don't have as much money like Nigeria have been able to finance it (Option B+). We look at the areas where we call innovative financing.
"In some countries they have tax. To get as much HIV/AIDS funds, you might have tax attached to petrol as well as HIV funding"' she said.
Given the fore-going, Nigeria has two options towards making Option B+ work for its citizenry: the first is to toe the line of the new Director General of the National Agency for the Control of AIDS (NACA), Dr. Sani Aliyu, who expressed the belief that Nigeria should impress it upon international donor agencies to continue in their donations.
"I implore them all (donor agencies) not to relent in their financial and technical support to HIV prevention programmes in Nigeria"' Dr. Aliyu said at last year's National HIV Conference in Abuja.
On the other hand, the country can be more proactive by adhering to the reasoning of Dr. Davies to ensure a systematic means of raising funds for HIV response, not dependent on the whims and caprices of any individual, and efficient management of such funds.
"There is a need for more improved efficient management of coordination of structures, and efficient use of funds. That's one of the major areas we need the government to improve on", she said in an exclusive interview with The Tide.
The question is which of these options will the Government feel more comfortable with or willing to embrace?
Soibi Max-Alalibo