Ezeji Testimonial: Battle For Shirts Delays Final Players' List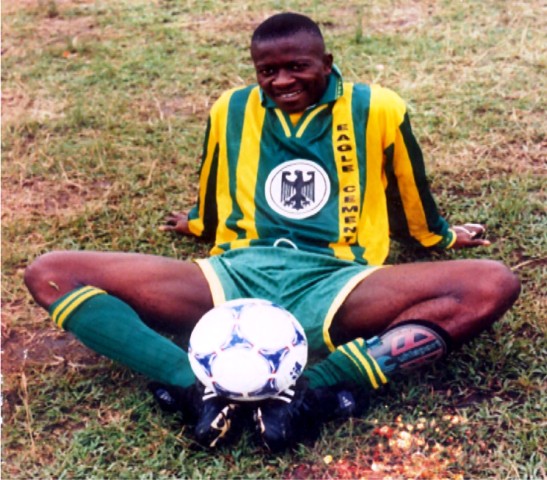 A battle for shirts to play
the prestigious Victor Ezeji Testimonial, VET Match delayed the release of the final shortlist of players for the event.
However, late on Monday, the final shortlist of players to feature in the game was made available to Victor Ezeji Testimonial, VET Media.
On the Team Ezeji side, top names like Makpor Dibofun who was top scorer at Sharks in the 90s, Imama Amapakabor, who captained Sharks in Victor Ezeji's debut season and Ahmed Abdulrahaman will feature.
Abdulrahman played for Dolphins for 14 years from 1991 to 2005 and is now secretary of Rivers United.
Former Flying Eagles captain, Abubakar Musa, Mbwas Mangut who played for Sharks and Heartland as well as Iyenemi Furo who played for Sharks in the 90s and the Super Eagles at the AFCON 2000 are in the list for the Team Ezeji side.
Member of the Rivers State House of Assembly, Kelechi Nwogu and camp commandant at the Rivers State Government House, London Owen Irifeke will also feature for Team Ezeji.
For the Team NPFL, there are no star names because they are all star players.
Mobi Oparaku of the Atlanta 96 fame, Sam Ledor who played for Sharks and Enugu Rangers, Dondo Avaa who was at Jasper United in the 90s as well as Kennedy Okogba who was with Sharks and Iwuanyanwu Nationale will feature on the Team NPFL side.
Others in the Team NPFL are Shehu Dikko, Albert Chinwo, Alari George (elder brother of Finidi George) who played at Sharks in the 90s.
Joseph Cole, Sam Sodje and Bode Babington are also in line to play for Team NPFL.
Chairman of the Main Organising Committee, China Acheru revealed to VET media that it took some time to get this list together as a lot of players wanted to be involved.
"When you play in the League for twenty seasons, you will surely have made lots of friends and that was how difficult it was for Victor (Ezeji) to get his list together.
"It took some chopping and changing also as some other people pulled out when the schedule changed from December ten to seventeen and then January 7 but finally we have a list of people to play the game and we believe they will all be in Port Harcourt for the event," Acheru said.
"A player like Sudan based Kelechi Osunwa previously signed up to play but the schedule changed he was forced to pull out of the event," Acheru said.
Former Super Eagles defender and coach, Austin Eguavoen and Stanley Eguma of Rivers United will coach the Team NPFL while Alphonsus Dike and Joseph "Zico" Egbu will coach the Team Ezeji.
Gold Medalist Aims To Be Five-Time Taekwondo Olympian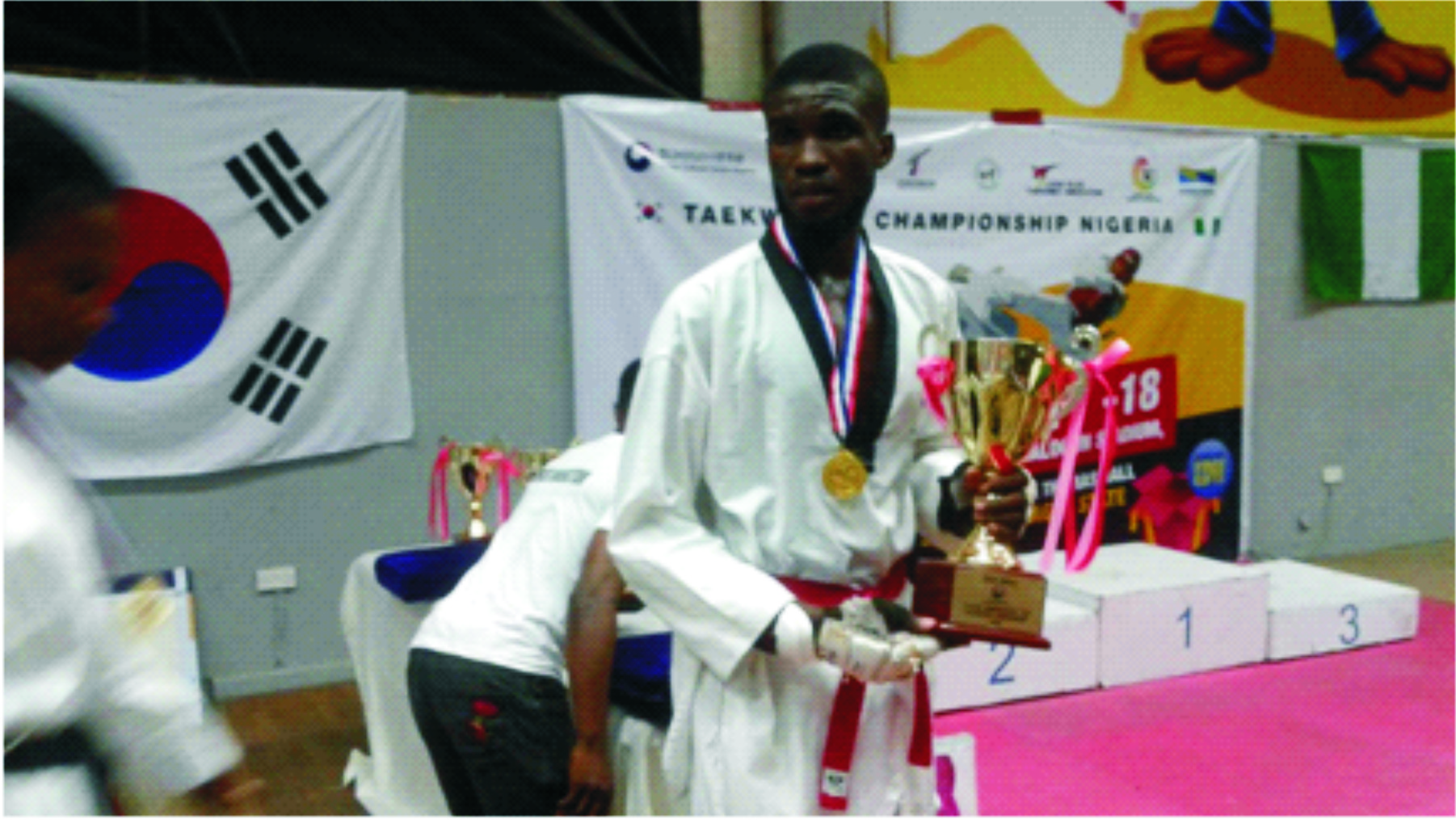 Winner of the male category of the 10th Korean Ambassador's Cup, Stanley Ogbonnaya.
An aspiring Taekwondoist, Stanley Ogbonaya, who emerged champion in the -80kg of the male category of the 10th Korean Ambassador's Taekwondo Cup concluded on Friday, says he has his eyes set on becoming a five-time Olympian.
Ogbonaya in an interview with newsmen on the heels of his victory in winning gold at the competition, said he was aiming at becoming a five-time Olympian to surpass Uche Chukwumerije's record.
Tidesports source reports that the 10th Korean Ambassadors Cup was held at the Molade Okoya Thomas Hall, Teslim Balogun Stadium between Oct. 17 and 18.
The lanky athlete, Ogbonaya, said that though the three-time Nigeria's greatest export to the Olympic, Chuka Chukwumerije, an Olympic silver medalist was his mentor, he was aiming at surpassing his records.
"I am following the footsteps of one of the greatest Taekwondoists in Africa, Chukwumerije. I am putting in everything he has been teaching me into play.
"Chukwumerije is a good mentor and I will always look up to him because it is not about Taekwondo alone, but the principles associated with it.
"There are principles in and out of Taekwondo which we must imbibed. As the Olympics is drawing near, I am hoping to maintain my quality for the Games and win the medal for Nigeria.
"I hope to surpass the record of Chukwumerije who has appeared three times in the Olympics to attend at least five times to set a new record. I want to be five times Olympian," Stanley Ogbonnaya said.
Ogbonaya rated the competition as one of the best in Nigeria, adding that lessons from the just-concluded championships had helped him in knowing his strength and weaknesses.
"This is one of the tournaments we are always looking forward to because we don't have the luxury of many championships.
"My first experience in the championships can be regarded to as a disaster because I got knocked out without winning a fight, but I was able to win silver at the second try.
"I had to intensify training so that I can win gold medal this year and it eventually paid off. I will like to thank the Korean Embassy for organising the championships.
"This tournament has helped to improve us mentally so that whenever we are going for foreign tour for qualifiers, we will be fit enough to win," he said.
NCF To Hold Maiden FCT Secondary Schools Competition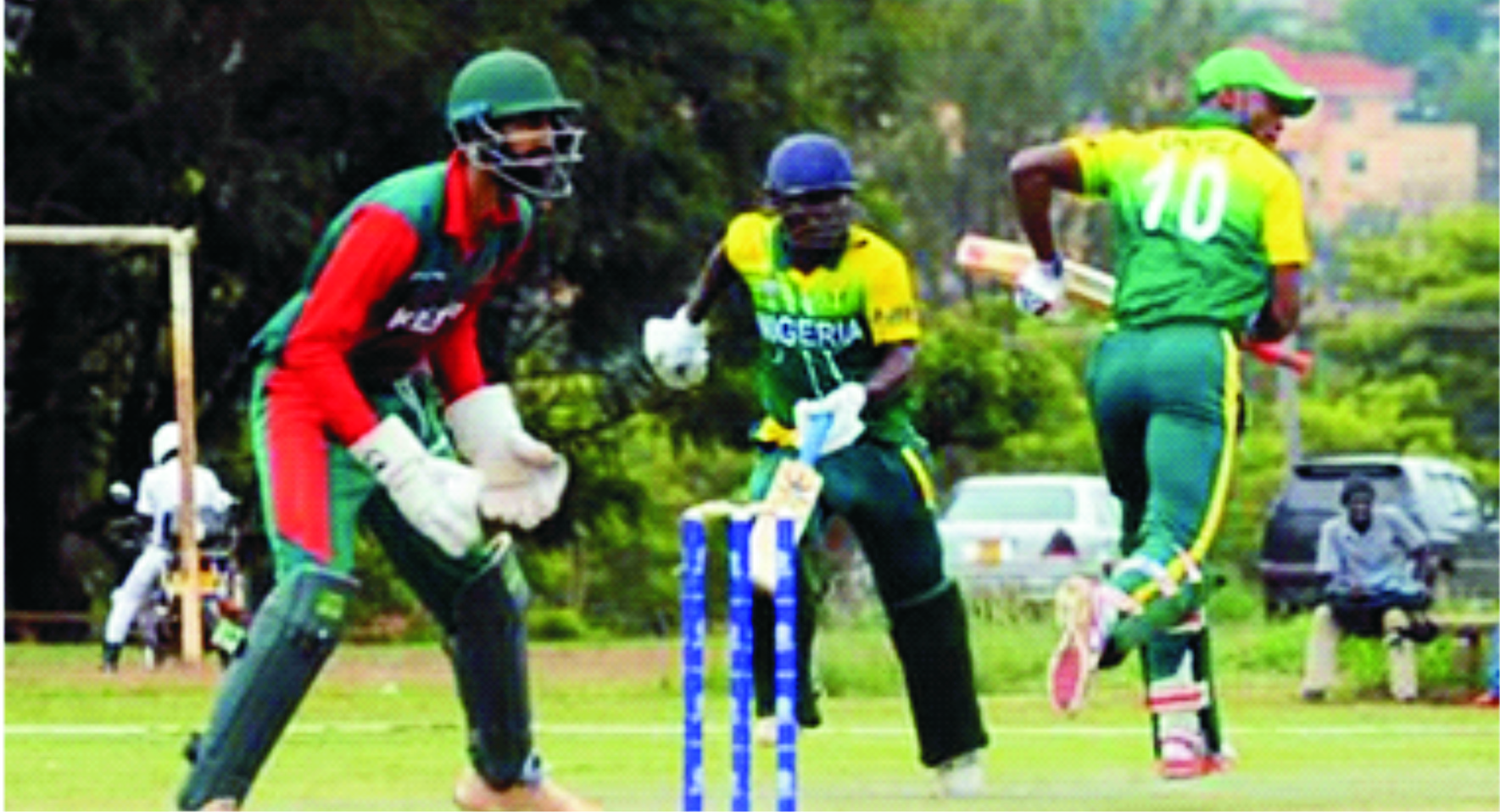 The Nigeria Cricket Federation (NCF) will organise its maiden FCT Secondary Schools (Soft ball) Competition in January.
The NCF approved Jan. 25 for the finals of the competition during a meeting  with some schools at the Cricket Oval of the Moshood Abiola National Stadium in Abuja at the weekend.
The meeting, which included practical session and coaching clinic on the basics of the sport, will have 12 schools from the FCT, one from Niger and an NGO in attendance.
Emeka Igwilo, the General Manager of NCF, said the idea was to ensure the development of the sport at the grassroot, especially in FCT.
Igwilo who introduced the 'Criio Game' said the concept was a simplified form of cricket which gives all an opportunity to play the game with limited equipment.
"The idea is to ensure that everyone can play cricket. Gone are the days, when cricket requires an oval or complete equipment before one can play.
"Now we have the Criio concept which allows all to play the game in the limited space and equipment available.
"With soft balls instead of the usual cricket hard ball you play even at home and you have little or no safety concerns, especially as it involves children," Igwilo said.
Meanwhile, the schools' representatives were engaged in a six-a-side competition and also received equipment from the federation.
The schools in attendance are Premier Academy Lugbe, Government Secondary School TudunWada, Government Secondary School Pykasa, Maitama and Government Secondary School Gwagwalada.
Others are  Regina Pacis College Garki, Noble Hall Leadership Academy for Girls, SOS Hermann Gneiner Junior Secondary School Gwagwalada, Christ Academy Gwagwalada and Government Secondary School Karu.
Loius Ville Girls Secondary School, Government Secondary School Garki, Javino Model School Gauraka in Niger and Girls' Aspire Sports Initiative were also present.
Junior Golf Championship: Rivers Clinches Second Position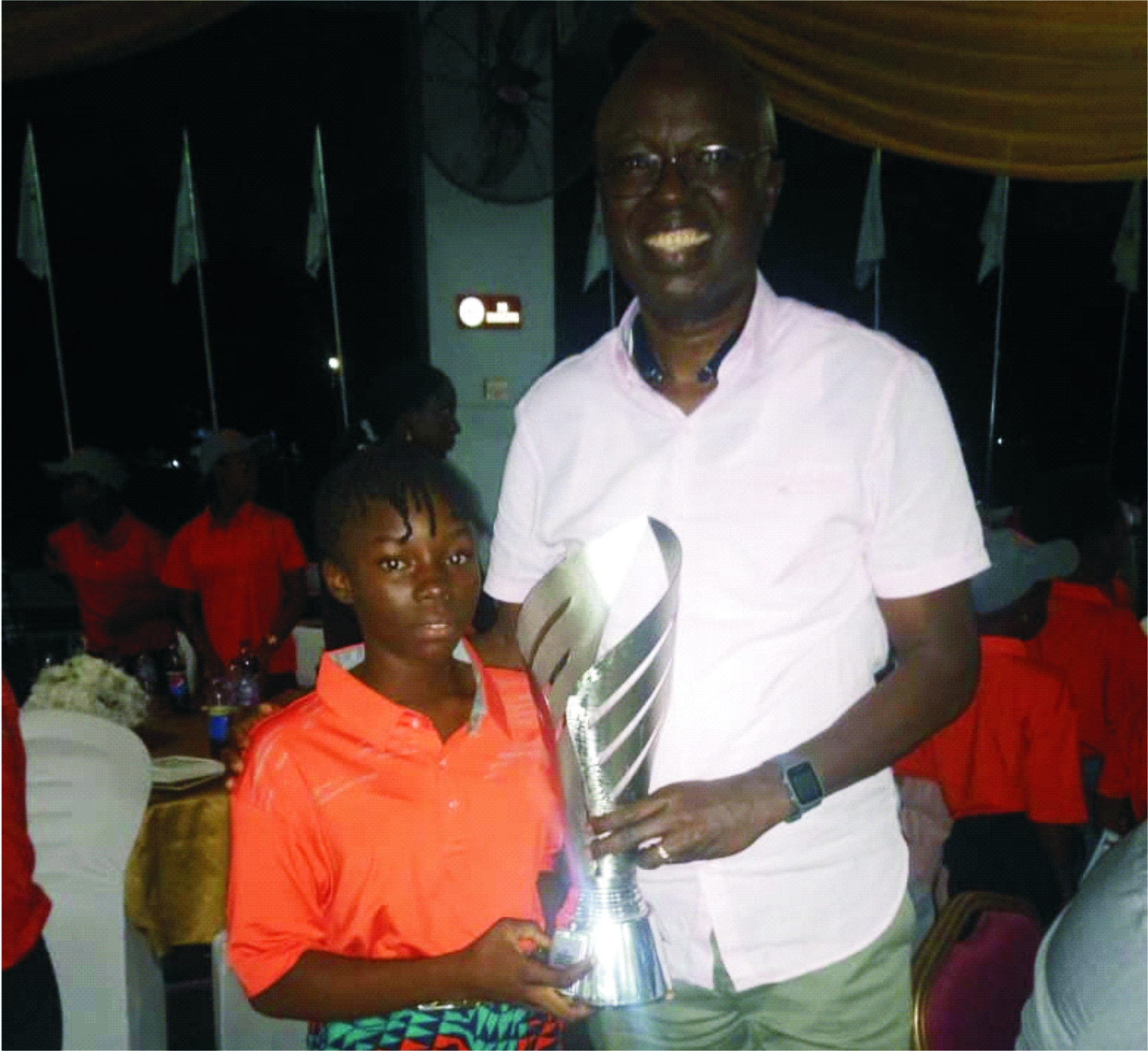 The Sixth Awa Abraheem Junior Golf Championship which ended on Saturday saw Christy Obomanu-Asisi clinching second position that represented Rivers State, at under10-12 girls' category.
Over 200 junior golfers across the country participated in the three day championship, it was held at Ikeja golf course, in Lagos.
Speaking in a telephone interview with Tidesports yesterday, Judith Obomanu- Asisi, the coach to Christy, explained that her player missed the first position, as she lost one ball.
She expressed joy over the impressive performance of our player, saying that she will go back and work on her for improvement.
"Really Christy Obomanu- Asisi actually put on a good performance, but she narrowly lost the first position, as she lost one ball.
As a coach I will go back and teach her more so that she will improve, However, I am happy with the second position," Obomanu- Asisi said.
Tonye Orabere