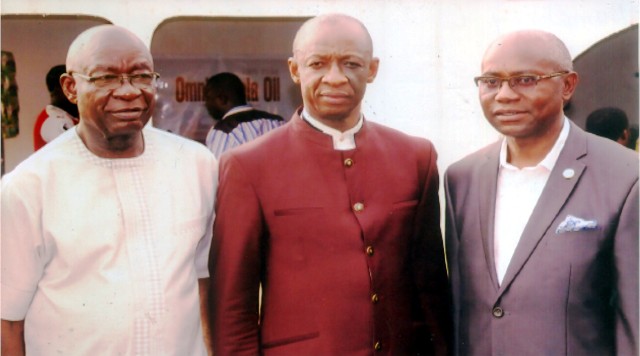 The Michael Okpara Uni
versity of Agriculture Demonstration Secondary School, Umudike, Abia State, has emerged the overall winner of the finals of the Shell Petroleum Development Company of Nigeria (SPDC)/Federal Road Safety Corps (FRSC) National Safety Quiz Completion, after beating 852 secondary schools participating across the country.
Other schools, which won prizes at the competition are, Concordia College, Yola, Adamawa (2nd); St Louis Secondary School, Kano (3rd); University Preparatory Secondary School, Benin, Edo (4th); Glisten International Academy, FCT, Abuja (5th); and Aquinas College, Akure, Ondo, which emerged sixth position.
Shell General Manager, External Relations, Igo Weli, while presenting the prizes to the overall winners at the event, which brought together 1,693 students, at the Shell Residential Area Club Main Hall, Port Harcourt, congratulated the winners of the competition, and charged them to propagate good safety behaviours anywhere they find themselves.
Represented by the Social performance Investment Manager, Mrs Gloria Udoh, Weli also presented the award to the best overall winner from the South-South and student of University Preparation Secondary School, Benin, Ugwu Jessica Adaku, charged the students to be true ambassadors of FRSC and its core mandate.
Speaking, National Examiner for the competition, Prof Sarah Anyanwu, expressed excitement at the record-breaking participation rate in this year's contest, which she said, outpaced the last three years put together, and explained that it was as a result of the growing road safety awareness amongst Nigerians.
Emphasising that the focus this year was to encourage greater consciousness of students, schools, communities, private sector players and governments across the three tiers on the core principles of safety on Nigerian roads, homes, schools and communities, Anyanwu, noted that the overall aim was to reduce the number of road crashes, fatalities, injuries and deaths arising from violation of safety rules and procedures.
"The competition also aims at providing opportunity for students, families, governments and the private sector to work together to improve road safety conditions in Nigeria, test youth's assimilation and retention of formal road safety lessons, promote interest of youth, families and schools in general safety practices, and encourage independent study to drive excellence and best practices in safety in the country," Anyanwu explained.
Susan Serekara-Nwikhana