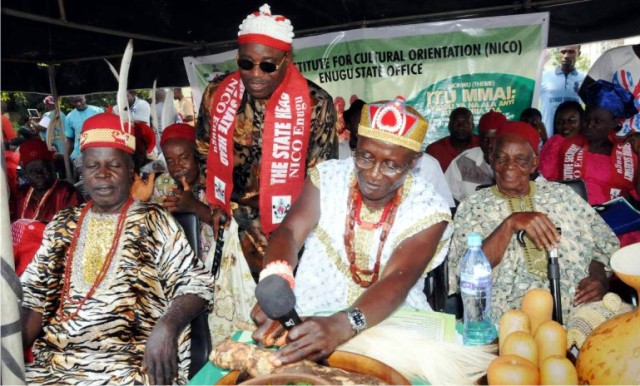 Ex- Nigeria's Vice Presi
dent, Alhaji Atiku Abubakar, has blamed the dictatorship and high level of corruption in most African nations on over  centralisation of powers and resources at the central governments.
He warned that African countries would not go far in achieving freedom, development and advancing their societies, unless the trend is changed.
Atiku, gave the warning yesterday at the African Veterinary Association/Nigerian Veterinary Medical Association Congress in Enugu, with the theme, "Towards Economic Diversification and Sustainable Development in Africa."
The ruling All Progressives Congress (APC), chieftain declared  "that if we diversify economic activities without modernising them, we will not go far."
According to him,"if we diversify sources of government revenue, but continue to concentrate too much power and resources in the central governments , then we won't go far in achieving freedom, development and advancing our societies."
The ex- Nigeria No. 2 man, regretted that five decades after most African nations, including Nigeria, gained political independence, their economies remain mostly mono-crop economies, largely dependent on export of single primary commodities, such as minerals and agricultural products.
Atiku, further observed that the prices of these commodities were determined internationally by factors over which the African countries have little influence and the prices often fluctuate rather widely, making the economies very vulnerable to externally induced shocks.
He noted that reliance on single primary commodities retarded industrialisation, manufacturing, added little value and has had deleterious consequences for the politics of African societies.
His words: "These include the preponderance of rent-seeking, state dominance of economic activities, vicious struggles for state power and the attendant corruption and trends towards dictatorship.
"And we continue to have challenges with poor infrastructure and insecurity, both of which discourage investment and tourism, deteriorating educational system and inadequate support and promotion of research and innovation.
"But our potentials are enormous if we truly want to turn our fortunes around. And we must. The diversification of African economies is obviously critical and one thing around which we have consensus in African and within our various countries," Atiku said.
He however, noted that diversification of the economy as a genuine change in policy and practice that results in the promotion of diverse economic activities by citizens and corporations in ways that contribute significantly to economic growth, employment, rising incomes and government revenues through taxation and other resources, and which includes advances in productive methods and management of human and material resources.
"May I suggest that if we diversify economic activities without modernizing them, we won't go far. If we diversify sources of government revenue but continue to concentrate too much power and resources in central governments in Africa's diverse societies, we won't go far in achieving freedom, development and advancing our societies.
"If we diversify our economies but still let the state dominate economic activities as a major investor and competitor against the private sector, we will be unable to unleash our people's productive and entrepreneurial energies.
"Can we realistically expect a state that confiscates economic resources such as rent to genuinely and enthusiastically promote diverse economic activities? Can we realistically expect such a state to embark on the politically difficult task of levying and collecting taxes from its citizens and allowing itself to be held accountable?
"As you deliberate, consider these issues. And consider the role of democratic governance in the quest for the diversification of Africa's economies? Does it help or hurt for people to have a say in how they are governed including economic governance, policy development, and the accountability of leaders?
"As professional bodies AVA and NVMA have critical roles to play in improving African agriculture, especially veterinary health and the quantity and quality of our animal protein intake as well as the prospects of our earning vital foreign exchange from exporting meat and dairy products to the rest of the world" Atiku said.
On the position of Africa on genetically modified organisms (GMOs) and what extent Africa should embrace it as a way to improve our agriculture and nutrition and the risk if any,  Atiku charged the participants to help with evidence-based advice to Africa's governments rather than one governed by fad, fear or paranoia.
He therefore, urged the veterinarians not to forget to work hard to improve their profession, starting with improvements in veterinary education and training, and professional regulation to ensure high quality and ethical practices.
Highlight of the occasion was the presentation of awards of excellence to Alhaji Abubakar, Enugu State Governor, Ugwuanyi, Ifeanyi and Eddie Agbo, the inventor of urine based malaria test kit by the African Veterinary Association.