Judges' Raid, DSS, Amaechi …What To Do, If I Were Buhari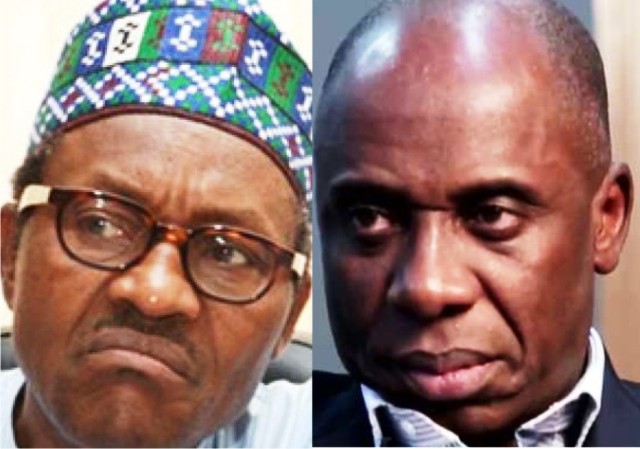 One of the pillars on which the Buhari Presidency rests is the War Against Corruption, a subject which many Nigerians believe was well-thought out. Their position is strengthened by the high credentials and pedigree of the driver of the crusade.
President Muhammadu Buhari, before the 2015 general elections, was acclaimed as a simple, modest and disciplined leader, not given to the known habits of ostentatious living, corruption and abuse of office. It was indeed these qualities that made his averment to fight corruption believable.
It was also on the crest of those values that Muhammadu Buhari became President. He matched public expectations with his public declaration of assets with as little as N3 million cash in earnings, a few cows and a plot of land in Port Harcourt, which location he was yet to be told.
That meant one of few things. That it was a mere promise by the then Governor of Rivers State, Chibuike Rotimi Amaechi. That Buhari, at the time of declaring his assets, did not have valid documents, including C of O, to lay claim to such asset. Or that it was a post-declaration, pending when he would get such land.
Whatever interpretations Nigerians may draw from that land claim, it showed transparency on the part of the President, even if, were such a gift given to former President Goodluck Jonathan by say, the Kaduna State Government, it would be revoked. That is a talk for another day.
But truth is, Buhari carries with him the reputation of one capable of fighting corruption of any kind to its logical conclusion. A key hindrance, however, might well be the measure of goodwill he enjoyed, by way of campaign and election sponsorship by defecting Peoples Democratic Party (PDP) governors, alleged to have diverted huge funds belonging to their states into his Presidential Project.
How would Buhari fight persons who contributed to his campaign project, since it was clear that he did not have the required resources to finance his presidential project? Or is it that such funds diversion did not rise to the level of corruption since they were channeled to a 'noble cause', the cause of helping to elect a pious man?
But by far the major criticism of the war against corruption, even among foreign commentators is that it is selective. That it targets mainly opposition politicians whose actions threatened his electoral fortunes, in the three instances, he took shots at the presidency
This is why many believe that the recent raid and subsequent arrest of judges by men of the Directorate of State Services, DSS, in a Gestapo style sting operation, followed same selective pattern. Most Nigerians agree that there is corruption in the Judiciary but believe that no judge, friendly to the ruling All Progressives Congress (APC- led) Federal Government would have suffered such embarrassment in the hands of the executive arm.
That is why it did not come as a surprise to many when two of the affected judges cried out that they were being hounded for not doing the bidding of agents of the government concerning election cases involving the ruling APC.
Last Friday, many Nigerian national daily newspapers were awash with damning headlines on the cries of one of the judges, a second within days.
The Punch of Friday October 21, 2016 has as its banner lead headline: 'Another Judge Says Amaechi Asked Him To Influence Judgments'.
The Guardian led with, 'Another Judge Blames Chibuike For Arrest By DSS', while, The Sun screamed, 'Amaechi Offered Me Bribe To Sack Fayose; – Allegation Mere Fiction, Says Transport Minister.
Even the pro – APC Nation Newspaper had the headline, Judge: Amaechi Asked Me to Help Nullify Fayose's Election; – Justice Ngwuta's Allegatioin Is Fiction – Minister.
The publications stemmed from a petition by one of the affected judicial officers, a Justice of the Supreme Court, Justice Nwali Sylvester Ngwuta to the Chief Justice of Nigeria (CJN), Justice Mahmud Mohammed, and the National Judicial Council (NJC).
Dated October 18, 2016, the petition chronicled events that led to the raid of his home and eventual arrest. In brief, Justice Ngwuta alleged that he was a victim of executive attack for refusing to compromise his 'sacred oath' to uphold truth and justice.
Justice Ngwuta pointedly accused former Rivers State Governor and Transportation Minister, Chibuike Rotimi Amaechi and his Science and Technology counterpart, Dr Ogbonnaya Onu of asking him to help influence the Supreme Court's decision in some election cases.
According to the Justice, his ordeal was connected to his refusal to accede to the requests made by the minister.
Justice Ngwuta's letter which came 48 hours after that by Justice John Okoro, who was also arrested by the DSS operatives, had accused Amaechi of asking him (Okoro) to influence the apex court's decision on poll judgments in Rivers, Akwa Ibom and Abia States.
Following in Justice Okoro's footsteps, Ngwuta in his petition to the National Judicial Council (NJC), traced his ordeal to between 2013 and 2014, when, he alleged that Amaechi approached him at a function at the International Conference Centre (ICC), Abuja, to help set aside judgment on Ekiti State Governor, Ayo Fayose's election in order to make way for Fayose's predecessor, and now Minister of Solid Minerals, Kayode Fayemi.
His words: "My present plight started sometime between 2013 and 2014. I represented the then CJN in an event organised at the International Conference Centre (ICC), Abuja.
'Honourable Rotimi Amaechi came in late and sat next to me at the high table. He introduced himself to me and we exchanged contacts. A few weeks later, Fayose's case was determined in the Court of Appeal.
'Amaechi called me by 6.45 am and said he had come to see me, but was told I had left for the office, when he said he could return in the evening. I demanded to know what he wanted, but he would not tell me.
'He didn't come that evening, but came the following morning when I was already prepared to go to work.
'He begged me to ensure Fayose's election was set aside and another election ordered for his friend Fayemi, to contest. I told him I would not help him and that even if I was on the panel, I would have only my one vote.
'After the Rivers Governorship election was determined by the Court of Appeal, he called to tell me his 'ears were full' and he would like to tell me what he heard. I told him I was out of Abuja at the time. On my return, he came in the evening and even before he sat down, he barked, 'you have seen Wike'.
After the Supreme Court affirmed the election of Nyesom Wike, Amaechi also called him on phone and said 'Oga is not happy'.
Transportation Minister Amaechi denied these allegations, describing them as fiction and part of a larger plan to pull him down at all cost.
Pulling someone innocent down is a grave moral, even criminal offence that should not be swept under the carpet, just as the allegations raised by Justices Okoro and Ngwuta.
To inject the needed credibility into the anti-corruption campaign, if I were Buhari, I would instruct that the claims of the Judges and Amaechi be spot-checked.
For instance, which event did both Amaechi and Ngwuta attend and when? That is very easy to find out. Next, after ascertaining that day, were there telephone calls? Affected communication service providers can easily ascertain and even produce transcripts. Did Amaechi and the Judge meet again in the Judge's home after decision on the Rivers' governorship elections? That too can be verified.
If I were Buhari, to prove that I am high above such vendetta as alleged by the Judges, I would institute a probe or a judicial inquest with a view to ascertaining truth of the matter.
My Agony is that there are earlier allegations, even valid judicial reports, yet to be attended to and so there may not be any urgency on the current one. Case closed.
Soye Wilson Jamabo
Trans-Kalabari Road: Banigo, Stakeholders Condemn Abduction Of Expatriate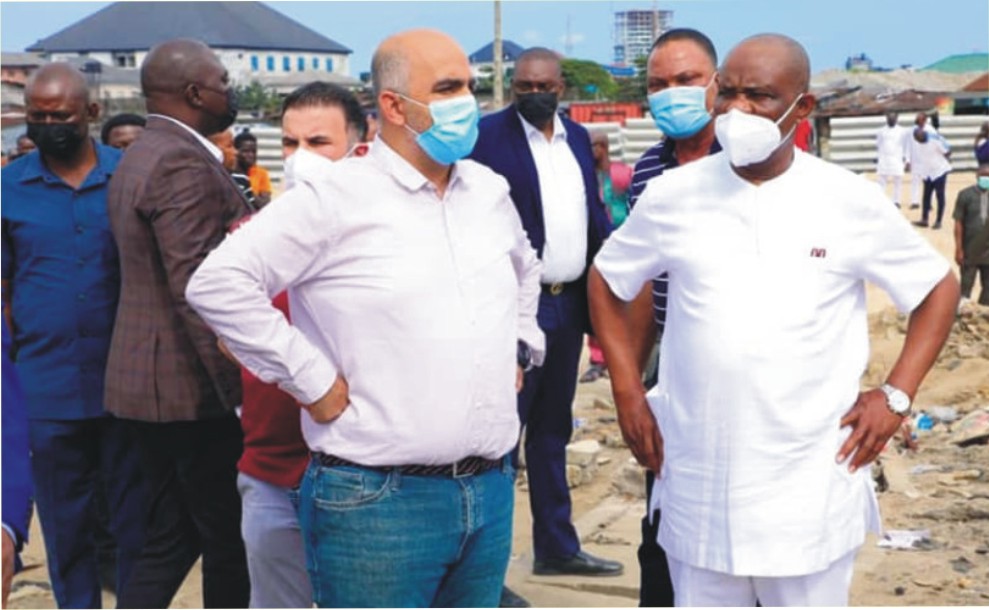 Kalabari traditional rulers and stakeholders have condemned the recent abduction of an expatriate staff of Lubric Construction Company working on the Trans-Kalabari Road.
Speaking at a meeting at the Government House in Port Harcourt, last Friday, Rivers State Deputy Governor, Dr. Ipalibo Harry Banigo said she was deeply pained by the unfortunate incident carried out by unknown miscreants.
According to the deputy governor, who said that the State Chief Executive Officer, Nyesom Wike, was desirous to bring more development projects to Kalabari Kingdom, regretted that this act was capable of discouraging him.
"I want to reiterate that our governor is very desirous to do more developmental projects in our communities, there are many more things he has in the card to do for us, and if we allow this ugly thing to surface, that attitude will discourage him", the deputy governor noted.
Banigo, who said that perpetrators of the heinous crime did not drop from the sky, insisted that they were community people, and must be fished out and dealt with decisively, while calling for the immediate and unconditional release of the abductee.
Also speaking, the Chairman of the Greater Port Harcourt City Development Authority, Chief Ferdinand Alabraba, expressed regrets that a project as important as the Trans-Kalabari Road would be tampered with by persons who do not mean well for the Kalabari people.
"If their intention is to run down the good works of our dear governor, over a project which the Kalabari people have been yearning for over the years, then, I am sure God Almighty will not allow them to get away with this dastardly act of kidnapping one expatriate", Alabraba stressed.
Alabraba further said, "It is important that we talk to ourselves and ensure that everything possible is done to ensure immediate release of the victim, and ensure that measures are put in place to forestall this type of thing in the future".
Presenting a seven-point communique, Amanyanabo of Minama, King Iboroma Talbot Pokubo, who represented the Amanyanabo of Abonnema, King Disreal Gbobo Bobmanuel, demanded for the immediate and unconditional release of the expatriate, and reassured Governor Wike of their unwavering support for the governor.
Buhari Approves Incorporation Of NNPC, Appoints Board Members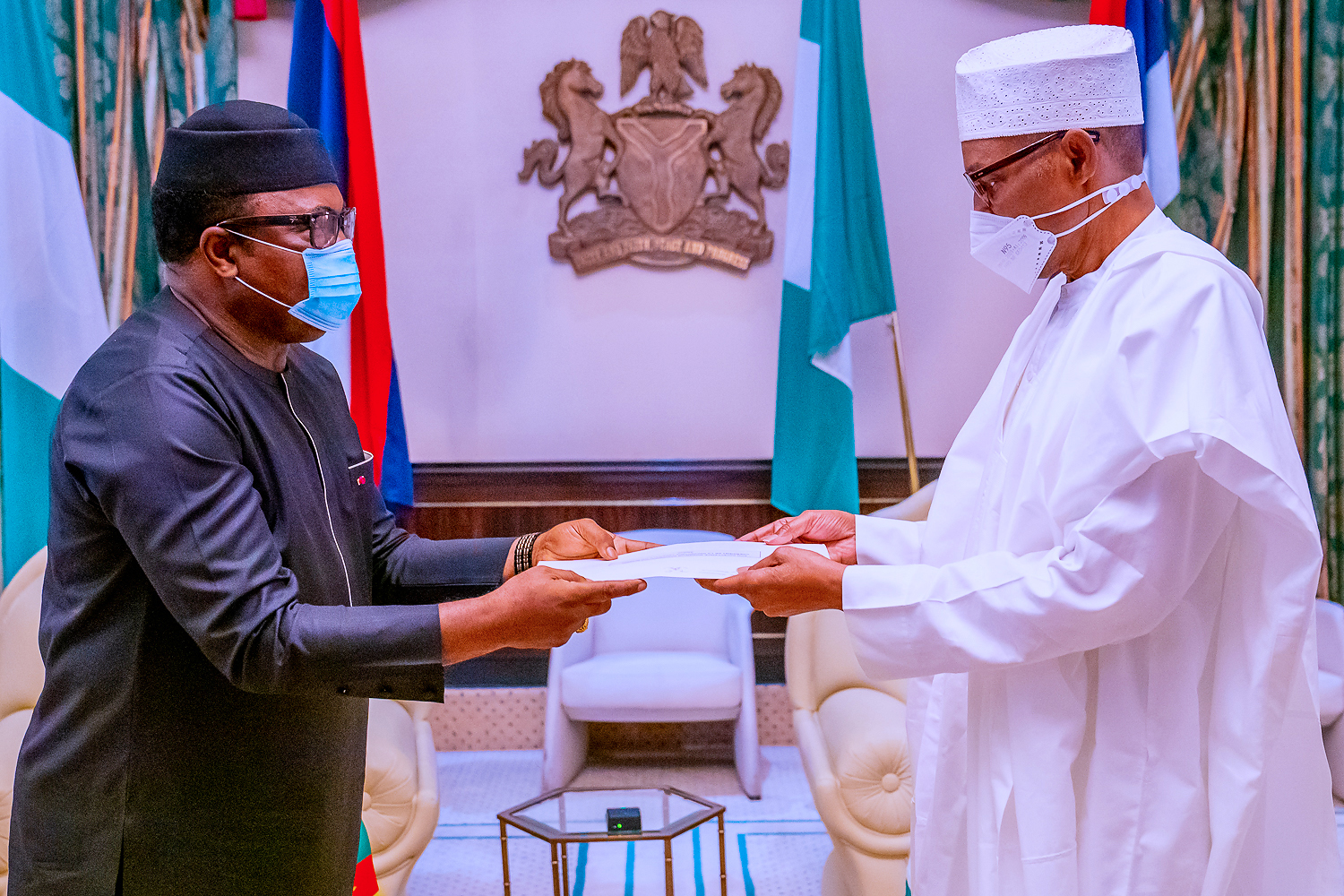 President Muhammadu Buhari, has directed that the Nigerian National Petroleum Company Limited be incorporated.
He also approved the appointment of the Board and Management of the NNPC Limited with Senator Ifeanyi Ararume as chairman.
The Group Managing Director of the Nigerian National Petroleum Corporation (NNPC), Mr Mele Kyari, was appointed chief executive officer.
This was contained in a statement by his Special Adviser on Media and Publicity, Mr Femi Adesina, saying that the president acted in accordance with the Petroleum Industry Act 2021.
The statement read, "President Muhammadu Buhari, in his capacity as Minister of Petroleum Resources, has directed the incorporation of the Nigerian National Petroleum Company Limited.
"This is in consonance with Section 53(1) of the Petroleum Industry Act 2021, which requires the Minister of Petroleum Resources to cause for the incorporation of the NNPC Limited within six months of commencement of the Act in consultation with the Minister of Finance on the nominal shares of the company.
"The Group Managing Director of the NNPC, Mr Mele Kolo Kyari, has, therefore, been directed to take necessary steps to ensure that the incorporation of the NNPC Limited is consistent with the provisions of the PIA 2021.
"Also, by the power vested in him under Section 59(2) of the PIA 2021, President Buhari has approved the appointment of the Board and Management of the NNPC Limited, with effect from the date of incorporation of the company.
"Chairman of the board is Senator Ifeanyi Ararume, while Mele Kolo Kyari and Umar I. Ajiya are chief executive officer, and chief financial officer, respectively.
"Other board members are; Dr Tajudeen Umar (North-East); Mrs Lami O. Ahmed (North-Central); Mallam Mohammed Lawal (North-West); Senator Margaret Chuba Okadigbo (South-East), Barrister Constance Harry Marshal (South-South); and Chief Pius Akinyelure (South-West)."
Reject Buhari's Fresh Loan Request, SERAP Tells NASS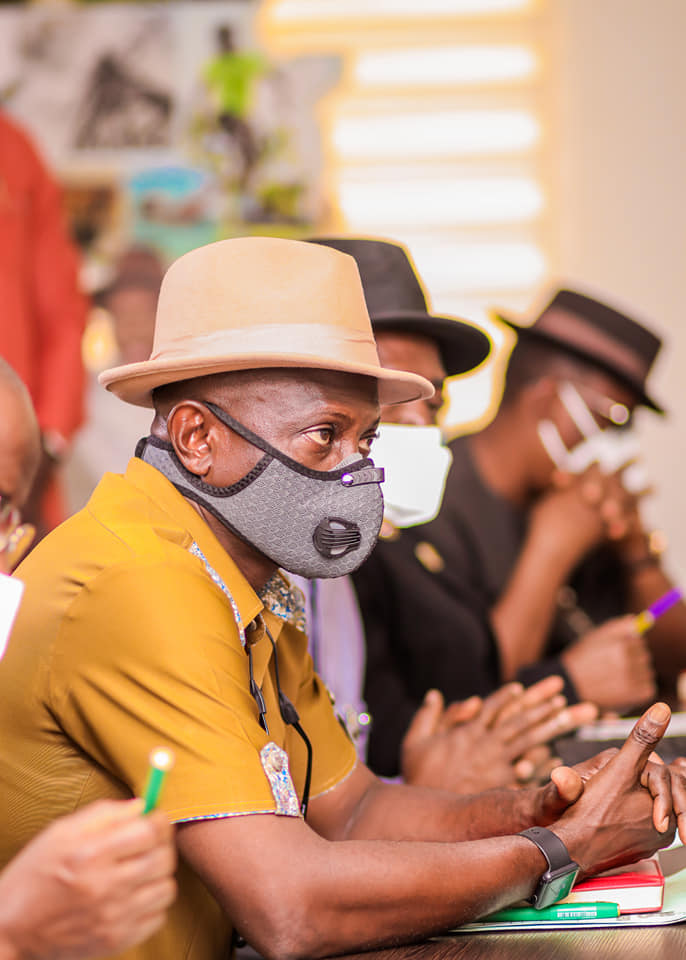 The Socio-Economic Rights and Accountability Project (SERAP) has urged the Senate President, Dr Ahmad Lawan; and Speaker of House of Representatives, Hon Femi Gbajabiamila; to reject the fresh request by President Muhammadu Buhari, to borrow $4billion and €710million.
SERAP said if such request must be granted, the Federal Government should publish details of spending of all loans obtained since May 29, 2015.
The group also expressed fear that if the fresh request is granted, it may take Nigeria's to over N35trillion.
Buhari recently sought the approval of the National Assembly to borrow $4,054,476,863 and €710million, on the grounds of "emerging needs."
The request was contained in a letter dated August 24, 2021.
In an open letter dated September 18, 2021, and signed by SERAP Deputy Director, Kolawole Oluwadare, the organisation expressed "concerns about the growing debt crisis, the lack of transparency and accountability in the spending of loans that have been obtained, and the perceived unwillingness or inability of the National Assembly to vigorously exercise its constitutional duties to check the apparently indiscriminate borrowing by the government."
SERAP said, "The National Assembly should not allow the government to accumulate unsustainable levels of debt, and use the country's scarce resources for staggering and crippling debt service payments rather than for improved access of poor and vulnerable Nigerians to basic public services and human rights.
"The country's public debt has mushroomed with no end in sight. The growing national debt is clearly not sustainable. There has been no serious attempt by the government to cut the cost of governance. The leadership of the National Assembly ought to stand up for Nigerians by asserting the body's constitutional powers to ensure limits on national debt and deficits.
"Should the National Assembly and its leadership fail to rein in government borrowing, and to ensure transparency and accountability in the spending of public loans, SERAP would consider appropriate legal action to compel the National Assembly to discharge its constitutional duties.
"SERAP notes that if approved, the country's debts will exceed N35trillion. The government is also reportedly pushing the maturity of currently-secured loans to between 10 and 30 years. N11.679trillion is reportedly committed into debt servicing, while only N8.31trillion was expended on capital/development expenditure between 2015 and 2020.
"Ensuring transparency and accountability in the spending of loans by the government and cutting the cost of governance would address the onerous debt servicing, and improve the ability of the government to meet the country's international obligations to use maximum available resources to ensure the enjoyment of basic economic and social rights, such as quality healthcare and education", SERAP added.