Understanding Insomnia And Its Consequences
Insomia is a sleep disorder characterised by the inability to
obtain an adequate amount or quality of sleep. The inability can be in falling asleep or both. People with insomnia do not feel refreshed when they wake up. Insomnia is probably one of man's most common complaints that may be caused by many conditions, diseases or circumstances. However, there are many types of insomnia, one of which is in primary form.
Primary insomnia is when a person is having sleep problems that are not directly associated with any other health condition or problem. It is often caused by a temporary situation in a person's life, such as an argument with a loved one or jetlag. Also lack of nutrients like calcium and magnesium can cause one to wake up after a few hours and not be able to return to sleep, and this situation results from eating close to bed time. When the situation is resolved or the precipitating factor disappears, the condition goes away, usually without any treatment. Insomnia can also vary in terms of duration and how often it occurs. It can be acute (short-term) or chronic insomnia (long-term). Acute insomnia can last from one night to a few days. Insomnia is called chronic when a person has sleeplessness at least three nights a week for a month or longer.
Most people suffer from acute insomnia when faced with a particular situation that causes them anxiety or great excitement. Significant life stress such as change/loss of job, divorce, death of a loved one, moving to a new town, financial situations, may all affect sleep. Environmental factors like noise, light or extreme temperatures (hot or cold) also cause acute insomnia. Interference in normal sleep schedule (switching from a day to night shift), for example and alcohol and drug abuse also interfere with natural sleep cycles.
In chronic insomnia, pain or discomfort at night, chronic stress and many of the systemic disorders already mentioned are causative factors. Generally, people with insomnia have one or more of the following symptoms: (a) difficulty in falling asleep (b) waking up often during the night and having trouble going back to sleep (c) sleepy during the day, (d) waking up too early in the morning, (e) problems with concentration or memory, (f) feeling tired upon waking and general weaknesses and (g) irritability
Just as many factors give rise to insomnia, so also are the consequences of sleep disorder. Decreased ability to perform creative or repetitive tasks, deterioration in overall performance can even result in mild personality changes. If chronic, inadequate sleep compromises productivity, creates problems in relationship and can contribute to many health problems, already mentioned.
A lot of money is thus spent on sleeping pills, special beds, and a variety of mechanical gadgets to aid in sleeping.
However, there are things that can enhance sleep without using sleeping pills. Primary of such things is, lettuce. Lettuce is beneficial in the treatment of insomnia as it contains a sleep-inducing substance called 'letucerium.' The juice of this vegetable has been likened in effect to the sedative action of opium without the accompanying excitement. A ¼ tumbler is taken preferably 30-60 minutes before bedtime. 0.25 grams of the root powder is mixed with warm water and taken once daily. In chronic conditions, taking such mixture two times a day, till symptoms are cleared is advised.
Honey induces sleep. It should be taken with water, before going to bed. Take 1-2 tablespoon in a cup of water. Other factors that can enhance sleep include making ones bedroom comfortable. Be sure that it is dark, quiet and not too warm or too cold. Remove every source of distraction like noise, light. Instead of pills, follow a routine to help you relax before sleep. Read a book, listen to music, or take a bath.
Avoid using over-the-counter sleepy pills for insomnia, because they may have undesired side effects and tend to lose their effectiveness with time. It is also important to practice good sleeping habits. Try to go to bed at the same time each night and get up the same time each morning. Also try not to take naps during the day, because naps may make you less sleepy at night.
Caffeine and nicotine are stimulants that can keep one from falling asleep. Alcohol can also cause waking in the night and interferes with sleep quality. Avoid eating a heavy meal later in the night. A light snack before bedtime, however, may help you sleep.
Get regular exercise but try not to do so close to bedtime, because it may stimulate you and make it hard to fall asleep.
Osuji is a medical student of Abia State University, Uturu.
Priscillia Osuji
Immunization: Health Board Targets Rural Communities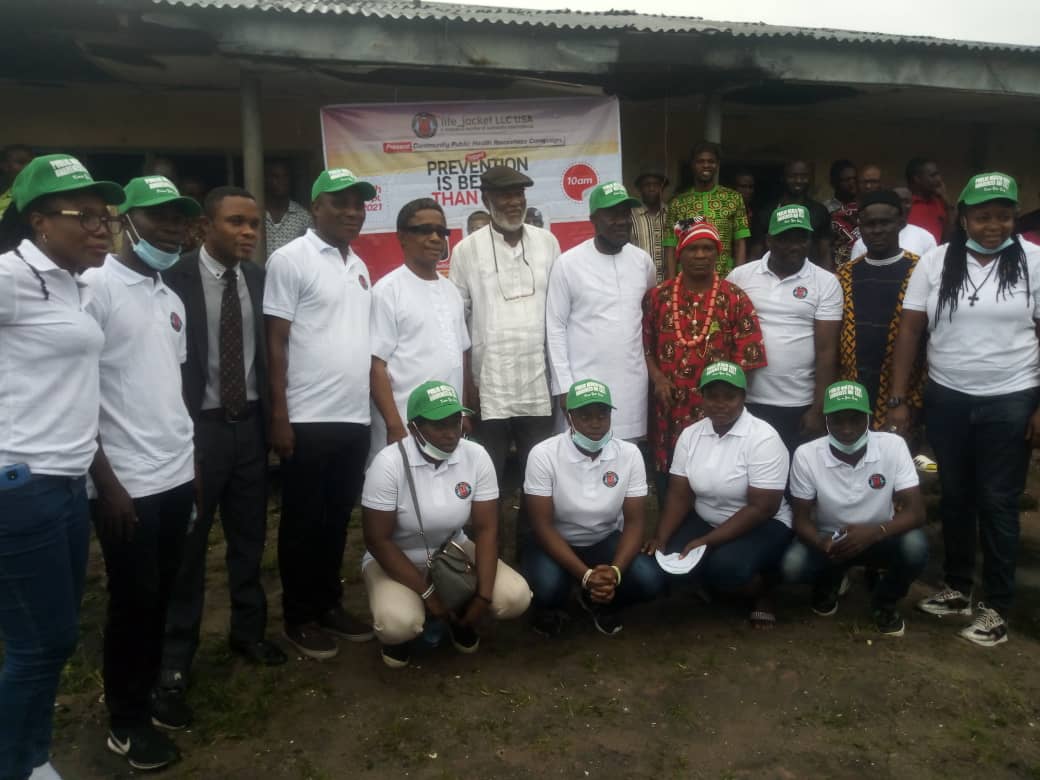 Towards ensuring that immunization campaign achieves its target of over 90 percent, the Rivers State Primary Health Care Management Board, says it has provided modalities for trained health care providers to reach the interiors of the state.
Making this known in an exclusive interview, the Health Education / Coordinator, Rivers State Social and Behavioural Change Communication Committee, Dr Daris Nria, said provisions have been made to take the free immunisation exercise to the rural areas of the state.
Because immunisation programe will be running concurrently in all the local government areas, and these areas will be empowered with boats or other means of transport, as well as logistics.
She used this opportunity to call on the public especially parents and women of child bearing age to avail themselves the opportunity of being immunized against tetanus and other diseases.
In another development, the Maternal and Neonatal Child Health (MNCH) Focal Person, Rivers State Primary Healthcare Management Board, Dr Emen-Jaja stated that the MNCH week slated to commence from 20th – 24th September will provide health care services for children under the age of five years, pregnant women as well as their spouses.
Such services, according to her, include administration of vitamin A, deworming exercise, nutritional screening, general health checks, child spacing and birth registration.
"Both women of reproductive age and their spouses who visit the health care centres would also have free services within the week.
CSO Wants Cancer Treatment Centres In Rivers
The Rivers State Chapter of the Civil Society organsation (CSO) has called on the state government to establish cancer treatment centres in the state to address the current growing cancer cases in the state.
Making the call recently, chairman of the organisation, Mr Dennis Otobo, said going by the status among the community of states in the country, Rivers State needs such centres in strategic areas of the state.
He stated that "going by the position of Rivers State among other states in the country, we are over due to have enough cancer treatment centres, especially considering the State Government's focus on the health of her people".
According to him, "taking some of our cancer patients to other neighbouring states does not tell well of our health services, no matter how we look at it.
"Government should establish cancer treatment centres in the state, at least a one hub treatment centre in each LGA", he said.
Otobo explained that for now, about 99 per cent of treatments for cancer and related services are provided by donor agencies and patients are taken outside the state for treatment, which requires a lot of fund that is mostly not available.
"If government can provide cancer treatment centres in the state, it will not only lessen the impact of the ailment in the state but will also alleviate the suffering of patients who cannot afford going for treatment outside the state", he said.
To Much Salt Consumption, Bad For Kidney – Expert
A Nephrologist, specialist in Kidney disease, Dr Manda David-West, says excessive salt consumption is one key cause of kidney disease.
Stating this in a recent interview, she said in-take of too much salt is capable of damaging one's kidney, in addition to raising blood pressure.
"Too much salt can raise up the Blood Pressure (BP), and once the BP is raised, if you are not on medication, It can damage the kidney over time, she said.
In order to prevent this, Dr David West, who is a Consultant Nephrologist at the University of Port Harcourt Teaching Hospital (UPTH) called for limitation in salt in-take.
She further stated that to prevent kidney disease, there was the need to cut down on carbohydrate and callory intake, alongside checking food in-take capable of increasing chances of developing diabetes mellitus.
Dr David West continued that enough intake of fruits and vegetables, alongside exercises with a view to keep fit also prevents kidney diseases.
Contrary to wide spread belief that food supplements are good for the body, Dr David West said too much intake of food supplements is not good for the body.
Accroding to her, besides taking fruits and vegetables, "they should engage in daily exercise, try and keep fit and be active as much.
"Even (food) supplement has not been proven to be good to the kidney, especially when it is taken for a long time.