Functional Agency For Rivers Roads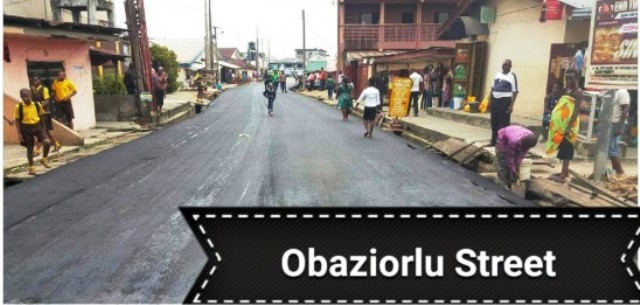 There was nothing to show that a
government existed in Rivers State between 2011 and 2015 as far as roads are concerned.
The immediate past APC administration in the state allowed almost all roads in the state to degenerate to the level of village footpaths. Very deplorable.
Governor Wike inherited this rather disturbing situation. The roads in the urban centres of the state were so bad that they were used to mock the Rivers people.
This was a sad commentary as the Amaechi/APC administration had the rare privilege of accessing over N3trillion in eight years. The highest to accrue to the state since the return to democracy in 1999.
Beginning May 29, 2015, Governor Wike outlined his double-barrelled approach to fix the roads in the state and rebuild her state's economy for the benefit of the people.
The governor's road construction, reconstruction and rehabilitation programmes are built around the State Ministry of Works and the Rivers Road Maintenance and Rehabilitation Agency.
The State Ministry of Works have delivered over 150 kilometres of roads in the last 15 months of the administration of Governor Wike. These over 100 roads are spread across six local government areas of the state. Several of these roads were commissioned during and after the governor's first year in office. Others are ongoing.
New roads in the other 17 local government areas are being processed for award and execution. The governor explained that he started with the urban centres because of the need to address the traffic needs of the larger communities, where majority of Rivers people reside and do business.
The Rivers Road Maintenance and Rehabilitation Agency transformed by Governor Wike has made more roads motorable in the urban centres of the state than at any other time in the history of the state.
This agency has delivered more than 130 roads in the last 15 months of the Wike administration. Dilapidated Roads in Port Harcourt City, Oyigbo, Eleme, Obio/Akpor and Ikwerre Local Government Areas have been rehabilitated to the delight of the people.
Majority of the roads that have either been rehabilitated or maintained by the agency were completely neglected for over two decades. Therefore, they degenerated beyond imagination.
Upon assumption of office as Governor of Rivers State, Nyesom Ezenwo Wike repositioned the agency, equipped it and ensured that it is appropriately funded to serve as an interventionist agency to address the challenges faced by the state regarding road infrastructure.
For the most populated suburbs in Port Harcourt and Obio/Akpor Local Government Areas, the Rivers State Road Rehabilitation and Maintenance have rehabilitated the worst roads and created access to neglected communities.
This agency has also intervened on failed portions of Aba Road, a major Federal Road that is critical to traffic in Oyigbo, Obio /Akpor and Port Harcourt City Local Government Areas. This road is also critical to traffic from the South East and Northern parts of the country into the treasure base of the nation.
Today, motorists are happy that the Oyigbo junction on Aba road and Rumuola Flyover have been completely rehabilitated by the agency.
Road Rehabilitation has been been democratised under the leadership of Governor Wike. Residents report the road situation in their communities to the Rivers State Road Rehabilitation and Maintenance Agency via the social media and text messages .
The agency then sends her technical officials to conduct feasibility studies on the reported roads. Upon the completion of the feasibility studies, the roads are then rehabilitated . This practical approach to project implementation has been quite successful.
Executive Chairman of the Agency, Chief Okey Okah since his appointment by Governor Wike has made outstanding contributions to the governor's mission to road repairs and rehabilitation.
Since May 29, 2015, there is no single state in the entire that can match Rivers State in terms of road construction, reconstruction and rehabilitation. This achievement is not a function of the availability of funds. It is public knowledge that the Federal Allocation like those of other states have nose-dived.
If it had to do with access to finance, the immediate past APC /Amaechi administration in the state would have fixed these roads since it received on the average N20billion from the Federal Allocation. This is excluding the regular loans that failed administration accessed.
The outstanding success in the rehabilitation of existing roads in Rivers State flows from the careful planning of Governor Wike, diligent application of scarce resources and high level supervision of projects. All projects are wired to succeed as failure is not an option.
The delivery of about 250 roads in the areas of new construction, reconstruction and rehabilitation across different communities in Rivers State is the reason why Rivers State has been confined to irregular and incoherent statements. They would have remained quiet, but they need to issue press statements to justify stipends from their Abuja paymaster who stole Rivers State blind.
Nwakaudu, is Special Assistant to the Rivers State Governor on Electronic Media.

Pay Attention To Vehicles Carrying Scraps
To create wealth out of waste seems to have become an economic trend aimed at depopulating the labour market. This is no less a noble idea. As a result of this innovation, it has become a common sight beholding big trucks conveying scraps from one point of the town to another.
However, it smacks of security lapses should these scrap-ladden trucks be granted easy passage on the highways unchecked. This is because Nigerians can take advantage of such freedom to pass incriminating elements. This alone constitutes serious threat to our security .
In this era of insecurity in the country, the right thing is that every vehicle should be checked and certify safe before being allowed to proceed to its destination.
By: Philip Ejiogu, Owerri.

Take Coronavirus Seriously
Human nature generally is wont to trivializing issues which impact is not directly felt. When catastrophes are announced from afar, they either constitute a spectacle to be viewed by others and probably be amused by it, or a trend that attracts public discussion.
This has been the case with outbreaks of deadly diseases across the globe at different point in time and the attendant attitude of the people towards it. Today, the world's attention is drawn towards Corona Virus, currently ravaging China.
Zoonotic as it was known, meaning normally transmitted between animals and people. The novel Coronavirus (nCoV) is a new strain of the virus that has not been previously identified in humans. For this novel coronavirus (nCoV), both zoonotic and person- to-person transmission has been confirmed.
At the moment, the 2019 novel coronavirus (2019-nCoV), officially named as Covid-19 by the World Health Organisation (WHO), has spread to 26 more countries apart from China, alarming public health authorities across the world.
A total of 69,256 (including 68,566 in China, Hong Kong and Macau) confirmed cases of novel coronavirus infection including 1,669 deaths (one each in the Philippines, Hong Kong, Japan and France) have been reported across the world.
As at yesterday, out of the 68,566 confirmed cases in China, 11,272 are reported to be severe cases.This is indeed, a public health emergency of international concern which further international exportation of cases may not be ruled out in any country.
Thus, even though no strict travel or trade restriction is recommended based on the current information available, the possibility of interrupting spread is still high should countries put in place strong measures to detect disease early, isolate and threat cases, trace contacts and promote social distancing measures commensurate with the risk. The Public Health Emergency Operation Centres (PHEOCs) already established in 22 states of the federation would be tantamount to an effort in futility if they are not worth their raison d'etre.
By: Helen Peterson, Bonny.

Release Students' Results On Time
The issue of delaying the release of students results in our tertiary institutions has become a case to worry about. Some students hardly know their academic performance status until late. Some have had to carry over courses for semesters and sessions unknown to them.
This has caused victims staying longer years in school remedying courses that ordinarily they would have sorted out earlier, had they known about it in good time. Those with plans to change their course of study after one year of academic activities, miss this process because results are not released as expected.
Schools' examination results that were hitherto published on departmental notice boards as prompt as possible to enable students know their status in good time and decide on what next plan to take to better their academic performance, is gradually becoming history.
The most alarming is that even upon graduation, instead of releasing final year students' examinations results promptly, lecturers take more than enough time to submit their marks and care less about the implication of the delay on the students.
Truth is that this trend has robbed many victims the opportunity of proceeding for the compulsory National Youth Service Corps (NYSC) like their colleagues in other institutions. Many of our graduates lose opportunities for job elsewhere because their schools failed to release their results on time.
Some who missed the privilege of procceeding for the compulsory one year national service, due to delayed result, end up being cut off by age, and are eventually subjected to asking for NYSC exemption letter if they must proceed in their chosen careers.
In the light of the evil this emerging trend portends to the society, it is imperative that stake holders in education, nip it in the bud before more havoc is wreaked
By: Timothy Njoku, Umuahia.