Why Night Life Still Bubbles In PH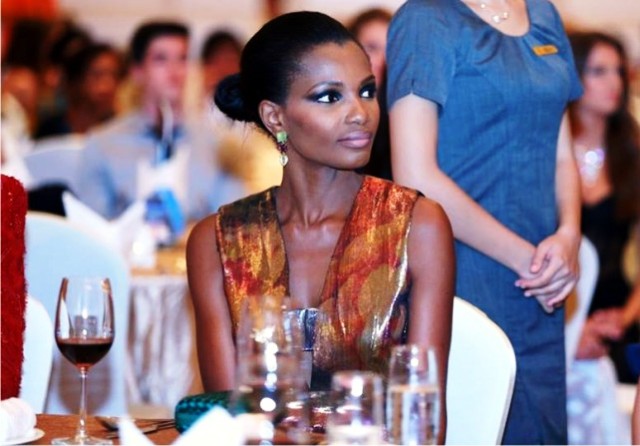 Port Harcourt widely
known as Nigeria's Garden City is a vibrant and bubbling city in the country. It is a place every Nigerian with taste for good things of life want to visit and spend their vacations. At a time, it was common gossip that the most fashionable, hospitable and beautiful women in Africa were in Port Harcourt. The emergence of Agbani Darego from the Riverine speaking area of the state as the first African to clinch the coveted Crown of Miss World reinforced the talk that the most beautiful queens were found in the trendy city of oil and gas, hospitality and entertainment as well as home away from home for all classes of visitors and investors to the state.
However, it is a common knowledge that life is not cheap in Port Harcourt, especially in this period of economic recession in Nigeria, but this has not affected the night life scenario in the state capital as the city still bubbles with fun and relaxation made possible by the relative peace and security that exist in the state today.
Some of the elements that have made nigh life vibrant and amazing in the city include the cinemas and movies that help the individuals to relax and leave behind their troubles for a while. They are made to entertain and teach different moral lessons that we could apply in our daily lives.
The movies provide good past time for our ever growing population of fun lovers in the state as they show the latest Nollywood and blockbuster international films. The popular movie houses include Genesis Delux cinemas Tombia Street, GRA Phase 2, Silverbird 'Showtime' Cinemas at former Obi-Wali Cultural Centre Abonnema Wharf Road, Port Harcourt, Icinema Xscape Centre, Stadium Road, Port Harcourt.
Others include Enterprise Talent Nigeri, Oroworukwo Port Harcourt, Eja Montage Movie theatre among others.
There are also over 297 popular hotels in the state that provide standard hospitality services with conducive accommodation, choice, assorted local and international cuisines, exotic drinks, live dance bands, etc.
Apart from the movie houses and hotels, there are wide variety of night clubs scattered around the city where fun seekers go to enjoy unadulterated fun, socialise, dance, wine and dine. In virtually all major streets of Port Harcourt, there are also drinking spots, blaring naija jamz from giant speakers from 8pm and sometimes till dawn. They also offer assorted drinks to their customers and some even have dance floors with mesmerising lightning which make it difficult to differentiate them from night clubs.
Investigations show that most of these entertainment outlets thrive in the state because of the activities of call girls, strip dancers and prostitutes who partronise these hangouts. You see some of them in their radiance and beauty at red light districts in the New GRA axis of Port Harcourt where most of the night clubs are located. It is not unusual that most guys begin their evenings with their lady friends at the cinema houses from where they besiege the drinking bars, hotels and clubs.
At these joints, you see all manners of charming babes of different ages, shapes and sizes who are out for 'business' mostly at the weekends. Guys on their part have categorized these girls, for instance there are those nicknamed 100 level (those between 18 and 21 years) and they are the ones most patronised. The girls prefer to spend the night at the hotels where the guys shield them away from harassment and embarrassment from their girlfriends and wives.
Interesting enough, sex workers are essential for the survival of these joints, especially in large metropolitan cities such as Port Harcourt as they provide opportunity for unfaithful husbands, flirting bachelors and playboys who need the prostitutes to satisfy their sexual urges in exchange for money.
Fast food business and suya sellers also see the night life as a lucrative business opportunity as the night crawlers also buy their goods, the taxi drivers who hang around the cinema houses, hotels, clubs and bars to take passengers home after a night full of fun also earn their pay, even security operatives are not left out as they are hired by the operators to provide security at their various joints and they pay handsomely for the services rendered. It therefore seems that almost everybody enjoys a piece of the action.
This development makes it difficult for the society to checkmate the nefarious activities of some of the operators and their patrons; which explains why night life thrives in the state despite the economic meltdown facing the country as their activities continue to dominate the entertainment climate in the city.
Jacob Obinna
Nigerian Idol Gets Tougher As Daniel Exits
Last week, contestants on Nigerian Idol took a trip back to their birth year, as they performed their favourite hits from the year they were born. BeyonceAjomiwe opened the night with her rendition of Rihanna's 2004 hit, Unfaithful. DJ Sose commented that her breath control was good, but Seyi Shay felt the song was not the right choice for her. 
Next up was Comfort. Her performance of Christina Aguilera's Beautiful impressed the judges and showcased her continuous growth in the competition. She was, however, advised to work on her vocals and stage presence.
Atela Francis' soulful performance of Bryan Adams' rock classic Please Forgive Me left the judges speechless. When Obi Asika finally spoke, he commented that Francis had just delivered a stadium worthy performance.
Another contestant who left the judges speechless was Faith Jason. His song choice, You Are Not Alone was a tribute to his idol Michael Jackson. DJ Sose exclaimed that he was the full package; combining his voice, skill and stage performance.
Fans favourite, Kingdom followed Francis and Faith Jason performances with a stunning rendition of Toni Braxton's Unbreak my heart. According to him, he chose the song because he read fans' comments, asking him to be expressive and this was his response. Seyi Shay felt that this week's performance was a step up from last week and he had redeemed himself. Obi Asika agreed, saying that Kingdom had arrived and they had all been waiting for him to sing and perform the way he did during the auditions.
Akunna sang LeAnn Rimes' 1997 hit, How Do I Live. Obi Asika commented that like her previous performances, she was great. Emmanuel closed the night with a stellar performance of Seal's Kiss From A Rose. He received a standing ovation from all the judges who praised his vocal ability and stage presence.
For Daniel, it was the end of the road as his journey on Nigerian Idol came to an end. You can vote for your favorite contestants as the power to determine who stays and who leaves is solely in the hands of the viewers. Voting on Nigerian Idol is via the website, mobile site, MyDStv, and MyGOtv apps and via SMS, which is available only in Nigeria.
Why Rivers Rules Nigeria's Entertainment Enclaves
It is no gain saying that Rivers state occupies an enviable position in Nigeria. Apart from being the hub of oil and gas activities in the country and the treasure base of the nation, the state is also the heart beat of the country's entertainment enclave.
      The historic exploits in music, movie, beauty pageants tourism, Arts and culture have attracted a humongous number of foreign and local investors, tourists and all classes of fun lovers to the state. The legendary hospitality, enviable security network, enabling environment and peaceful coexistence have turned the state to a save haven and home away from home for the numerous visitors.
MUSIC: In music, Rivers state boasts of a vibrast music industry that is globally acclaimed its artistes are putting out great music and for a longtime had quite a number of them pushed to national and even global acclaim. Recently Rivers state born award winning music super star, DaminiOgulu popularly known as Burna Boy made Nigeria and Africa proud by winning the highly coveted Global music Album award at the 61st edition of the Grammy awards held in Los Angeles, USA.
       Other Rivers State award winning stars making waves in Nigeria and beyond include Duncan Mighty, Frank D' Nero, Lexy M, Oba Omega, Ajebo Hustlers, Omah Lay, Mercy Chinwo, Mr. 2Kay, Wakonzy, Idahams, Dan Dizzy, Muma Gee, Dr. Barz, Soti (the malaria crooner), Sky B, Bukwild-Da Ikwerre man and Deinbofa Nana Okoto (aka Korkormikor) among others.
Movie: Rivers state is also known for producing leading actors and actresses in Nollywood whose achievements in the make belief industry have attracted global attention with various local and international awards to show for their exploits in the industry. Some of these stars are brand ambassador to multinational companies and organisations.
    Rivers state born beauty queen and organizer of the Miss Earth beauty contest Ibinabo Fiberesima was one time National president of the Actors Guild of Nigeria (AGN) under her watch, the umbrella body of actors and actress in Nigeria recorded unprecedented achievements and members enjoyed an open door policy and sense of belonging.
  Other A-List stars in Nollywood who are from Rivers state include: Sam Dede, Columbus Irosoanga, Gentle Jack, Walta Anga, Alaso Wariboko, Late J.T. Tom West and Tonto Dike, as well as Monalisa Chinda, Maurine Ihua and Ada Eme.
     These veterans have contributed in taking Nollywood to the next level of greatness and global recognition and have also generated revenue to the country amongst other achievements.
Comedy: The Rivers state entertainment landscape also includes the comedy clan. The state also parades veteran comedians who call the shots in the comedy industry in Nigeria. Among the humour merchants of Rivers state origin who have achieved legendary milestones through their hilarious joke are: Julius Agwu, Dan D' Humerus, Angel D' laugh, Prince Hezekiah the Rugged Pastor and a host of others.
TOURISM: This is another entertainment sector where Rivers state has recorded enviable history in terms of tourist attractions. Some of the historic site that abound in the state at second to non in the country. Some of the famous tourist attractions include the beaches such as Ifoko beach, Kono beach, Port Harcourt tourist beach and Finima beach etc.
      There are other tourist favourites, like the Port Harcourt Zoological Garden Port Harcourt, Port Harcourt pleasure park, World class hotels, cinema houses, amusement park and several other locations for relaxation and sight seeing.
Arts/Culture: Arts and culture play complimentary role to the tourism sector in the state as an entertainment outlet. The national museum in the state contains artifacts related to the various ethnic groups in the state including bronze, pottery, masks, historic household equipments, old currencies etc.
    The Rivers state cultural centre is a famous tourist attraction that serves to educate visitors on the rich cultural diversity of the state, there is a theatre, a stage and auditorium for live performance of cultural dance and plays which holds a huge attraction for tourists.
Nightlife: Nightlife Is Another area Rivers state stands out, Apart from Lagos, Rivers state is the state to beat in terms if quality, undiluted entertainment. Before the advent of covid 19 pandemic and Government restrictive policies, the state used to bubble from sdusk to dawn with wining, dining and dancing amid fun, glitz, glamour and razzmatazz.
  Though the covid 19 saga has whittled down the enthusiasm of fun seekers, night crawlers and clubbers, the entertainment industry still bounces ahead. Before now, in virtually all major street in the Garden City, you find drinking spots and other hangouts with Naija Jams blaring from giant speakers from 8:00pm and some time till dawn.
      It is difficult to tell which is a night club in this city because these drinking parlours and hangouts operate as night clubs even some restaurants and carwash do too. Girls of easy virtues in the state charge thrice the amount any of their colleagues in other states charge, because in Port Harcourt, girls are in class of their own.
    A typical night life in the garden city starts fun lovers and their partners start storming the cinemas, some of the popular ones are Silverbird cinema's, Genesis Deluxe cinema, film one at Port Harcourt shopping mall, Port Harcourt pleasure park cinema etc, from the movies houses to bars and eateries and eventually end up at the nightclubs to listen to Dee Jays (DJs) performing live and dishing out the latest club bangers.
    Most of these nightclubs are located at the GRA phase 2 axis of the city and other parts of the metropolis they include: MendianOgoyi place, Tombis a street, GRA Phase 2. Edizwinebar, Emeyal street, GRA phase 2, platinum, Hotel Presidential GRA phase 2 Casablanca nightclub and Karokee, GRA phase 2 others are the Grib, William Jumbo street, Liquid lounge and Bar, Onne Road, Morella, Amadi flats Lesuka, Peter Odili Road, The Hub, Odili Road Port Harcourt among others.
    Nightlife in the city has also brought brisk business to those in the fast food and suya business as most times guys and their babes rush out of the clubs to have quick meals. Taxi drivers are also not left out as they hang around these clubs and bars to take passengers home after a night full of fun.
By: Jacob Obinna
Nollywood Veteran Actor, Bruno Iwuoha Bows Out
The news of his death on April 10, 2021, shook Nollywood. His fans and colleagues knew he had a prolonged battle with diabetes, but didn't know the notable Nollywood actor, Bruno Obinna Iwuoha, would bow to the disease, even after a news website had hinted that he was responding to treatment.
Aged 68 and survived by a wife and six children, the remains of the award-winning actor was committed to mother earth this Thursday in his hometown UmunumoUmuanunu in Ehime Mbano Local Council of Imo State.
In a condolence message, President of the Actors Guild of Nigeria (AGN), Ejezie Emeka Rollas commiserated with the immediate family members, friends and fans and prayed, "God would comfort them at this moment of grief."
Rollas described Iwuoha as a "dependable actor and committed practitioner who will be surely missed." A gifted actor who acts with credulity and mien, Iwuoha hit the right note and became a household name when he interpreted delightfully, the role of a catholic priest in the award winning flick, Sins of the Flesh, which starred Africa's best ChiomaChukwukaAkpotha in a lead role. It was his deep and inimitable interpretation of the role that got the jury of the African Movie Academy Award (AMAA) to unanimously declare him the best supporting actor in a leading role.
For Bruno Iwuoha, that award, which he received personally at the 2007 edition of the AMAA held in Yenegoa, Bayelsa State capital, was confirmation of a dream fulfilled. Right from when he joined in a little over two decades ago, Bruno had always wished that in no time he would emerge a constant visitor in most homes. And true to expectation, that confirmation came and it came in no time.
Though Uncle Bruno, as younger colleagues roundly call him, confessed that he grew up with a healthy appetite for acting, he never imagined that acting would become something of a full time job for him. Until he passed on this April, his life story took a different dimension. Not only did the grey haired actor cut a swath among the industry's recognisable faces, he was roundly regarded as one of the good men of the movie because of the streak of successes he recorded as an actor.
But Iwuoha didn't walk into acting just for the fun of it. The last time he spoke to this reporter, Uncle B as he is also called, revealed that he had a flair for acting and was at a time head of his school dramatic and literary society. It was there that he first struck his acting stuff.
But he didn't continue after school. Young Iwuoha wasn't convinced then that acting would put food on his table. So, he made up his mind to do some buying and selling, as well as supplies. Later, he got a steady supply job and became a registered contractor with the National Fertilizer Company.
But even as he bought and sold for profit, something inside of him yearned for some acting on stage and screen. The voice became clearer as days pass. But Iwuoha would not be distracted or so he thought. He continued trading until he bowed to what he said was the 'superior pressure' of the voice within.'
"It was the day that I returned from one of my business trips that I met a letter inviting me for an audition; that was how it started," Iwuoha recalled.
Indeed, it took that decision to honour the audition invitation for Iwuoha's music chair to turn full circle. That day turned out the last day that the actor with a distinctive feature-grey hair bought and sold any commodity. He took to full time acting and confessed then that he is likely not to consider quitting motion picture practice for any other job because of the gains that has come with his involvement in motion picture practice as an actor.
An easy-going personality, Iwuoha's first take in the movie industry was as a supporting actor in Lost Kingdom written by EkennaIgwe and directed by Ndubuisi Oko. From Lost Kingdom, he marched on as producers sought him out each time they wanted a steady and reliable actor who will throw himself to a role once he gets one. Unlike his peers who played same role in every movie, Iwuoha versatility showed when he moved easily from one role to another. If he was not playing a chief in one, he would be playing a devious and or good father or uncle in another and or a priest in yet another. He was soon to be named an all rounder.