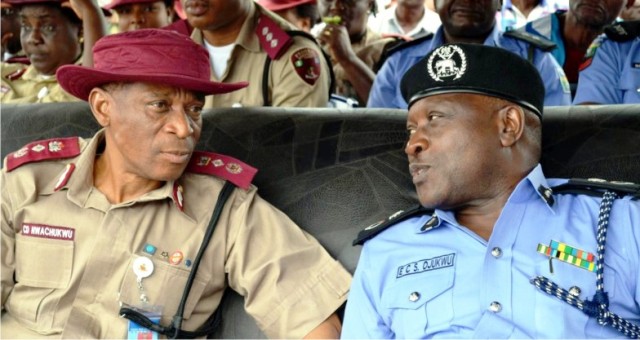 Disturbed by the chal
lenges posed by the menace of herdsmen in Enugu State, Governor Ifeanyi Ugwuanyi of the state has inaugurated the recently constituted Security Committee in the state, under the chairmanship of a retired Brigadier-General, Fred Eze.
Eze was recently  appointed as the Special Adviser to the Governor on Security Matters.
The committee also comprises members of the Enugu State Executive Council, members of the Enugu State House of Assembly, Security Agencies, Local Government Council Chairmen, representatives of the Fulani, Shuwa Arab and Hausa communities in Enugu State, representatives of Cattle Market Traders, Traditional Rulers, Presidents-General of Town Unions, Neighborhood Watch Associations, representatives of the Christian Association of Nigeria (CAN) and Student leaders in Enugu State.
Inaugurating the committee at the Executive Council hall of the Government House, Enugu, Governor Ugwuanyi disclosed that the committee was  "charged with the responsibility of taking all necessary and lawful measures to ensure security and lasting peace and harmony among various communities and in all corners of the state."
The governor said that the constitution of the Committee was also necessitated by the desire of his administration to consolidate the enviable status of the state through the continued maintenance of high level of security and the elimination and prevention of circumstances or incidents that threatened peace and security of lives and property in the state.
He disclosed that similar committees would be constituted in each Local Government Council and in all the political wards in the state and would be coordinated at the ward level by the immediate past Local Government Councilors and serving Executive Assistants, to ensure the engagement of all stakeholders in addressing security issues in their respective communities.
While maintaining that "Enugu State is in the hands of God", the governor stressed that the state was rated as one of the most secure and peaceful states in the country adding that it would continue to enjoy a pride of place as the first and only city in the country to be listed among the 100 Most Resilient Cities of the world.
Governor Ugwuanyi therefore, enjoined members of the committee to approach the important task with requisite zeal, sincerity and commitment, in the interest of the public, assuring them of the full support and cooperation of the State Government towards the attainment of its set objectives.
Responding on behalf of the committee, Brigadier-General Eze thanked the governor for finding them worthy to serve the state, saying that they would discharge their responsibilities diligently and ensure the enthronement of enduring peace and security in the state.
Canice Amadi, Enugu