Removing Pressure On Kids …Roles Of Parents, Guardians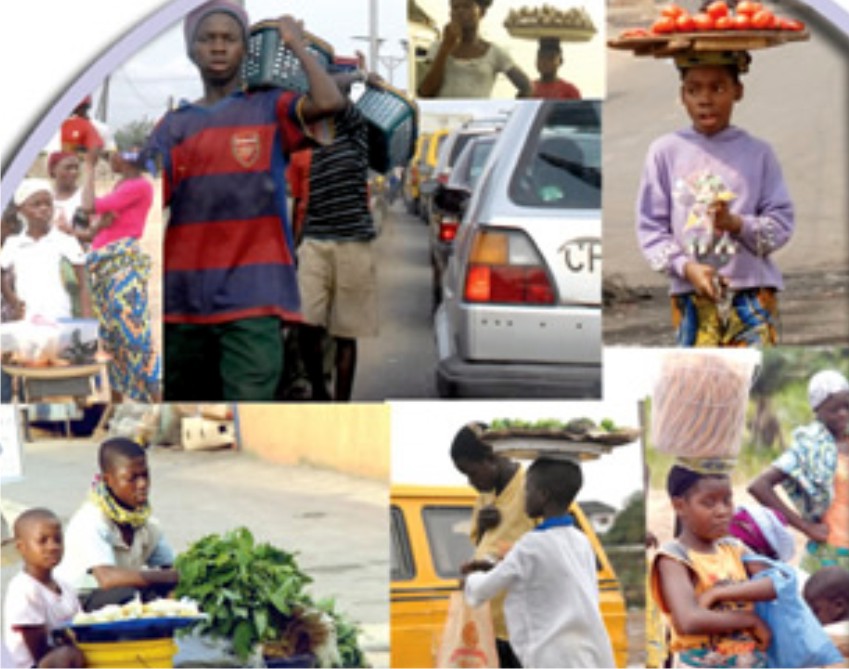 In a clime like ours, where many people are ignorant of the child's right act and children's opinions are not sought for, even while deciding issues concerning them, everybody thinks childhood is simply a care-free era.
Although many children may not initiate a conversation on what bothers them, they surely do go through one form of pressure or the other. Things like school demands, their social life and coping with house chores, in no mean measure, most times create pressures that can be quite overwhelming for them.
Unique Amadi, a basic 9 student of St Scholarstica Secondary School here in Port Harcourt explains that she wakes up every 4.00 am on week days to prepare for school, closes at 3pm and resumes preparatory classes for her junior WAEC immediately and closes at 4pm. She arrives home about 6.00pm and is faced with plates to wash in addition to her school's assignment that she must submit the next day.
Unique is also an active member of the children department of her church, a chorister in that regard.                   Unique is just one among millions of children who go through similar experience on daily basis, some even play the role of bread winners in the home due to unfavourable economic experience.
In the face of these enumerated demands, the onus lies on the poor little child to deliver in every side; be it from the home front, the school or the church, the child is expected to prove him/her self a faithful steward.
Sometimes some parents seem not to know what to do to assist their children cope with these pressures but they surely do want you to reach out and help them cope with their troubles. Even though it may be practically impossible to avert pressures on children, you can, as a parent help them develop healthy ways to cope with pressures.
Resorting to the choice of the child as a money-making venture for the family has exposed most of its victims to the other harsh and ugly side of life many live daily hunted by the dangers incurred in the process of trying to cushion the effect of the harsh economy on families.
Ofcourse, the current economic downturn in Nigeria, and around the world, has refocused attention on the process through which families assist themselves. The harsh economic realities have pushed many parents, the original family bread winners out of their jobs, leaving many family tables to go for days without food.
Many of the parents, guardians and other household authorities,  lack entrepreneurial skills to fall back on in such scotching situation. This situation has not only created great pressure on the children and teens in the homes, but has put upon them, the burden of lending support towards the family's upkeep to avoid eventual collapse.
Most tender-hearted students on their own volition decide to help provide for their parents, siblings and themselves if they have the grace to do so.
Visits to grassroot communities in Rivers State in particular, and Nigeria at large, revealed that many tweens and teens who would have actually preferred to be in classroom studying or be in school uniforms and be found in school environments having fun with teachers and fellow pupils or students, colleagues, are rather hawking goods on the streets and high ways while some baby-sit in various homes.
The reason is simply to aid their respective families earn income with which to make ends meet. These school drop outs, are most times used as sacrificial lamb for others to be schooled or to provide food on the family table. Many no doubt, are economically viable hence responsible for their family's financial stability.
It is a pitiable situation, as it is obvious that many of these teens are neither frustrated, unstable, uninterested in school nor are they guilty of any academic or behavioural misconduct. "They surely do want to be in school, but their families may need their financial help to make ends meet" says molly scott, co-author of Dropping out and clocking in: A portrait of Teens who leave school early and work.
Scott was quick to point out that in some cases, children hand over their pay cheques to parents, while others notice a need in their families and decide to pay for utilities, groceries, school supplies and clothes for themselves and siblings. There also abound cases where youth essentially support themselves within their families or move out on their own.
For the ones who cannot work and school, it is indeed a matter of trading their future to address their family's financial problems. On yearly basis, the oldest children are found stopping their education to help out with family financial situation. These students never get a chance to go back to school.
However, must children trade their future for their family's good? Ofcourse, this cycle can be stopped similar economic hardship was witnessed sometimes in the 70's and 80's, there was provision for evening schools where children who worked in the day had the privilege to school in the evening and vice versa.
Again, one pressure starring the child on the face as he/she grows up, is that brought on him/her by the peers; friends and course mates. A child once stopped attending maths class simply because his friend advised him against doing so. They rather chose to be going out for lunch during maths period.
As children grow up, they are faced with some challenging decisions of which some don't actually have a clear right or wrong answer and others involve serious moral questions. Even adults sometimes are faced with this kind of challenge-where a friends tries to influence each other's action.
It is important to learn to say 'No' to offers from peers when they are not useful, this the parents must let them know.
Use an excuse for not wanting to accept such offer and proffer an alternative instead, most importantly, avoid the people who pressure you. This is so because, by mere spending time with you. You learn from them and they also learn from you. It is quite human to listen to and learn.
"It may be quite tough to be the only one who says "No" to peer pressure, but you can do it. Paying attention to your own feelings and beliefs about what is right and wrong can help you know the right thing to do.
Inner strength and confidence can help you stand firm, walk away and resist doing something when you know better" so said Dr D'Arcy Lyness yet their limited capacity for self-regulation and susceptibility to peer pressure, place them at risk as they navigate and experiment with various social media sites. Akpa (2014) explains that the numerous benefits of the social media can also constitute threats to their health and safety if unmonitored and uncensored with all the risks of insecurity arising from: social networking to the detriment of other productive educational endeavours
-Exposure to pornography and moral depravity
-Access to online gambling sites, detrimental to mental health and youth development and
–Internet risky behavior such as socialising online with unknown persons; as well as
-Depression, occasioned by addiction which results in time wasting as over indulgence leaves less time for more serious activities.
However in as much as the computer is an incredibly useful tool that can help one get a lot done, we can hardly rule out the possibility of children spending so much time on it and an addiction to gaming and chatting is not in any way lesser to drug addiction and can be quite injurious to the child's mental health.
Sylvia ThankGod-Amadi
British Govt Launches Inquiry Into Its Handling Of Coronavirus
A public inquiry is being launched into the British government's handling of the Coronavirus pandemic (Covid-19), Prime Minister, Boris Johnson, said on Wednesday.
The inquiry, which will begin in the spring of 2022, will place "the state's actions under the microscope" and help Britain "to learn every lesson for the future," Johnson told lawmakers in the British Parliament.
"Amid such tragedy, the state has an obligation to examine its actions as rigorously and as candidly as possible, and to learn every lesson for the future – which is why I've always said when the time is right there should be a full and independent inquiry.
"So, I can confirm today that the government will establish an independent public inquiry on a statutory basis, with full powers under the Inquiries Act 2005 – including the ability to compel the production of all relevant materials and take oral evidence in public under oath," Johnson said.
He added that the devolved parliaments of Northern Ireland, Scotland, and Wales would also be consulted before the publishing of the report.
Opposition leader, Keir Starmer, praised the decision to conduct an inquiry, but urged for it to be carried out sooner.
He also urged that both families affected by the coronavirus and front line workers be consulted, as well as the devolved parliaments.
WHO Panel Urges Bold Overhaul Of Pandemic Prevention Measures
The Independent Panel for Pandemic Preparedness and Response (IPPPR), appointed by World Health Organisation (WHO), on Wednesday urged bold action to end the Covid-19 pandemic.
WHO Director-General, Dr Tedros Ghebreyesus, in his opening remarks at the launch of the IPPPR Report at the world health body's headquarters in Geneva welcomed the findings of the panel.
Ghebreyesus said: " we welcome today's presentation of the panel's findings and recommendations, and we look forward to the publication of the full report at the World Health Assembly.
"The Independent Panel's report is one of a suite of reports reviewing different aspects of the pandemic, and WHO's work, including the Review Committee on the Functioning of the International Health Regulations.
"The Independent Oversight and Advisory Committee for the WHO Health Emergencies Programme; The external Evaluation of the Transformation Agenda and the Intergovernmental working group on Sustainable Financing.
"We look forward to reviewing all of these reports, and to discussing them with our Member States in the coming weeks.''
The director general, however, thanked former Liberian President Ellen Johnson-Sirleaf, co-chair of IPPPR and the Right Honourable Helen Clark for their leadership, as well as the panel members and Secretariat.
"We look forward to working with our Member States to discuss the recommendations of this Panel and the other committees to build a stronger WHO and a healthier, safer, fairer future for all of us,'' he said.
Sirleaf, in her remarks, said: "Our message is simple and clear: the current system failed to protect us from the Covid-19 pandemic.
"If we do not act to change it now, it will not protect us from the next pandemic threat, which could happen at any time."
Similarly in her remarks, co-chair of IPPPR, Helen Clark, former Prime Minister of New Zealand said: "The tools are available to put an end to the severe illnesses, deaths, and socio-economic damage caused by Covid-19.
" We have no choice but to act to stop such a catastrophe happening again,'' she said.
The panel – whose report contains "the authoritative chronology of what happened" – also insisted that February 2020 was "a lost month".
This was because "many more countries" could have done more to contain the spread of the new coronavirus after the WHO declared a public health emergency of international concern on January 30, 2020 after the initial outbreak in Wuhan, China.
According to Sirleaf, the shelves of storage rooms in the UN and national capitals are full of reports and reviews of previous health crises.
"Had their warnings been heeded, we would have avoided the catastrophe we are in today. This time must be different.''
Quicker action "would have helped to prevent the global health, social, and economic catastrophe that continues its grip", the panel noted.
The panel added that "the system as it stands now is clearly unfit to prevent another novel and highly infectious pathogen, which could emerge at any time, from developing into a pandemic.''
Among its recommendations, the panel urged Heads of State to take the lead in supporting proven public health measures to curb the pandemic and implement reforms "to prevent a future outbreak" from spreading globally.
The panel also advised high-income countries with adequate vaccine supply to commit to provide "at least one billion" doses to the 92 low and middle-income countries in the UN-led equitable vaccine scheme, COVAX, by September.
De-Escalation, An Absolute Must In Israel-Palestine Conflict – UN Chief
United Nation's Secretary-General, António Guterres, declared on Wednesday that de-escalation of the Palestine-Israel conflict was "an absolute must", saying that the mounting death toll, including children, is totally unacceptable.
Guterres, after meeting with the Russian Foreign Minister, Sergey Lavrov, in Moscow, said that an end to the violence was needed "to protect the lives of civilians that are now dying in totally unacceptable circumstances".
According to news reports, the violence has seen more than 50 Palestinians killed along with six Israelis since Monday.
Meanwhile, in New York, the renewed conflict represents the most serious escalation between Israelis and Palestinians "in years", the UN Special Coordinator for the region told the Security Council.
UN Spokesperson, Stéph-ane Dujarric, briefed reporters in New York at the regular noon press conference, on the update given by Tor Wennesland to the Council, which met behind closed doors.
"We are very concerned by the growing civilian casualties in both Gaza and Israel, and deeply saddened by reported deaths of children in Gaza," Dujarric said.
He said that the Secretary-General and Wennesland had both reiterated that: "Hamas and other militants' indiscriminate launching of rockets and mortars violated the humanitarian law.
"They have emphasised that indiscriminate launching of rockets from highly populated civilian neighbourhoods towards civilian population centres violated international humanitarian law, and it is unacceptable and has to stop immediately."
The spokesperson said the Special Envoy for the Middle East Peace Process had also told ambassadors that Israeli authorities must "abide by their responsibilities under international law".
In addition, he said that Israeli security forces should exercise maximum restraint, calibrate their use of force to spare civilians and civilian objects in the conduct of military operations.
The Secretary-General is "particularly appalled that children continue to be victims of violence", said Dujarric, adding that youngsters needed to be given special protection.
"He and his Envoy have called on the international community to take action to enable the parties to step back from the brink and return to the previous understandings.
"To return to previous understanding that have maintained a relative calm in Gaza and avoid a descent into chaos, with the massive casualties and immense damage to civilian infrastructure that would result," the spokesperson said.
Wennesland, however, reminded Council members that it was the civilian population on both sides, that bore the burden of war and that the most vulnerable are the ones at greatest risk of suffering.
He also told the Council that the cycle of violence would only end with a political resolution of the conflict, an end to the occupation and a realisation of a two-State solution on the basis of UN resolutions, with Jerusalem as the capital of both States.
Meanwhile, the Executive Director of the UN Children's Fund (UNICEF), Henrietta Fore, said on Wednesday that at least 14 children in Palestine and one child in Israel have been reported killed since Monday.
She noted that another 95 children in Gaza and the West Bank – including East Jerusalem – and three children in Israel have reportedly been injured in the past five days.
"The situation is at a dangerous tipping point. The level of violence and its impact on children is devastating. We are on the brink of a full-scale war. In any war, children – all children – suffer first and suffer most".
She urged all sides to "protect all civilians, especially children, to spare essential civilian infrastructure from attacks, and to end violations against children". (