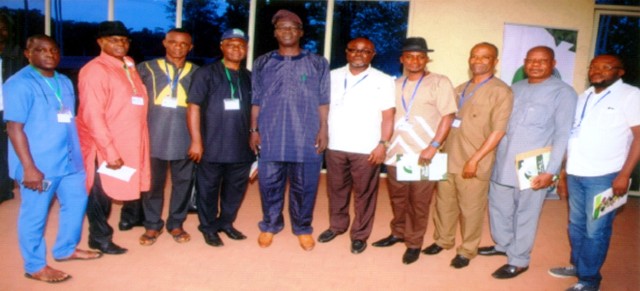 I am delighted to welcome you all to this inaugural edition of NUJ National Media Summit to discuss national issues and issues of the media. There is no better time than now because more than ever before, Nigeria's unity is being threatened and the discordant voices are getting louder and more vociferous.
From the militant groups in the Niger Delta to the separatist movement in the South east, and the terrorists across the Niger in the North East, the fabrics of our existence as a nation are being attacked and the Nigerian media cannot just afford to keep quiet and watch as agents of destruction attempt daily to tear our country apart.
You may want to ask why is the media bothered by these tendencies threatening our unity. Are journalists not supposed to just report events as they happen and leave the public to judge? We are bothered because we have a stake in this country as patriots; and considering the role the Nigerian Press played in securing independence from our colonial masters, championed the cause of unity when we were threatened by civil war and enthroning the democracy that all are now enjoying, keeping quiet would amount to a disservice to the labour of our heroes past which in the words of our national anthem shall never be in vain.
This summit is in furtherance of our repeated commitment to national unity and is aimed at providing a platform for us to brainstorm over the various problems facing our country and attempt to find solutions to them.
Nigeria's experience has shown that, the enthronement of democracy in 1999 has opened up the democratic space for free speech which was not the case under military rule. Good and welcome as this is, this freedom must be exercised with restrain such that we do not talk ourselves into crisis or act in such a manner as to call to question our unity. As a deliberate policy, the media must promote those issues that project our unity, our strength, while not sweeping under the carpet the problems that confront us as a nation and people.
But how has the media fared in balancing these two responsibilities in the face of the harshest working environment ever in the history of the Nigerian Press?
Because we might not be able to judge ourselves on these issues, we had to look outside of our fold to critique our performance, and that explains why we have gathered here today, some critical segments of our society, particularly users of the media and consumers of our products to x-ray the media and deliver their verdict.
The choice of former President Olusegun Obasanjo as keynote speaker was deliberate considering his pedigree of always saying it the way he sees it, and more importantly his commitment to national unity. Love or hate him, Chief Obasanjo is one Nigerian that cannot be ignored and his views carry a lot of weight, hence our decision to invite him as the keynote speaker at this inaugural national media summit by the NUJ.
We welcome straight and honest talk about the Nigerian media from everyone present here. feel free to tell us what we are not doing right, especially as regards national unity. also do not hesitate to encourage us to continue doing those things that are crucial and beneficial to our unity.
But before you stick the knife into the Nigeria media, I would like to draw your attention to the challenges and constraints facing the media and journalists in our country which could help you in your assessment. The media industry in Nigeria is in crisis. As I speak, many media houses are on their knees and struggling to continue as business concerns. The operating environment is so hostile and the recent federal government policy on government advertisement will further compound the problem. We urge the government to review this policy as it could affect the ability and capacity of the media to perform its role in the society.
Just as the media houses are struggling, the fortune of journalists is not improving either. Many media owners are defaulting in the payment of salaries to their workers with some in arrears of one year and above. As a Union, the NUJ has fought to force some of these debtor media owners to pay their workers, while a few are still recalcitrant. While we continue to fight for the rights and welfare of our members, we would like to draw the attention of the general public, including the government to the dangers posed to the society especially this democracy by this ungodly act of these debtor media owners.
A journalist not paid by his employer for months is hungry and vulnerable to corruption and therefore, is a danger to the society. He could call black … white, depending on what is on offer. Make no mistake about it, this is unethical and the NUJ as a responsible professional body frowns at it, but our jobs are being made difficult by these debtor employers. How then can we check or prevent employers, especially in the media from owing their workers?
Some people have called for legislation to make it an offence for employers to owe their workers. They say in other climes, you just can't owe your workers as an employer because their laws do not allow such, wondering why we can't have something similar in Nigeria.
Perhaps it was in recognition of this call that the House Leader in the House of Representatives introduced a bill to forbid owing of workers salary. We understand the bill has been thrown out by the House with an advice to its Leader to fine tune and represent.
First, we would like to commend the initiators of that bill but more importantly urge the National Assembly not to toy with the bill when it is brought back for consideration. It should be given accelerated treatment as it could be what the Nigerian worker needs to protect his job and future.
And talking about jobs, governments at all levels must create a conducive environment for job creation so that many of the unemployed could be gainfully employed. President Muhammadu Buhari must devote more time and effort towards reviving our economy. Nigerians are suffering.
While we await your verdict on the Nigerian media, we would like to thank the Ogun State government, especially Governor Ibikunle Amosun and his media team for their support in hosting this summit.
Odusile, National President, Nigeria Union of Journalists (NUJ), delivered this address at the opening of the inaugural edition of NUJ National Media Summit in Abeokuta, last Tuesday.
Abdulwaheed Odusile