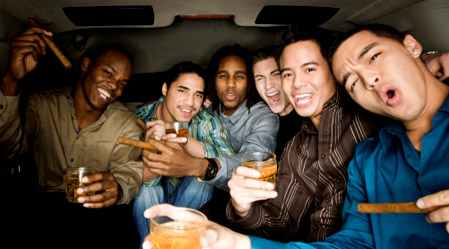 Four days before his wedding, Michael set foot in the men club Prague, the venue of his bachelor party. All the 33-year-old expected to get was a few lap dances — then again his buddies upped the ante. "It became apparent that this strip club is a men's club he says. "Men would disappear with women across the street to a hotel, and return later. My friends asked, 'How much?' then started the incitement."
At first, Michael hesitated: How possibly could he cheat on his fiancée — and in front of all these people, some her family members? Still, his thoughts, "This would be my last opportunity to feel another lady ever again. Being drunk and rising to their jeering, I picked a lady with fake breasts and moved across the street." The sex, he says, was astounding — so much so that his fiancée didn't enter his mind until he was walking back to the club. At that point, he got scared, wondering the men would react. "If they had greeted me with averted eyes, I would have been really tensed," he says. "Instead, everyone applauded, as if I'd won a Nobel Prize." Before ending that night, the men hatched a plan to cover up Michael's infidelity. "We all agreed to overwhelm the women with stories, except that one fact, so they'd assume they knew everything," he says. The next day, the women barred their guys, but no one succumbed. "Their solidarity and confidentiality amazes me to this day," says Michael. "Her relatives were there, and no one revealed a word."
Bachelor parties do always have a bad rap. But with movies like The Hangover Part I promoting just how wild this pre-wedding ritual can get, it's clear that a lot of men see the night as an anything-happens event — a socially acceptable chance to stray. Most men insist that infidelity in this context is not a big deal, although their partners may disagree. But the ladies hardly find out the truth.Find out what goes on in these parties in my part 11 of the story.
– Okwum Uchechukwu