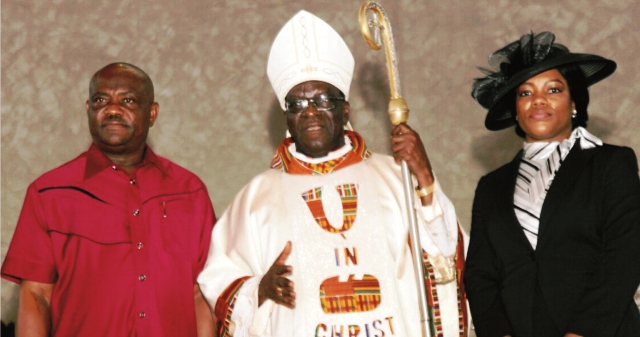 The Rivers State Governor, Chief Nyesom Wike, has stated that those who burnt the Bori office of the Independent National Electoral Commission (INEC), were the same politicians who wrote to INEC seeking postponement of the rerun elections on the ground of alleged insecurity.
Addressing journalists after inspecting the burnt section of INEC Khana Local Government Office in Bori, Wike said the arson should not serve as an excuse for the elections to be postponed.
The governor regretted that politicians who were afraid of the rerun elections would go to the extent of razing public facility to convince INEC that the rerun elections should be shifted.
He noted that no election materials have been despatched to the office, pointing out that the burnt section only served as a hall for collation of results.
He said, "those who burnt this office were not ready for the elections. They don't want INEC to conduct the elections because they know that they don't have the chances of winning.
"They want to use the issue of security to justify the request for postponement. If not, INEC has not brought election materials to this office. What they have done is to scare INEC."
Wike added: "For us, we are not surprised. We know this is what they have planned to do."
He advised INEC not to be deterred by the arson. He noted that the commission should go ahead with the elections as scheduled.
The governor directed the security agencies to fish out the perpetrators of the crime, and advised politicians not to see elections as a do or die affair, saying that they must submit themselves to the will of the people.
He said: "We will make sure that this does not dampen the spirit of INEC. I have directed the caretaker committee chairman of the local government area to immediately rebuild the burnt office".
The  governor said  that the state government will provide an alternative office for INEC to conduct the July 30 elections in the area, saying that the people have already been duly mobilised and were ready to cast their votes.
Earlier, the Khana Divisional Police Officer, Stephen Okunade, had said that there was no security at the INEC office at the time of the arson, adding that the lone private security guard was absent when the perpetrators struck.
He added that the private guard, who has been detained, only returned while the office was burning.
The governor was accompanied on the visit by the Deputy Commissioner of Police, Mr Uche Anozie and top government functionaries.