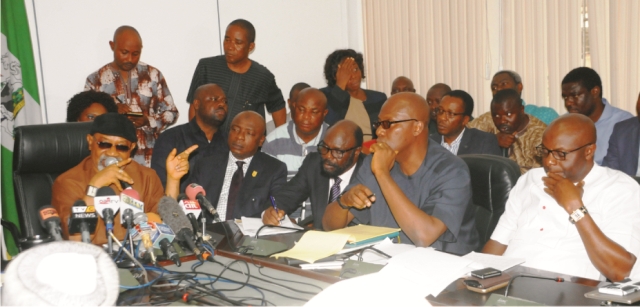 The Chairman, Maritime
Workers Union of Nigeria, (MWUN), Dock Worker Branch, Port Harcourt District, Comrade Tony Wilson Nwokocha has cleared the air that no terminal operator at the Nigeria Ports Authority (NPA), Port Harcourt Port is owing any of its workers since January till date as being speculated in some quarters.
Nwokocha, who made the clarification in an interview with The Tide in his office in Port Harcourt on Tuesday said that it was not true that workers at Port Harcourt Port had not been paid by the terminal operators since January this year.
According to him, the terminal operators at Port Harcourt Port, which are BUA and PTOL have paid their workers up to date, and that if they are owing, it will be this month's as they are still working in vessels while expecting their salaries every 15th of the month rather than month ends as applicable in other areas.
He disclosed that the only problem the workers had with the terminal operators was that the operators needed an update of their workforce for documentation, but some disgruntled persons who allegedly pose as their leaders refused the workers to collect and fill the forms for the update.
The union boss disclosed that they fought for the workers to be employed instead of being casuals, which was the essence of the forms, stressing that when the issue was being addressed in meetings, some of the workers claimed that they have already filed a suit in the law court, hence needless of collecting the forms.
Nwokocha further hinted that the case filed by a Human Right lawyer had not been heard since two years ago, while he had gone ahead to file another suit, pointing out that the lawyer and those who claimed to be their leaders are only extorting among from the poor workers as the case should have been given accelerated hearing.
He noted that forms for update and documentation is a company policy and there is nothing wrong with the terminal operators at Port Harcourt Port to carry out such exercise since they have the power to hire and fire, pointing out that the deadline for the forms has elapsed, the operators have closed the opportunity hence they now engaged only those that filled the forms.
The Port Harcourt District Dock Workers Branch chairman disclosed that in the suit, the aggrieved workers are demanding N35,400 salary which is not possible, as according to him, they work in tonnage and the condition reached with the operators was 70 per cent permanent staff and 30 per cent casuals.
Collins Barasimeye