UNICEF Pledges Access To Sanitation, Water By 2017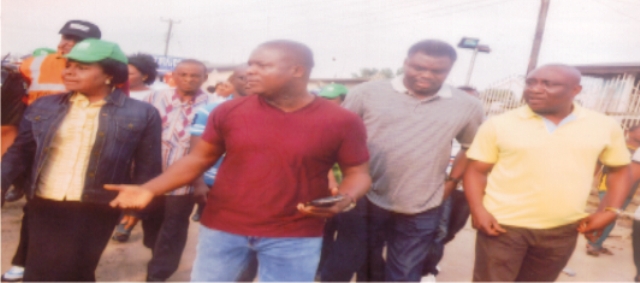 The United Nations
Children Fund (UNICEF) says it is committed to ensuring that vulnerable children and their families have equitable access to sustainable water and sanitation facilities by 2017 in Rivers State.
Chief of UNICEF Field Office, Rivers State, Mr Wilbroad Ngambi said this at the inaugural Media Networking Meeting of UNICEF and Partners for Improved Reportage of WASH Programming Results in Rivers State.
Mr. Ngambi also said that UNICEF is prepared to work with all stakeholders including the media to inculate good hygiene practices among children, their care-givers and teachers to learn and adopt hygiene practices in the state.
According to him, the organization is also collaborating with government at all levels to set standards for water and sanitation systems and supplies and supports them with innovative approaches.
"UNICEF as you all know, collaborates with government at all levels to set standards for water and sanitation system and supplies, and supports them with innovative approaches such as Community Led Total Sanitation (CLTS) a non-subsidy approach to promoting improved household sanitation (such as latrines).
The chief field officer also said that UNICEF will help to build the capacities of water authorities to improve provision and management of water facilities (boreholes and protected hand dug wells depending on geology of the area) to schools and rural communities".
He also said that "one of UNICEF's priorities is to encourage governments to expand these systems so that more Nigerians have access to sanitation and safe water.
"At the same time, UNICEF works with all stakeholders including the media to inculcate good hygiene practices among children, their care-giver and teachers to learn and adapt hygiene practices."
He however observed that "with so many successes achieved so far in the areas of hygiene improvement, access to safe water, there are still gaps remaining to be closed especially in the areas of timely and accurate reportage of these milestones and sensitisation of the public on the availability of these services and the need to utilise them.
Ngambi also pointed out some key issues that UNICEF is interested in working with the government to address, some of these, according to him, are; improved water supply, improved access to sanitation facilities and schools gaining access to water and sanitation.
The others include, village level operation and maintaince of motorised schemes to promote sustainable water supply, addressing open defecation as well as promoting behavioural change for sustained sanitation practices.
He said that, UNICEF is pleased with the laudable initiative of having a media networking system which aims at reporting contributions from all stakeholders towards improving the living standards of people and especially children whom we must help to realize their rights to survival and development.
Ngambi described the media as an integral and UNICEF's strong allies with the capacity to advocate for increased policy commitment to help children's development.
"I therefore congratulate each and everyone of you and at the same time urge you all to see this as a rare opportunity to contribute in delivering results for children in Rivers State using WASH as a springboard", he said.
NGO Mobilises Stakeholders To Plant Over 6m Trees In Kaduna
The Aid Foundation, a Non-Governmental Organisation, says it is mobilising relevant stakeholders to plant over six million trees in Kaduna State.
Mr Emmanuel Bonet, Executive Director of the Foundation said this on the sideline of a one-day engagement with relevant stakeholders in Kaduna on Friday.
Bonet said that the initiative was under a project tagged, "Green Peace."
He told newsmen that the project was designed to promote peace, mitigate climate change, promote sanitation and hygiene and discourage open defecation.
Bonet said that the initiative was under a Public Private Partnership with relevant government agencies and private organisations.
He identified some of the government agencies as Kaduna State Facilities Management Agency, Kaduna State Ministry of Environment, Interfaith Mediation Centre, Kaduna State Peace Commission and Ministry of Internal Security and Home Affairs.
According to him, a good number of youths from predominantly Muslim community would go and plant trees in a predominantly Christian community and vice versa.
He said that in the two months, about 100,000 trees would be planted in public facilities, like banks, hospitals, schools, hospitals, and other public places.
Bonet said that before 2022, one million trees would be planted in strategic locations within Kaduna metropolis alone to promote peace.
"After this, we have a target of planting five million trees within the forests of Kagoro in Kaura Local Government Area (LGA), Afaka in Kudan LGA and Chikun, in Chikun LGA.
"These forests are already depleting due to massive deforestation by loggers, and in dire need of afforestation by planting trees.
"We are also working with renewable energy organisations to provide alternative sources of clean energy for people using wood to cook and for other businesses," he said.
The executive director said that the Aid Foundation was equally working with government agencies and private organisations to provide toilet facilities in public places.
He said: "We are also hoping that toilets are going to be built in all public facilities like banks, supermarkets, hospitals, particularly at the entrance gate so that people can access them easily.
"This will go a long way in preventing open defecation in the state, particularly around public infrastructure and offices.
"Therefore, the engagement was to get the private organisations and government agencies to commit to making provisions for toilet facilities that will be accessible by members of the public.
"This will significantly tackle the problem of open defecation."
DPO Donates Borehole To Rivers Community
Ogoloma Community in Okrika Local Government Area of Rivers State has commended the Divisional Police Officer incharge of the area, CSP Okoro Ikechukwu for the construction of a water bore hole in the community.
This was contained in a letter jointly signed by the Chairman and Secretary of the community, Chief Kunumgbe and Levi Alalibo, respectively.
The community said the gesture will go a long way to check the rate of water borne diseases in the area.
According to the letter, "Ogoloma community has accommodated other officers before, but we see CSP Okoro as a distinct officer with the zeal to make peace.
"Your recent role in installing drinking water for the community is a case study", the statement said.
CSP Okoro Ikechukwu who responded to the letter in an interview with newsmen said the borehole will go a long way in checking water scarcity usually experienced in the community.
According to him, during his routine visit to the community he discovered that the people were facing serious challenge of water scarcity, adding with the help of God he decided to come to their rescue.
He said rendering assistance to the needy aside from security was borne out of passion.
The DPO call on the people to cooperate with the police in areas of information sharing, surveillance and intelligence.
Flood Ravages Rumuigbo Community …Vehicles, Motorists Trapped
Some vehicles coming from the East-West road were last Thursday trapped in a surging flood water along the Owoloma and Obi Wali Road in Rumuigbo Community in Obio/Akpor Local Government Area of Rivers State.
The flood caused by a heavy downpour in the area, also resulted to heavy gridlock in most of the roads in the community and Ikwerre road.
Eyewitness account told The Tide that the gridlock stretched from the Rumuokoro flyover to Rumuokuta junction.
It said that the situation led to the diversion of some vehicles to Rukpokwu through the SARS road.
An indigene of Rumuodomaya, Mr Gray Orji whose vehicle was trapped in the flood told The Tide that he spent more than three hours trying to navigate his way out of the community but to no avail owing to the heavy traffic caused by the flood.
Orji described the flood as very terrible, saying that something needed to be done to create access for water to flow out during heavy rains in the area.
"I feel that the drainage is not wide enough for water to flow out. Besides, some of the traders should also be blamed for always dumping refuse into the drainage".
He urged the government to look into the drainage problem of the community as most residents are passing through difficulties as a result of perennial rainfalls and flooding.
Also speaking, a shop owner, Lady Lydia Tete said most shop owners usually lock up their shops during rainfalls.
"But today, Nkpolu done tie wrapper. I never see this kind of flooding before", she said in pidgin English.
Lydia called on both the state and federal governments to come to the aid of Nkpolu residents by expanding the roads and widening the gutters.
"I dey call on government to help us build this road because we dey suffer too much on this road", she said.
Another resident who spoke from the comfort of his home, said "every little rain fall here is a problem, let government come to our aid, we want government to do this road for us".
The Tide correspondent who was also trapped in the incident reported that even officials of Setraco, the company working on the bad portion of Nkpolu road could not pass despite number of soilders that accompanied them.
By: John Bibor