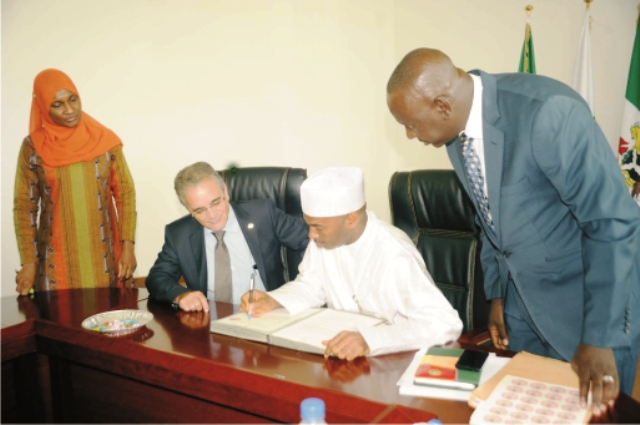 There are indications of
a looming nation-wide strike by the Petroleum and Natural Gas Senior Staff Association of Nigeria (PENGASSAN) if the Federal Government fails to take urgent steps to avert it.
The Trade Union Congress (TUC) Chairman in Rivers State, Comrade Chika Onuegbu, who disclosed this in an interview with The Tide in Port Harcourt, said the strike would impact heavily on the social-economic state of Nigerians as all oil workers operations including loading and sells of petroleum products would be halted by the industrial action.
Onuegbu linked the strike to unacceptable state of things in the oil sector and the attitude of the federal government towards meeting its Joint Venture Funding responsibilities.
He said about $7bn is being owed by the Federal Government under Joint Venture with oil multinationals and that this huge debt was causing ripples in the sector leading to mass sack of oil workers and slow pace of development.
"$7billion is owed by our country.  That is what is killing the oil sector hence the oil multinationals are calling for downsizing, sack of workers and this development  is worrisome.
"It is our hope that government will address this issue because the strike by PENGASSAN  will have huge negative effects.  Oil walls would be shut, federal government cannot get revenue and pay workers, no fuel and those depending on workers will also be affected", he said.  He urged government to take urgent steps to avert the economic crises ahead.
The Trade Union boss equally expressed disappointment with some members of companies of Petroleum Association of Nigerian (PETAN) who he said were working against the Nigerian contend development.
He explained that while stakeholders worked hard to see that Nigerian content becomes real and PETAN now reaps from the policy, PETAN  which had benefited so much from the policy that had already become part of our bar, PETAN members were trying to create crises and push away the site operators in the sector.
The Tide gathered that PENGASSAN might be declaring  nation wide strike on Wednesday to protest the unacceptable way the Ministry of Petroleum Resources under the Minister of State, Ibe Ikachukwu is leading affairs within the oil and gas sector since he assumed duty.
PENGASSAN, according to a high placed source is accusing Kachukwu of not consulting the body and other stakeholders before taking decisions.
The Tide source who pleaded anonymity said PENGASSAN leadership met over the weekend and resolved  to use the strike to settle a lot of grievances which the minister had not taken seriously in spite of his promises to do so.
Since inception of the President Muhamamdu Buhari  as President and Minister of Petroleum Resources, strike in the oil sector especially by wither NUPENG or PENGASSAN has been the order of the day.
In each of the strike situations, poor Nigerians suffer acute scarcity of fuel supply  making the product sell above N250 at times even when Nigeria is amongst most blessed  countries with oil and gas deposit.

Chris Oluoh