What Hope For Our Future Leaders?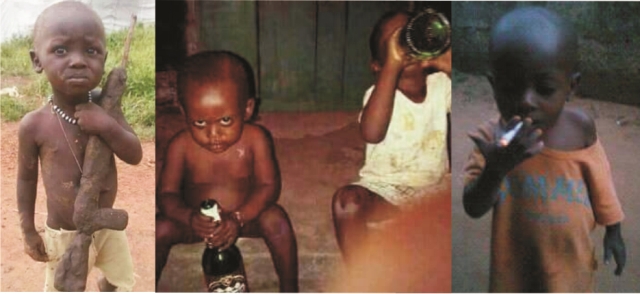 In the wake of delin
quency among the youth, serious minds are considering what best to do to be able to catch these youthful minds earlier than they could be susceptible to the prevalent mind of vices hunting the societal air.
This no doubt must have informed the inclusion of early childhood education into the Universal Basic Education programme of the Nigerian government.   By the provision of the National Policy on Education of the Federal Republic of Nigeria, early childhood is segmented into 0 – 3 years situated in day care centres fully in the hands of the private sector and social development services while ages 3 – 5 are within the formal educational sector.
It is all about the care, protection, stimulation and learning promoted in children from age 0-5 , supposedly to take place in day care centre, nursery or kindergarten
However, whether done formally in a daycare centre or informally at home, one outstanding goal of this early childhood education is to inculcate in the child, social and moral norms as well as stimulate in him/her good habits, including good health habit among others.
The goals of the early childhood education make it imperative on parents and care providers to consider it a  project and so, a serious business which result must be announced someday some time.
Unfortunately, not many parents know that this formative age of the child means a great deal in his/her future development, not many also realise the fact that children at this age remember fastly and repeat actions they observe so as to be wary of their actions before them. While the first two years of a child's life are spent in the creation of the child's first "sense of self".  Parents can be seen as the child's first teacher and therefore an integral part of the early learning process because this age can be highly influential to whatever the child learns in future.
It must be understood that with proper guidance and exploration children get easily acquainted with their environment and ofcourse you can imagine how detrimental the absence of this steady positive relationship will be on the future development of the child with respect to his/her relationships and independence.
Although early childhood education often focuses on learning through play, Jean piaget, an early psychologists posits that play meets the physical, intellectual, language, emotional and social needs of children, their curiosity and imagination naturally evork learning when  undisturbed.
Suffice it to say that children learn better and gain more knowledge through activities such as dramatic play, art and social games.  However, the object of the child's play, the toys and the type of game the child is involved in must not be overlooked as they all inform what knowledge the child equips him/herself with at the end of the day.   What this means is that there must be adequate supervision of the child's daily activities.
The Tide's Women's Desk, engaged Mrs Nzokurum Mercy, an occupational health/nursing coordinator in a chat on what should be the role of parents in ensuring a proper development of the child.  Hear her: "From 0 – 1 year, the world is strange to the child, the first duty of the parents is to make him see the world as a friendly and happy place to live by meeting his perceived needs.  Few months older the child's personality developments and mind very fast too, so parents need to be cautious so as to understand and guide him aright.
She warned against pretentious attitudes towards the child as the child copies every behaviour of the adult to mean the right altitude, in her words.  "If there be any need for parents to walk away from the child, then bid the child a proper goodbye, don't sneak or slip away".
Mrs Nzokurum explained that until about age 2, the child learns mainly through  seeing, hearing and touching, hence parents must be careful to do just what they would want the child to do, say what they need him/her to hear and show them only what they would want them see.
Explaining play as a means by which children discover their skills, the occupational health expert enjoins parents to make out time to guide their little ones, play by creating a conducive and safe environment for effective exploration of their world, maintaining that toys must be age appropriate while observing their activities to know when they derail so they can be guided.
She condemned in its entirety, the idea of sending children of age 0-5 out for holidays or to live outside the sight of their biological parents, stating that many had been corrupt and abused under the guise of living with uncles and aunties as no one can be more vigilant on a child as the biological parent.
She called on parents to watch out for peculiar and worrisome traits, behaviours and attachments usually exhibited by children at this age such as identifying with certain toys, bullying other children and inventing imaginary friends as well as talking about them; she insists that parents listen to them and guide them accordingly.
Parental role to the family is a combination of many activities, expected of the father and the mother for the wellbeing of the home. It ranges from providing protection from the scourge of the weather, by way of shelter, provision of material needs in the forms of clothings and food, provision of medical attention, to provision of education, be it formal or informal. Of all these activities both mentioned and unmentioned, there is no single one that is preferred over the other, a child provided with one without the rest is said to be deficient in the one not provided.
Unfortunately, a failure to provide a child with a necessary developmental requirement does not only leave the child deficient of the good that comes out of it, such vacuum in the life of a child is usually replaced with a trait, unbecoming of a future leader.
Therefore, while it is expected that every parent lives up to their roles and responsibilities in assuring a bright and better future for the child, it is as well important that their daily life activities reflect the image they want to imprint in their children and wards.
Sylvia ThankGod-Amadi
N20m For Grabs As Burna Boy, Tiwa Savage, Others Contest
Nigerian social media space is bustling with activities as top Nigerian celebrities drawn from music, movies and football sectors lock horns in an online engagement contest hosted by the Nigerian Social Media Awards whose grand finale is slated for December 11, 2021 at Eko Hotel and suites, Victoria Island Lagos.
     Celebrities competing in the Naija Game of Thrones category are 2Baba, Davido, Burna Boy, Tiwa Savage, Wizkid, Olamide, Don Jazzy and Genevieve Nnaji, while Phyno, Victor Osimhen, Kelechi Iheanacho, King Rudy, Yemi Alade, Funke Akindele Bello, Timaya and Mr. P are contesting in the Naija x Factor category.
      A confirmation of the degree of engagement the celebrities have with their online fans, the contestants involve the fans visiting the website to vote for them to boost the celebrities opportunity to win N20 million grand prize that would be paid to the celebrities to support his/her corporate social responsibility project.
     The project manager Nigeria social media awards, Francis Amirize in a statement said the social media which a few years ago started as a fun spot has today metamorphosed into an opinion shaping part of existence which can no longer be ignored in the marketing of brands projects and personalities.
Egwu Ogba Holds, August 9
The Umu-Akoku Family of  Erema Town, Egi in Ogba/Egbema/Ndoni Local Government Area of Rivers State has fixed 9th of August, 2021 as date for this year's Egwu Ogba festival.
August 9, according to the family source,  falls within eight Nkwo market days from the nineth of July 2021, when the declaration was made.
 The declaration of the date was made by Elder Elijah Obulor on behalf of Elder Andrew Nwaoma who is the eldest member of Umu- Akoku family of  Erema at the ancient Anamaoji play ground.
Speaking earlier in an interview with The Tide,  the oldest member of the Umu-Akoku Family, Erema, Elder Andrew Nwaoma said the festival has no iota of  fetism in it, stressing that it is a celebration of the culture of the Egi people.
Elder Nwaoma said Egwu-Ogba also fosters peace and unity, stressing that it is a celebration of all persons irrespective of their religious creed.
Also speaking, the head chief of Umu-Akoku Royal Family of Erema, Chief Ikenna Obulor said the celebration has remained the same despite the influx of different religions  into Erema.
Chief Obulor said Egwu Ogba brings peace, prosperity and oneness to the entire Ogba Kingdom.
He used the occasion to refute alleged rumour of fighting during the ceremony, stressing that the entire place is peaceful.
The eldest son of Andrew Nwaoma, Bro. Kayedi Nwaoma said the present generation will ensure that the festival does not die.
Also speaking, the Eze Egi of Ogbaland, Eze (Prof) Anele Uzondu Wokoma said Egwu Ogba represents the feast of passover for the Egi people.
Wokoma said the festival brings bumper harvest to the Egi people as well as fosters unity in the Kingdom.
By: John Bibor
BB Naija Season Six Begins, 'Morrow
Multi Choice Nigeria, Monday, revealed that Season 6 of the Big Brother Naija Reality TV Show will begin on July 24.
      Disclosing this while briefing journalists, Multi choice customer officer, Martin Mabudu, said that this year's edition of the reality show would run for 72 days and end on October 3, 2021.
   Recall that Olamilekan Agbeleshe also known as Layon won BB Naija lockdown edition last year. He went home with N30 million cash prize, a two bedroom apartment, courtesy of Revolution Plus, a top of the range SUV from Nigerian automaker, Innoson Motors, a trip to Dublin, courtesy of Guinness and home appliances courtesy of Scan Frost.
  Others are trip to Dubai, packaged by Travel Beta, a year's supply of Indomie noodles, Munch it and Colgate toothpaste, a year's supply of Pepsi, a branded chiller trip to watch the UEFA Champions League final and a branded new oppo mobile smartphone.
  In 2019, BBNaija winner, Mercy Eke, won N30 million prize money as well as other mouth-watering gifts.