What Hope For Our Future Leaders?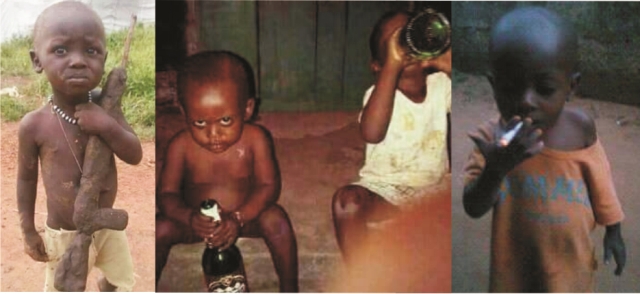 In the wake of delin
quency among the youth, serious minds are considering what best to do to be able to catch these youthful minds earlier than they could be susceptible to the prevalent mind of vices hunting the societal air.
This no doubt must have informed the inclusion of early childhood education into the Universal Basic Education programme of the Nigerian government.   By the provision of the National Policy on Education of the Federal Republic of Nigeria, early childhood is segmented into 0 – 3 years situated in day care centres fully in the hands of the private sector and social development services while ages 3 – 5 are within the formal educational sector.
It is all about the care, protection, stimulation and learning promoted in children from age 0-5 , supposedly to take place in day care centre, nursery or kindergarten
However, whether done formally in a daycare centre or informally at home, one outstanding goal of this early childhood education is to inculcate in the child, social and moral norms as well as stimulate in him/her good habits, including good health habit among others.
The goals of the early childhood education make it imperative on parents and care providers to consider it a  project and so, a serious business which result must be announced someday some time.
Unfortunately, not many parents know that this formative age of the child means a great deal in his/her future development, not many also realise the fact that children at this age remember fastly and repeat actions they observe so as to be wary of their actions before them. While the first two years of a child's life are spent in the creation of the child's first "sense of self".  Parents can be seen as the child's first teacher and therefore an integral part of the early learning process because this age can be highly influential to whatever the child learns in future.
It must be understood that with proper guidance and exploration children get easily acquainted with their environment and ofcourse you can imagine how detrimental the absence of this steady positive relationship will be on the future development of the child with respect to his/her relationships and independence.
Although early childhood education often focuses on learning through play, Jean piaget, an early psychologists posits that play meets the physical, intellectual, language, emotional and social needs of children, their curiosity and imagination naturally evork learning when  undisturbed.
Suffice it to say that children learn better and gain more knowledge through activities such as dramatic play, art and social games.  However, the object of the child's play, the toys and the type of game the child is involved in must not be overlooked as they all inform what knowledge the child equips him/herself with at the end of the day.   What this means is that there must be adequate supervision of the child's daily activities.
The Tide's Women's Desk, engaged Mrs Nzokurum Mercy, an occupational health/nursing coordinator in a chat on what should be the role of parents in ensuring a proper development of the child.  Hear her: "From 0 – 1 year, the world is strange to the child, the first duty of the parents is to make him see the world as a friendly and happy place to live by meeting his perceived needs.  Few months older the child's personality developments and mind very fast too, so parents need to be cautious so as to understand and guide him aright.
She warned against pretentious attitudes towards the child as the child copies every behaviour of the adult to mean the right altitude, in her words.  "If there be any need for parents to walk away from the child, then bid the child a proper goodbye, don't sneak or slip away".
Mrs Nzokurum explained that until about age 2, the child learns mainly through  seeing, hearing and touching, hence parents must be careful to do just what they would want the child to do, say what they need him/her to hear and show them only what they would want them see.
Explaining play as a means by which children discover their skills, the occupational health expert enjoins parents to make out time to guide their little ones, play by creating a conducive and safe environment for effective exploration of their world, maintaining that toys must be age appropriate while observing their activities to know when they derail so they can be guided.
She condemned in its entirety, the idea of sending children of age 0-5 out for holidays or to live outside the sight of their biological parents, stating that many had been corrupt and abused under the guise of living with uncles and aunties as no one can be more vigilant on a child as the biological parent.
She called on parents to watch out for peculiar and worrisome traits, behaviours and attachments usually exhibited by children at this age such as identifying with certain toys, bullying other children and inventing imaginary friends as well as talking about them; she insists that parents listen to them and guide them accordingly.
Parental role to the family is a combination of many activities, expected of the father and the mother for the wellbeing of the home. It ranges from providing protection from the scourge of the weather, by way of shelter, provision of material needs in the forms of clothings and food, provision of medical attention, to provision of education, be it formal or informal. Of all these activities both mentioned and unmentioned, there is no single one that is preferred over the other, a child provided with one without the rest is said to be deficient in the one not provided.
Unfortunately, a failure to provide a child with a necessary developmental requirement does not only leave the child deficient of the good that comes out of it, such vacuum in the life of a child is usually replaced with a trait, unbecoming of a future leader.
Therefore, while it is expected that every parent lives up to their roles and responsibilities in assuring a bright and better future for the child, it is as well important that their daily life activities reflect the image they want to imprint in their children and wards.
Sylvia ThankGod-Amadi
Tiwa Becomes Ambassador Of Smart Phone Brand
Afrobeats songstress, Tiwa Savage has been unveiled as latest brand ambassador for a popular smartphone brand.
Before her official unveiling, the smartphone had teased its followers to guess who their latest ambassador by sharing a foggy image of the singer.
Officially welcoming her to their fold via its Instagram, as their ambassador for 'Camon19Launch', Tecnomobileng wrote: "Queen of Afrobeats! Mama Africa! Multitalented singer! Superstar extraordinaire and confirming the news in the comment section, the "Koroba" singer wrote: "The sexiest phone ever."
Taking to her social media pages, Tiwa announced to her fans that she is the newest brand ambassador for smartphones.
Sharing an advert snippet of the brand, Tiwa wrote: "This one is highly approved by the No1ABG, Your girl is on board with one of the coolest brands ever – TECNO!
Jungle Justice: Police Order Portable To Report Himself
The Nigeria Police has ordered a Nigerian singer, Habeeb Okikiola, popularly known as Portable, to report himself over a viral video.
The Tide source reveals that Portable was seen in a viral video accusing a young man of sending a message to his 'wife', asking her to advise him to stay away from his friends for they had no glory.
In the video, the ZaZu Zeh crooner asked the young man to name his friends whom he was accusing of having no glory.
Without allowing his victim to say a word, the singer asked his boys to beat the helpless guy.
As they pounced on the victim, Portable was heard in the Yoruba language, saying "e luu pa", that is, "beat him to death."
Reacting, the Portable was asked to report to the Ogun State command as the incident happened somewhere within the state.
The Ogun State police spokesperson, Abimbola Oyeyemi, while describing the act as unbecoming and barbaric, asked the singer to surrender himself or be declared wanted.
"The attention of Ogun State Police Command has been drawn to a video clip circulating on social media, where a popular hip hop musician, Habeeb Okikiola (a.k.a Portable, the Zazu crooner), was seen organising some youths to beat up a young man and inflict bodily injury on him. The incident was said to have taken place somewhere within Ogun State about two days ago.
"Such unruly and violent behaviour is not only barbaric, but unbecoming of somebody who is supposed to be a role model for the youths and therefore should not be tolerated.
"In view of this, the Command is using this medium to advise Okikiola Habeeb, a.k.a Portable, to report himself at the nearest police station in Ogun State, failure of which his arrest will be ordered.
"The flagrant display of impunity by Portable in the viral video is condemnable and if not checked, it will send a wrong signal to the youths who are looking up to him as a role model.
"Jungle justice has no place in our laws and whoever embarked on it must be made to feel the weight of the law, no matter the status of such person," Oyeyemi said. statement on Monday.
Davido Earns N144.5m From Boston, Toronto Ticket Sales
Nigeria's Afrobeat superstar, David Adeleke alias Davido, who is currently on a North American tour labelled: "We rise by lifting others", which began on June 16, at Brooklyn, New York, has made N144.5 million from the sold out ticket sales from History-Toronto, and House of Blue in Boston.
Figures released by SeatGeek showed that the award-winning singer's tour tickets were generally sold for as little as $41.00, with an average price of $74.00. Davido made $185,000 (N76.8m) and $162,800 (N67.6m), totalling N144.5m based on an average ticket sales rate of N415.37 and the capacities of History (2,500) and House of Blues (2,200), according to BusinessDay.
Reports indicate ticket purchasers would go online to search for ticket prices using sites such as SeatGeek's Deal Score Function which ranks tickets by value and shows buyers how good a deal they are getting when purchasing tickets.
While speaking with Trevor Noah, the daily show on the tour, Davido stated that his main aim of the North American tour was to showcase Africa in its entirety and to carry everyone along, especially Africans.
Award winning Nigerian singer, Davido Adeleke, has offered full scholarship to Suleyman, a young boy who got parallel A1 in WAEC exams.
Despite getting such an impressive result, Suleyman has been sitting at home due to lack of funds to sponsor his education at the tertiary level.
Fortunately for him, Davido heard about his condition and has promised to sponsor him through school and also take care of his allowance and accomodation. Davido tweeted: "We have contacted Suleyman who lives in Ghana and he has been given a full 4/5 year scholarship to Adeleke university.. accommodation and allowance included ! God bless y'all .."