That Wike's Amnesty Offer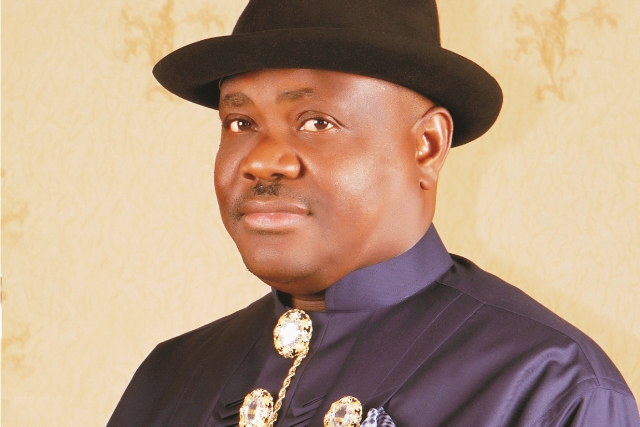 When Rivers State Governor, Chief
Nyesom Ezenwo Wike declared war
against cultists a couple of days ago, people largely waited to see how that was to be accomplished, but when he clarified his stand on the matter and offered to grant amnesty to repentant ones, tongues began to wag, some even made it a political issue.
Governor Wike said last Thursday that the State would grant amnesty to criminals and cultists who lay down their arms and embrace peace, even as the State works with relevant security agencies to ensure that Rivers State was safe for all. Clearly, declaring war on cultism without the opportunity for repentance would result in too many deaths among the Rivers youth.
While we sympathise with persons who reacted negatively to the amnesty offer because of the failed example at the federal level, the difference in the two needs to be understood in order that this opportunity to stop the wasting of young Rivers lives would succeed.
The Tide understands the feeling of people on the unacceptable path many young persons have taken in Rivers State but it does not remove from the fact that they make up the population of Rivers State. The point must be made that the youth, as distracted as they may be are the greatest assets of the State.
Already, rightly or wrongly, the State has lost hundreds of her young persons through avoidable violent acts. This has created huge vacuum for the State in the future, a reality that may not be visible now. Besides, humanity has accepted the fact, from time, that people do not throw away the child with the bathe water, no matter the degree of filth.
The Federal Government Amnesty did not achieve the desired results because the demand was for resource control which also gratified the yearning of the people of the Niger Delta. So, choosing the vocal ones to appease was more or less a tacit approval of violence. Besides, the conditions and scope of the deal were undefined.
On the other hand, the clashes that test the peace of Rivers State are of a different nature. There is no demand, popular or otherwise. It is a crisis fuelled largely by ill-motivated pleasure. It is either one cult group seeking supremacy or one group wanting to take possession of the financial benefits from an oil firm or one leader wanting to become the paramount ruler.
As a matter of fact, what makes the offer of amnesty for Rivers cultists divine is the fact that most of the young ones that are in cults were helplessly recruited. Some were brutalised and had no one to run to for help. They could not report to the police because of stories of compromise. Others joined to prevent constant harassment by cultists.
Clearly, no one can hold brief for many of the cultists because some actually got into it to feel among, or get the opportunity to get at perceived enemies or to make quick money. Some actually got into the cults without knowing that it would include criminality and killing.
These are the ones that the amnesty will help save for our State. It is possible that many of them have realised their mistakes, but labour under the impression that they have gone too far to return, afraid that such discretion could be injurious to them.
Because of this misadventure, many communities in Rivers State are no-go-areas. Nobody can estimate the number of young Rivers people that have been killed and how many people have had to die in their hands. Blood has become of very little value in the land and this has consequences.
It is easy to call them names and condemn them, if we do not forgive them and try to win them over with love, nothing would be seen standing soon. As a Christian family, the State must emulate our Lord Jesus the Christ whose primary responsibility was to save the lost. Besides, we have all sinned at one point or another and enjoyed forgiveness.
That is why we think that Governor Wike deserves not only our commendation but support in making the young ones believe in this programme and turn around. Rivers State is indeed blessed with a Governor that has the heart of a father and the love and compassion of a true Christian.
However, The Tide thinks that whatever is worth doing is worth doing well. The State must come up with a clear plan on how to protect the ones that would repent. There must be a process of re-orientation and re-integration. But any start-off arrangement for responsible living must only be once.
Finally, more enlightenment should be made to make the general public not to stigmatise or discriminate against them. It is the duty of all to join in this programme of welcoming back home our once lost children, now found.
Oil Discovery In North: Not Yet Uhuru
A few days ago, the Nigerian National Petroleum Corporation (NNPC) announced that it has discovered hydrocarbon deposits in the Kolmani River II Well on the Upper Benue Trough, Gongola Basin, in the North Eastern part of the country.
In fact, the discovery was made at 18.02 hours on October 10, 2019 when one of the reservoirs was perforated and hydrocarbon started flowing to the well head at 21.20 hours in which the gas component was flared to prevent air charge around the rig.
According to the corporation's acting spokesman, Mr. Samson Makoji, NNPC acquired 435.54km2 of 3.0 Seismic Data over Kolmani Prospect in the Upper Benue Trough, Gongola Basin. This, he said was to evaluate Shell Nigeria Exploration and Production Company, SNEPCo's Kolmani River I Well Discovery of 33 BCF and explore deeper levels.
"The well was drilled with "IKENGA RIG 101" to a total depth of 13,701 feet, encountering oil and gas in several levels. A Drill Stem Test (DST) is currently ongoing to confirm the commercial viability and flow of the Kolmani River reservoirs.
'Preliminary reports indicated that the discovery consists of gas, condensate and light sweet oil of API gravity ranging from 38 to 41 found in stacked siliciclastic cretaceous reservoirs of Yolde, Bima Sandstone and Pre-Bima formations.
'Computation of hydrocarbon volume is ongoing and will be announced in due course", said Makoji.
Ordinarily, Nigerians of all persuasions should be happy and excited at the discovery. But The Tide believes that the antecedents and effects of previous oil discoveries in the country, especially, in the Niger Delta region calls for trepidation and caution.
We say so because such discoveries in the past, apart from rendering the country a mono-economic nation dependent on oil revenue, have left in its wake, impoverished people in the oil bearing communities with great devastation to their environment and local source of livelihood. The Oloibiri story, where such discovery was first made in commercial quantity in the country in 1958 in present day Bayelsa State is a sore reference point.
Moreso, the acrimony, distrust, communal violence, divide and rule and shortchanging of the people that come with the exploration owing to the policies and activities of government and International Oil Companies (IOCs) are more reasons why the discovery of oil in an area, instead of being a blessing, has become a sort of curse and reason to be afraid by the people.
The Ogoni debacle, the ongoing struggles in several Niger Delta oil bearing communities for equity and development and against environmental degradation, poverty, persecution and discrimination are too glaring today for people to go into ecstasy simply for oil discovery. These are often made possible by the jaundiced policies of government and IOCs that engender the insidious practice of 'robbing Peter to pay Paul' to the detriment of the oil bearing communities and their people.
Indeed, the administration of President Muhammadu Buhari has gone to great length and cost to seek for oil in the frontier basins, particularly in the North.
While we hope that the volumetric of the hydrocarbon discovery would be enough for commercial exploitation, it is expected that vital implications of the venture vis-a-vis existing situation in the country is taken into consideration.
Apart from dousing agitations and balancing resource locations in the country, the festering insecurity in the North East, environmental issues, dearth of infrastructure and cost of production are other issues to be considered. Even the implications on economically viable farmlands as well as communities that may be affected and relocated must be put into consideration.
We, therefore, expect the government to, rather than be carried away by the euphoria of the discovery, begin to plan and put in place policies and measures that will ensure peaceful business environment and fair treatment to the host communities. It is time, we believe, for government to abandon those obnoxious policies and practices that made oil discoveries a kind of anathema for the Niger Delta communities.
We also expect the Federal Government to channel and enforce the kind of energy, focus and resources it has deployed to exploration for oil to other frontiers of the national economy. This is because the need to diversify the country's economy, especially, at a time such as now, cannot be over-emphasised. That the world economy is gradually but steadily moving away from oil is no longer a secret.
That is why we think that Nigeria should begin to explore and exploit all her mineral endowments to the benefit of all, while resuscitating and venturing into other areas like agriculture, Information and Communication Technology (ICT) and Science and Technology.
It does not bode well for the peace, unity and economy of Nigeria that while no effort is spared in exploiting the hydrocarbon deposits in some parts of the country for the benefit of all, most solid mineral deposits, particularly in the North are left to be raped by rogue companies and individuals. This practice has indeed denied the country immeasurable revenue and foreign exchange that would have helped change the fortune of Nigeria.
Until the right policies are put in place in the country, all stakeholders carried along effectively and all parts of the country made to contribute without let or inhibition their own quota of endowment to the national treasury, the discovery and exploration of resources in any part of the country would continue to be like a sore thumb and question mark for the country.
Enough Of Sexual Harassment On Campuses
For the past two weeks, the media, both conventional and social, have been awash with yet another ugly episode of sex-for-marks in Nigeria's tertiary institutions. The latest of this infamy involves two senior lecturers in the University of Lagos (UNILAG), Dr Boniface Igbeneghu of the Faculty of Arts and Samuel Oladipo of the Department of Economics. Both were entrapped in a sting operation by the British Broadcasting Corporation (BBC) titled "Sex-for-Grades," allegedly seducing an 'admission seeker'.
In a video that has since gone viral, Dr Igbeneghu who is also a pastor in a popular Pentecostal church, (Foursquare Gospel Church) was seen soliciting sex from a BBC undercover female reporter, Kiki Mordi, who posed as a 17-year old admission seeker.
The trending video was part of BBC's expose' of unethical sexual harassment practices of randy lecturers in West African universities, including UNILAG.
Although the menace of sexual harassment of female undergraduates in Nigeria's tertiary institutions is not totally new, its prevalence in recent times has, however, assumed an alarming notoriety. It is fast becoming a norm, even culture, on campuses, with no clear sign of abating anytime soon.
One of such disturbing instances was last year's escapade involving a senior lecturer at the Obafemi Awolowo University, Ile Ife, Professor Richard Akindele. The errant lecturer who has been dismissed by the university authority is currently serving a two-year jail term for demanding five sex sessions from his student, Monica Osagie in exchange for good grade.
Yet again in 2018, an Associate Professor of Economics at the Lagos State University (LASU) was caught with the help of an NGO, demanding sexual favour from a female student. Another bizarre episode occurred at the Ekiti State University, Ado Ekiti, where an accounting lecturer was caught by students, literally gasping for breath in a bid to harass a female student.
We also recall that in October 2011, five lecturers were suspended by the Ebonyi State College of Education, Ikwo for extortion and sexual harassment of students.
In another development, a dean at the University of Abuja was also exposed in a sting operation soliciting sex in exchange for marks from yet another female undergraduate. Similar repulsive incident was recorded at the University of Ilorin where a former Head of the English Department allegedly resigned after being caught in a video, harassing a 200-level female student. These are some of the sordid revelations that hint at the prevalence of sexual molestation of female undergraduates in our tertiary institutions.
The Tide considers it diminishing and callous for university lecturers who are supposed to be good role models and old enough to be the parents of these students to be involved in such a shameful, immoral act. Besides shame and loss of self-esteem associated with sexual harassment on campuses, the menace has the potential of further degrading and de-marketing the nation's university education which is already in an appalling state.
Although the latest culprits of this opprobrium, Igbeneghu and Oladipo have been suspended by the UNILAG authorities pending the outcome of investigations, the measure is not enough to deter other randy lecturers from their lecherous activities.
We believe that sexual assault is a criminal offence that should attract stiffer penalty than suspension or dismissal of culprit. It requires more radical approach to put an end to the menace.
With the increasing rate of sex-for-marks in our tertiary institutions, it is imperative that all universities, polytechnics and colleges of education put in place necessary measures that discourage all forms of sexual depravity on campuses.
One of such measures is for the school authorities to enact code of conduct regulating the relationship between female students and their lecturers.
In concrete terms, all tertiary institutions should encourage students to report any form of sexual abuse to the school authorities without fear of being molested or victimised. In doing so, we advise the school authorities to remove all unnecessary bureaucratic bottlenecks that inhibit students from making such complaints. It will not be out of place for schools to create a hotline number to call or a public complaints unit where cases of sexual molestation are lodged.
It is also incumbent on the students union governments in various schools to rise up in defence of their members who are victims of sexual harassment. It is their responsibility to protect students from any form of assault, harassment or victimisation.
Meanwhile, we call on the National Assembly and various state houses of assembly in the country to enact laws that will not only prohibit sexual harassment but will make the menace extremely difficult to thrive in schools. Where such laws are already in place, stiffer penalties should be meted out to culprits.
We are, however, not unaware that many female students seduce lecturers and even go as far as soliciting good grades in exchange for sex. Where this is firmly established, such student(s) should be visited with sanctions, either to repeat a whole session or even outright expulsion from the school.
The Nigerian media also have the social responsibility to launch an investigation into sex scandals in our tertiary institutions. Rather than dishing out spin-offs of what has been uncovered by foreign media like the BBC or CNN, the Nigerian Press should take the lead in unravelling scandals and identifying other prolific sexual predators on our campuses.
Nigeria's education has suffered enough degradation, courtesy of the triple evil of examination malpractices, sorting and cultism. Adding another medal to its list of ugly laurels will be too disastrous to contemplate.
2020 Budget: Matters Arising
Not satisfied, some economic experts and the political class have since expressed concern over the N10.33 trillion budget recently presented by President Muhammadu Buhari to the joint session of the National Assembly for the 2020 fiscal year, describing the oil benchmark at $57 per barrel and crude oil production of 2.18 million bpd as unrealistic.
President Buhari had presented a budget indicating recurrent expenditure of N4.88 trillion and N2.14 trillion of capital expenditure in the figures based on $57/barrel oil price and 7.5 percent VAT.
Allocations to some MDAs are as follows: Works and Housing – N262 billion, Transportation – N123 billion, UBE – N112 billion, Defence – N100 billion, Agriculture – N83 billion, Water – N82 billion, Niger Delta – N81 billion, Education – N48 billion, Health – N46 billion, NEDC – N38 billion, SIP – N30 billion, FCT – N28 billion, Power – N127 billion, NDDC -N80.88 billion and Zonal Intervention Projects – N100 billion.
Buhari also put the Federal Government's estimated revenue in 2020 at N8.155 trillion, comprising oil revenue of N2.64 trillion, non-oil tax revenues of N1.81 trillion and other revenue of N3.7 trillion.Other estimates are N556.7 billion for statutory transfers; N2.45 trillion for debt servicing and provision of N296 billion as sinking fund.
The 2020 budget is based on an oil production estimate of 2.18 million barrels per day, oil price benchmark of 57 dollars per barrel and an exchange rate of N305 to a dollar. Other benchmarks are real Gross Domestic Product (GDP), growth rate of 2.93 percent while inflation rate "is expected to remain slightly above single digits in 2020."
While condemning the Federal Government's decision to base the estimated revenue from Value Added Tax (VAT) in 2020 on 7.5 percent instead of five percent, economic analysts also decried the abysmal allocations to agriculture, health, education and the Social Investment Programme.
The Tide aligns itself with the fears expressed by pundits that the paltry sums allocated to vital sectors portray continued downward trends in the allocations to these key sectors that have direct bearing on the living standard of the citizenry and should be reviewed.
It is pertinent to make provisions for the adequate funding of Agriculture, Health and Education sectors given their strategic importance. Agriculture employs up to 80 percent of the population, especially in the informal sector, where the majority of the small-scale food producers are women farmers.
Similarly, the health sector requires improved funding, as our health centres, maternities and hospitals lack basic essential facilities and drugs and evidence has shown that increased investment in these pro-poor sectors has a strong impact on poverty and inequality reduction, while simultaneously creating employment opportunities.
Furthermore, the set parameters for the 2020 proposal remain unrealistic given the volatility in the global oil market and the increasing insecurity across the country. Oil benchmark at $57 and the crude oil production of 2.18 million bpd are unrealistic.
While we welcome the estimated revenue of N8.155 trillion for 2020, and expect that it will be vigorously pursued, we hope that with the new Finance Bill to be submitted by the President, the review of the domestic tax policy will likely lead to improved revenue over the period.
However, The Tide is worried that the 2020 budget proposal continues to deepen the huge gap between the capital and recurrent expenditures. Given the teeming population, we opine that the capital expenditure proposal for 2020 of N2.46 trillion, about 24 percent of aggregate projected expenditure compared to the recurrent proposal of N4.88 trillion is not good enough for a country with a high demand for infrastructural development.
We are equally worried about the paltry allocations to the Niger Delta Development Commission (NDDC) and the Niger Delta Ministry responsible for the welfare of the Niger Delta people. We expect more attention to be paid to the completion of road infrastructures such as the East-West Road, Bonny-Bodo Road and adequate funding of the Amnesty Progromme.
While we commend the tireless effort of the government in the early presentation of the 2020 budget proposal to the joint sitting of the National Assembly, we are worried about the slow implementation of the 2019 budget owing to low-level revenue generation, aggregating N2.04 trillion as at June 2019 and amounting to only 58 percent of the 2019 budget target.
Even more worrisome is that N3.39 trillion has been spent out of the N4.46 trillion budgeted for recurrent expenditure as at June 30, 2019, while only N294.63 billion was released for capital expenditure as at September 30, 2019. This has a major implication to the infrastructural development of the country, meaning that we continue to consume far more than we invest.
We, therefore call on the National Assembly to take a bold step in correcting the inherent inequality in the pattern of allocations in the 2020 budget proposal, with specific reference to the allocations for the agencies for the development of the Niger Delta, agriculture, health, education and the National Social Investment Programme (NSIP). These allocations need to be improved upon.
Also, as much as it is important for the government to increase its tax revenue, increasing VAT is not the right way to go. VAT is a multi-level tax on consumption and the burden rests on the final consumer and not the business; so the people are the ones who will bear the brunt of the increase. It is on this premise that we demand a review of proposal of any form of increase on VAT.