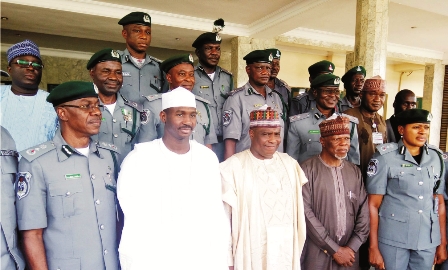 The International Mari
time Organisation Member States Audit Scheme (IMSAS), has submitted an interim report after a week-long audit of the Nigerian maritime sector.
This is contained in a statement by the Head of Corporate Communication of NIMASA, Hajia Lami Tumaka, on Tuesday in Lagos, a copy of which was made available to our correspondent.
According to the statement, IMSAS calls on maritime stakeholders, especially the Nigerian Maritime Administration and Safety Agency (NIMASA) to develop and formalise a long-term strategy for the implementation of IMO instruments in the country.
Presenting the interim report, the leader of the IMSAS team, Capt. Yalscin Cahit, stressed the need for NIMASA to develop its systems.
Cahit said that NIMASA had no problem with human resources and lauded the expertise, competence and commitment of the agency's personnel.
He also drew attention to the need to fast track the enactment of regulations pursuant to IMO instruments for which Nigeria is party to.
Cahit said that issuance of regulations was critical to enforcement of IMO instruments.
He noted that the interim report had 11 findings and one observation and emphasised the need for NIMASA to respond within 90 days to the findings and come up with strategies being developed to remedy the gaps identified.
Cahit also highlighted the positive strides Nigerian maritime sector was making.
The Director- General of NIMASA, Dr Dakuku Peterside, promised the IMSAS team that the agency together with other stakeholders, were committed to the implementation of relevant IMO instruments for the overall development of the Nigerian maritime industry.
The director-general said that the IMO Audit was in line with the vision of NIMASA.
He said that that the Agency would leverage on the findings and observation of the interim report to reposition the Nigerian maritime industry for more efficiency and competitiveness.
Peterside thanked the IMO Audit team for a thorough job done.
He assured the team that NIMASA would take the report very serious, adding that in the next one year, most of the identified deficiencies would be drastically reduced if not completely eliminated.
"With the active support of the Minister of Transportation and the leadership of the Agency which is forward looking, focused and determined, Nigeria will certainly regain its lost glory in the comity of maritime nations.
" NIMASA will immediately settle down to work to address these findings", the director-general said.
The Tide reports that the Audit is aimed at promoting consistent and effective implementation of applicable IMO conventions, resolutions and protocols amongst member nations.
The audit is also meant to assist member states to improve their capabilities in the enforcement of IMO instruments for the overall benefit of global shipping.