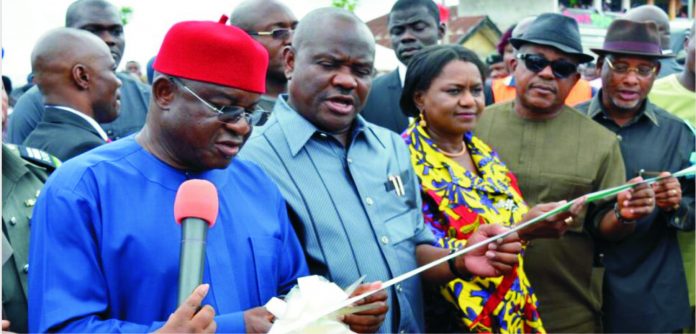 There are at list five Rivers soldiers in a list of retirees announced by the nation's military high command. Also, the list is populated by Pro-Jonathan soldiers.
The Minister of Defence, Brig-Gen Mansur Dan-Ali, has defended the compulsory retirement of 38 Army officers, explaining that it was part of an on-going reform in the Armed Forces of Nigeria, rather than a witch-hunt.
The minister made the clarification when fielding questions from newsmen after delivering a lecture titled "Defence Management: the Nigerian Experience'' at the National Defence College, Abuja, on Monday.
He urged Nigerians not to be misled by the false information about the retirement of the officers, adding that no innocent officer was retired unjustly.
Dan-Ali said what culminated into retirement of the affected officers was a process of painstaking review and assessment of officers' conduct in various tasks assigned to them at a particular time.
The minister explained that the affected officers were indicted for offences ranging from professional misconduct to financial corruption.
"What we did was to make sure that all those that were indicted in one way or the other for both professional corruption and monetary corruption, had the opportunity to defend themselves.
" What I mean by professional corruption is soldiers' involvement in partisan politics; if you are partisan, then you are professionally corrupt; you will be asked to go; that was what happened.
"Of course, they were given fair hearing; they were called by a board and they went and testified.
"Don't forget that in the military, there is no half way to doing things; the moment you are found wanting, you have to succumb and you will go.''
Dan-Ali said plans were under way to adopt and implement a reform policy that would reduce the country's dependence on the military for duties that could be performed by the civil police.
He said that the Ministries of Defence and Interior were collaborating, to ensure that police and other paramilitary organisations were empowered to contain many of Nigeria's security challenges and depend less on the military.
The minister said that the planned Defence reform would entrench professionalism and discipline in the Armed Forces.
Similarly, a former Chief of Defence Staff (CDS), Admiral Ola Ibrahim, noted that the achievements recorded by the military were products of good virtues instilled in officers and soldiers by its past leadership.
Ibrahim, however, identified political interference and paucity of funds being responsible for the shortcomings of the previous military leadership.
He said professionalism and improved support would be required for the military to fully actualise its defence objectives and duties to the nation.
It would be recalled that the Nigerian Army recently retired 38 senior officers over what it described as service exigencies.
Those retired as part of the exercise include Major-Generals Mobolaji Koleoso, T.C. Ude, S.D. Aliyu, L.C. Ilo, P.A.T. Akem, I.N. Ijoma, O. Ejimai, E.D. Atewe, Letam Wiwa (younger brother of murdered environmental rights activist and author, Kenule Beeson Saro-Wiwa), F.O. Alli, and M.Y. Ibrahim.
The Brigadier Generals are, D. Abdusalam, M.G. Ali, A.I. Onibasa, Mustapha Onoyiveta, Bright Fiboinumama, G.O. Agachi, Okonkwo, Bashir Mormoni, Ogidi, L.N. Bello, P.E. Ekpeyong and Oyefesobi.
The Colonels affected in the exercise include Ojogbane Adegbe (ADC to former President Goodluck Jonathan), C.K. Ukoha, Tonye F. Minimah (younger brother of former Chief of Army Staff, Lt-Gen Kenneth Minimah), D.R. Hassan, F.D. Kayode, O.U. Nwankwo, M.A. Suleiman, Audu, and Nicholas Ashinze (Sambo Dasuki's ADC).
The Lieutenant-Colonels forcefully retired are G.C. Nyekwu, T.E. Arigbe, C. Enechukwu, T.O. Oladuntoye, C.O. Amadi, Adimoha, D.B. Dazang, O.C.Egemode, Baba Ochankpa, A. Mohammed, and A.S. Mohammed, while T.A. Williams was the only major affected.