PH Hosts Amaa 2016 Edition 'Morrow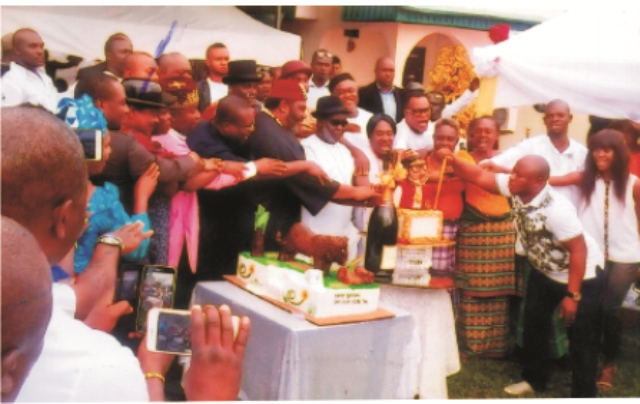 Port Harcourt, the Riv
ers State capital is now set to host this year's prestigious awards ceremony, the African Movie Academy Awards, popularly known as AMAA. The AMAA Awards are presented annually to recognise excellence of professionals in the film industry. It was founded by peace Anyiam-Osigwe and run through the Africa Film Academy. The awards are aimed at honouring and promoting excellence in the African movie industry as well as uniting the African continent through arts and culture.
The award presentation is attended by numerous media representatives, celebrities, politicians, journalists, actresses and actors from all across the world. The AMAA awards are widely considered to be Africa's most film event and the most prestigious film award in Africa. The 2016 ceremony is scheduled to hold in June 2016 and will take place at the Obi Wali international Centre, Port Harcourt, the Rivers State capital.
AMAA has approximately 26 award categories which include:
1.    Best Short Film
2.    Best Documentary
3.    Best diaspora feature
4.    Best Diaspora Documentary
5.    Best Animation
6.    Achievement in Production Design
7.    Achievement in Costume Design
8.    Achievement in Make-up
9.    Achievement in Soundtrack
10.    Achievement in visual effects
11.    Achievement in Sound
12.    Achievement in Cinematography
13.    Achievement in Editing
14.    Best film by an African living Abroad
15.    Best Actor in a Leading Role
16.    Best Actress in a Leading Role
17.    Best First Feature Film by a Director
18.    Best Diaspora Short Film
19.    Achievement in Screen Play
20.    Best Nigerian Film
21.    Best Film in an African language
22.    Most Promising Actor
23.    Best Child Actor
24.    Best actor in a supporting role
25.    Best Actress in a Supporting Role
26.    Best Director
27.    Best Film

Duncan Mighty Releases Ex-Wife's Alleged Confession Tape
Popular Nigerian musician, Duncan Mighty, has released an audio tape of his ex-wife, Vivian allegedly confessing to her evil deeds. This comes weeks after the singer accused his ex-wife of poisoning his food and bathing water for two years and 11 months.
Taking to his Instagram, the musician dropped the audio tape which contained his former wife's alleged confessions. Duncan Mighty stated that he had forgotten about the issue and moved on so he can heal completely, but his ex wife and mother in law granted an interview with BBC which was full of lies and deceit.
In his words: "Even when I have forgotten about the things you did to me most especially for the fact that my recovery and healing is assured through the help of Jesus. Just because you escaped the public disgrace in Rumukurusi after a police officer saved you. Instead of your mom to play the role of a mother you and your mom now went to @ BBC news pidgin and @ Nigeria info pH to grant lies and deceit.
"My dear, it is too late, check the link on my bio and hear Vivian's confessions. Part 1: you carry the same money we I give you go tie me down with deadliest sickness. Them no dey use Lion do sacrifice, # thank you Jesus".

How Gotv Max Gives More Content For Less
Since the reign of terrestrial television broadcasting went from the front row to the backseat in the wake of cable or digital television revolution, the question has been about content. And in the battle of content and what the viewers want, only the fittest and strongest are surviving and a step ahead beyond the imagination of their viewers.
First to rule the digital realm in Nigeria is unquestionably DStv and then MultiChoice introduced GOtv, a Digital Terrestrial TV service platform which delivers an array of quality and entertaining programmes at affordable rates.
I am a lion that cannot be caged when they materialized on the scene, they met a few others already pulling their weight, but GOtv has consistently shown its innovative streak by playing the game differently. One of such tactics is offering more content for a lower price. While they have packages to suit all types of pockets, the package called GOtv Max, was the trump card to flip the balance in Digital Terrestrial TV service. As it is, the service provider is offering far more than ever before for less.
A look at what GOtv Max offers is not only mouth-watering but also in sync with the prevalent economic condition of Nigeria and Africans at large. GOtv customers on Jolli and Jinja packages can still take advantage of the "Max For Less" offer which started on 14th of January. This limited time-only offer, gives GOtv customers on the lower packages the opportunity to enjoy quality entertainment on the GOtv Max package at a discounted price of N2,999 only instead of N3,600. Jolli and Jinja customers who upgrade to the Max package get a wider range of quality entertainment to choose from over 72 great local and international channels. Lovers get to enjoy world-class sporting action such as: La Liga and Serie A and other select matches of the EPL, UCL and UEFA Nations League airing on SuperSport channels – SS La Liga, SS Football, SS Select 1&2. There's also a great serving of American and European leagues including Major League Soccer (MLS), Scottish Premier Football League (SPFL), Dutch Eredivisie on ESPN. GOtv Max package also boasts of quality international series and reality programming on channels such as BET, StarLife, CBS Reality, Discovery ID; local movies and dramas on Africa Magic Family, ROK GH and ROK 2; a variety of kids and educational content on channels such as Cartoon Network and Disney Junior; and movies from M-Net Movies 4, TNT Africa and lots more.

Reward For Creativity: Entertainment Advancement Awards Berths In PH
Burna Boy's Mum, Ibinabo Fibresema, Adasa Cookey, Leri Q and other Port Harcourt made celebs nominated Isaac Utere Foundation in conjunction with Omas Studio is perfecting plans to celebrate personalities and organisations that have contributed to the advancement of the entertainment and creative sector in the South-South of Nigeria.
The partnership was announced early in the year in Port Harcourt, the Rivers State capital, as part of the synergy needed to bring about a boom in the industry down South.
The progenitor and self dubbed, 'Most Valuable Grand Daddy', Mr Isaac Utere said he is inspired by his experience in the region during the last decade, which has had him see many young people use their talent/skills to catapult themselves from the underground to the mainstream.
As a Port Harcourt based creative enthusiast and father of multiple award winning talented children, Mr Utere said the initiative is expected to not only reward the key players, but motivate new catalysts, hence, the theme of the maiden edition, the Revelation.
While decrying the low rate of support for talent from government and corporate bodies in Niger Delta, Mr Isaac has not allowed that to be a deterrent, as he has contributed to take the youths off the streets through empowerment and talent development. He uses his foundation to support talents and train them on worthwhile skills that can help them make a living.
The award ceremony, which is scheduled for Saturday, March 13 at Amas Event center, Gbalaja, Alcon Way, Peter Odili  Way, towards Woji, Port Harcourt is expected to play host to who-is-who in the entertainment industry in this part of the country.
Burna Boy's Mum, Ibinabo Fibresima, Adasa Cookey, Leri Q and other Port Harcourt made celebs are nominated and expected at the historic five Star award ceremony!