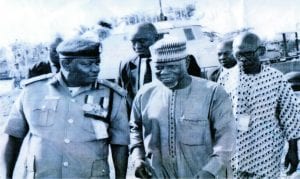 The unabated activities of
of sea pirates and armed robbers on the waterways and creeks within Rivers and Bayelsa States seem to have reached its crescendo with some speedboat operators selling their engine boats and venturing into road transport business.
An impeceable source who revealed this to The Tide correspondent at the Bonny, Bille, Nembe  waterfront in Port Harcourt Friday said the speedboat operators abandoned their trade for  safety of their lives and property as well following the incessant  activities of the hoodlums at sea.
The source said no week passed without one sea pirate attack and that it had forced many people to either abandon the marine transportation business, while those whose engines and boats have been hijacked are now in the labour market looking for a means of livelihood.
The Tide was also informed that the area was witnessing a lull in passengers travelling through the routes to their riverine communities, as they rather choose to travel by road to a nearby community before finding their ways to their homes.
It was learnt that the situation is even worse with petty traders who come to Port Harcourt to purchase what to sell in the riverine communities, as they pay exorbitant transport fares on such troubled routes.
The source, who pleaded anonymity for security reasons also revealed that all appeals made to the government to provide marine gun boats at strategic places of the waterways and creeks proved abortive, while the only security personnel that patrol the creeks were concerned with either illegal oil bunkering activities or escorting vessels in or out of the coast.
According to the source, the activities of these sea pirates had become alarming as lives of marine passengers and their operators are no longer safe, while properties worth thousands were carted away from the innocent victims.
Collins Barasiemeye