Women On The Rivers Project At 49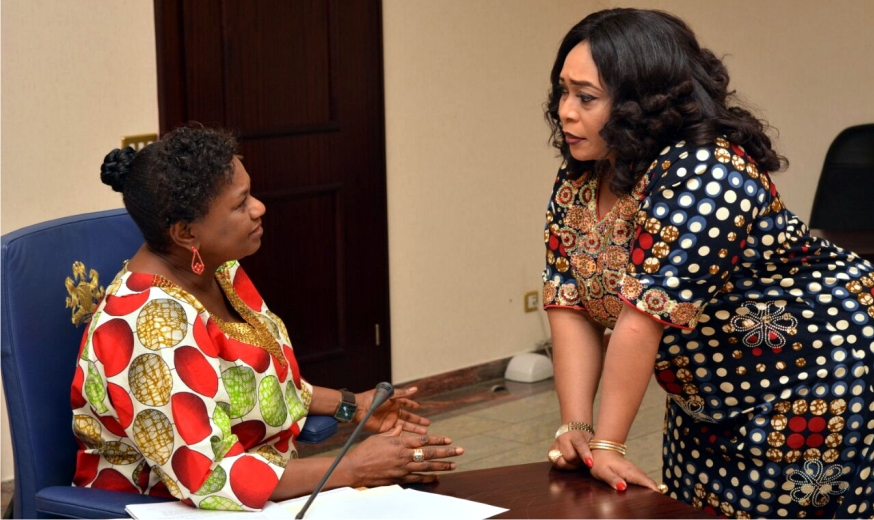 From the creation of Rivers State on
May 27, 1967, almost every sphere of our existence has, more or less, been dominated by men.
In the colonial era, women were more active regionally. Take, for instance, the Aba Women Riot of 1929. Nationally, the likes of Funmilayo Ransome Kuti, Margret Ekpo etc. were active.
The Rivers Story is quite different as we are tilted towards a more male domineering system.
Despite stereotypical roles assigned to the women, through the years, women have struggled to break out and have a voice to protect the collective interest of the state.
Despite the struggle for emancipation, it is obvious that the age old restrictions through traditional institutions and cultural barriers though reduced are still far from being totally eliminated.
Women still remain underprivileged, oppressed, exploited and downtrodden.
The almighty Beijing Conference in 1995, championed by the late First Lady, Mariam Babangida was a rude awakening for women the world over, including Nigeria with particular reference to Rivers State. This gave rise to the birth of Women Affairs Ministries nationwide, the reservation of 30% of appointments exclusively for women, (with time increased to 35%.)
Women, we can adduce, are making a big difference as significant progress has been recorded in various spheres of life where they hold sway in recent times.
Against this back drop, we can highlight women who have made giant or remarkable strides in Rivers State from the creation till date.
We have women in politics, Sports, Education, Religion, Government, Engineering, Medicine, Fashion, Music/Entertainment, etc.
1967 – 1975
Politics and government in 1967 could not have favoured women for the singular reason that the Nigerian Civil War had just started with women and children bearing the brunt as the men were at the fore front of the battle. The first Government of the new state, created on the 27th of May 1967, with His Royal Highness Alfred Papa Preye Diette-Spiff ran until July 1975.Within this period, women made more impact in the academia and sports.
Miss Ethel Jacks won the African table tennis championship in 1973 and  was quite outstanding during her reign.
Conscious effort to exploit her prowess was quite obvious in the tenacity with which she approached her reign. It is on record that she also won the Championship in 1975.
From that foundation, Rivers State has been able to, over the years, produce other star athletes such as Mercy Akide, who has been a two-time female African Footballer of the Year from 2000 to 2002.
Mrs Inyengiyikabo Okumgba won several medals nationally and internationally in swimming.
However, the path of women in the Rivers project is littered with pains, hopes and ultimately gains, at the end of its struggle. Over time, there has been a conscious effort to harness their potentials in any government or institution that recognised such potentials.
By and large, we have had many firsts. For instance, the first female Commissioner in any government dispensation from the creation of Rivers State was appointed during the Okilo administration from 1979 to 1983, Miss Constance Sarowinyo served as the Commissioner for Higher Education and Commissioner for Economic Development and Planning. She was also a member of the National Committee on FESTAC 77.
Then came Prof. Mrs Willy Bene Abbey, who served under Group Captain Ernest Adeleye as the Commissioner for Information and Tourism/Culture. She was again the only female in the cabinet and she held her own because Rivers State Television RSTV began full transmission on Channel 22 UHF, while Radio Rivers and the Rivers State Newspaper Corporation were overhauled and brought back to life. She was also a pioneer member of the board of National Institute for Pharmaceutical Research and Development (NIPRD) as well as a pioneer member of the steering committee of West African Research and Innovation Management Association.
Still on firsts, the first Rivers woman to win a beauty contest was Miss Syster Jack who became Miss Nigeria in the year 1980. Though not much has been heard about her after that, she did make waves, when she won the crown of the Most Beautiful Girl in Nigeria to the delight of Rivers people.
Agbani Darego put Rivers State on the spotlight worldwide when she won the coveted crown in the beauty world, the Miss World Crown on the 16th of November, 2011 in the 51st version of the pageant held in South Africa.
Women In Government
As earlier mentioned, the first Government set up after the creation of Rivers State had no prominent female presence except maybe as workers in the various offices held by the men. However, there were women who were forces to be reckoned with at that time, like the late wife of  Hon. Justice Nabo Graham Douglas, Prof. Mrs Christiana Owiyeba Graham Douglas, the first female graduate in the Eastern region.
Women did not make any notable impact in Spiff's Government from 1967-1975. The next regime of Zamani Lekwot was not different. He held sway in Rivers state from 1975-1978.
Suleiman Saidu was next and though he ruled for only three months, he also did not carry women along. May be it was due to the fact that they were military men and so did not consider it appropriate for women to be involved in the running of the affairs of the state.
To the credit of late Chief Melford Okilo, there was breakthrough for  women in governance and that was through the appointment of Constance Saronwiyo, the first woman to be appointed a Commissioner in Rivers State and she served as the Commissioner for Higher Education as well as Commissioner for Economic Development and Planning.
Dr. Constance M.S. Saronwiyo is a medical scientist, a consultant on oil spillage and environmental pollution, a one time member of the governing council (10th) of Rivers State University of Science and Technology. She holds the title of "Tuago Pya Neewa" (First Eagle Lady) conferred on her for being the first female Commissioner in Rivers State. She is also an author and is the winner of the Niger Delta Development Commission "Motto/Logo Award.
Then, there was another lull until Group Captain Ernest Adeleye took over the saddle in 1988 and appointed Prof Mrs Bene Willy Abbey, who holds a Doctor of Philosophy Degree (PhD) in Nutritional Biochemistry from the University of Nottingham, United Kingdom.
A graduate of Agricultural Biochemistry from the University of Ibadan, Prof. Abbey was appointed the Rivers State Commissioner for Information, Tourism and Culture. She also supervised the Women Affairs Ministry, hers was the case of a square peg sitting comfortably in a round hole. As Information Commissioner during her tenure recorded milestones such as the Rivers State Television (RSTV) transmitting fully on Channel 22 UHF while Rivers State  Newspapers Corporation and Radio Rivers were over hauled and given new lease of life. She was surprisingly the only female in the cabinet of Group Captain Adeleye.
Prof. Abbey also served in the National University Commission at various times as a member of the National University Commission on the accreditation panel of many universities' academic programmes such as Edo State University, Ekpoma.
She also served on the Rivers State Scholarship Board, and Independent Corrupt Practices and other related offences Commission (ICPC), the Committee of Deans and Provosts of Nigerian Post Graduate School, just to mention a few.
Then came Group Captain Sam Ewang who also favoured the women, with the likes of Ms Medline Ngo Tador as the Commissioner for Information and Culture and later as Commissioner for Women Affairs and Social Development between 1997 and 1999.
Mrs Julie Wika was also a onetime Commissioner of Women Affairs and Social Development. She holds a BSc, MSc and PhD in Sociology of Development with particular interest in Gender Studies. Mrs Wika is a recipient of so many awards including that of Woman of Excellence conferred on her by the National Council of Women Societies and Best Performing Director-General in the 36 States of the federation.
Mrs Julie Wika has three publications to her credit.
Then came Dr. Peter Odili from May 29, 1999 to May 29 2007, and there was quite a number of women in his cabinet. Such women like Mrs Toru Ofili served as the Commissioner for Women Affairs in 2003. Prior to this, she had served as Senior Special Assistant (Special Duties) and also was in charge of Social Services in 2000.
Born in 1957 in Port Harcourt to parents of Ancient Bonny ancestry, she holds a certificate in German Language and a Diploma in Secretarial Administration, another Diploma in English and Communication and an HND in Public Administration.
She has several awards from various bodies such as Distinguished Leadership Award for Women Empowerment and Nigeria's Excellence Award in Environmental Development and African Human Development Achievers award among others.
Also in Odili's cabinet was Ms Gloria Fiofori, who served  as  Commissioner for Women and Youth Affairs. Mrs Fiofori is a dynamic women leader, who worked and served her state and country in so many ways. She was the General Manager of both Rivers State Broadcasting Corporation and Rivers State Television (RSBC) and (RSTV). She also served as the Director, National Orientation Agency (NOA) Under her watch as Commissioner, a Rivers indigene won the coveted Miss World crown (Agbani Darego).
Dr. Ngozi N. Odu was the Commissioner for Education under the Odili administration. She had hitherto worked in the civil service, and occupied various positions including attaining the height of a Permanent Secretary.
She was at one time the State President of National Council of Women Societies (NCWS).
Born in Obite, Ogba/Egbema/Ndoni  LGA in 1952, she received her educational training in Nigeria, the United Kingdom and the United States of America. Her tenure as Education Commissioner witnessed the pursuit of pragmatic and progressive educational policies.
Between 2003 and 2006, Okpete F. Ovai was the Commissioner for Works, the first woman to be appointed into that Ministry.
Born in 1961, Ovai attended Holy Rosary Secondary School, Rivers State University of Science and Technology as well as University of Port Harcourt. She holds a BSc and an MSc in Mechanical Engineering.
Okpete has held various positions of responsibility in the state and she is also a member of various professional bodies such as Nigeria Society of Engineers, Institute of Mechanical Engineers and Society of Agricultural Engineers.
Professor Mildred Amakiri, an erudite scholar with vast technical knowledge was appointed by the Odili administration as the Commissioner for Higher Education. An administrator and academic, she brought her experience to bear in the education sector.
Prof. Amakiri was born in Sapele in Delta State, she attended Baptist Girls High School, Agbor in Delta State from 1958 to 1963 when she obtained her West African School Certificate.
She proceeded to St. Anne's School, Ibadan for her Higher School Certificate in 1970. She got BSc (Hons) and then got a Masters and PhD in Agronomy in 1974. From there, she moved to the University of California, Davis for a post doctoral degree programme.
Amakiri became a Professor in 1990 and she belongs to 10 national and international professional societies.
Prof. Roseline Konya is a meticulous, hardworking, intelligent and humble woman who also served in the Odili administration as first woman to occupy the position of Chairman, Civil Service Commission. Born in Khana Local Government Area of Rivers State, she holds a PhD in Environmental Biology and Toxicology.
During her tenure as head of the Civil Service Commission, she re-instated 200 civil servants who were wrongly terminated by the military.
Mrs Konya has several scientific publications and three books to her credit. She has received over twenty awards, including one from Tell Magazine as one of the country's best Commissioners in 2006.
She remains committed and dedicated and is currently serving in Governor Nyesom Wike's cabinet as Commissioner for Environment.
Ms Emily Solomon also served as the Commissioner for Special Duties under Governor Peter Odili.
Dame Aleruchi CookeyGam was the first female Attorney-General and Commissioner for Justice and also Secretary to State Government under Governor Odili. In Governor Amaechi's cabinet, she served as the Sole Administrator of Greater Port Harcourt Development Authority.
Sir Celestine Omehia's cabinet also had its fair share of female Commissioners.
Then came Rotimi Amaechi's cabinet which had women like Dame Alice Lawrence Nemi of  the Education  Ministry; Mrs Joeba West, Commissioner for Women Affairs and  Patricia Simeon Hart, Water Resources.
Mrs Emmanuela George Izunwa was also a Commissioner in Governor Amaechi's cabinet, so also Mrs Ibim Semenitari, who was Commissioner for Information and Communications and currently the Acting Managing Director of Niger Delta Development Commission (NDDC).
Governor Ezebunwo Nyesom Wike's cabinet has so far given women the most important appointment and consideration with the choice of a woman as his Deputy Governor in the person of Mrs Ipalibo Harry Banigo, who had earlier worked as the Secretary to State Government in a military regime.
The Rivers Project: Women in Politics
That women constitute the greatest number in the population of Rivers State is a statement of fact. Unfortunately, the strength of number in this instance does not seem to be favouring the women. Despite their large number, women participating in politics, though much improved, now, is still not significant especially as it concerns electoral positions.
Measures have over time been taken to encourage full participation of women in politics with exclusive reservation of 30% of all political appointments for women and the removal of fees for political forms purchased by women, but the fear of the murkiness of politics scares the women away.
The return of democracy in 1999 paved the way for more women at the national level but not much progress was recorded in Rivers State.
In the present democratic dispensation, we have a woman as the Deputy Governor in Rivers State, for the first time since the creation of the State. We also have women in the House of Representatives and in the State House of Assembly.
One of the women is Hon. (Mrs) Betty Joce Iyne Apiafi representing Abua-Odual/Ahoada East Federal Constituency. She was elected in 2007 making her the first female member of the House of Representatives from Rivers State and she is still a member till date.
Hon. Mrs Blessing Ibiba Nsiegbe is the second woman representing Port Harcourt Federal Constituency 11 in the House of Reps. She was elected in 2011 and re-elected to represent her constituency a second time.
Quite a few women have been in the State House of Assembly such as late Mrs. Anthonia Membere, who was very outspoken and active.
Mrs Linda Somiari Stewart, a renowned journalist who veered into the murky poltical terrain and conquered.
There is also Hon. Barizasi Tane Felicia who was elected in 2007 into the Rivers State House of Assembly.
Hon. Irene M. Inimgba became a member of the House in 2007 too. So also was Hon. Victoria Nyeche Wobo.
Women have also been appointed as Caretaker Committee Chairmen of Local Government Areas  in the State at various times by different governments.
Despite the breakthrough by women in politics, we are yet to witness a female politician who would stand to contest as a governorship candidate. We did have a contestant though in the PDP primaries whose only vote was the one cast by the candidate for herself.
Hopefully, the situation would turn out for the better as more women become politically aware.
Hon Justice Mary Ukaego Odili is a Justice of the Supreme Court of Nigeria.
Her educational career spanned through Lagos, Owerri Mbaise, Onitsha and Nsukka.
She started her career as a pupil counsel in Abeokuta, in 1997, and to Benin in 1998.
Justice Odili relocated to Port Harcourt as Magistrate Grade II, 1979 to 1981; she was the Chairman Juvenile Court 1979 to 1981; Chief Magistrate Grade 1, 1981 to 1992 and High Court Judge, Rivers State 1992 to 2004. She also served as Justice of the High Court of Appeal Abuja 2004 – 2010 before moving to Court of Appeal Kaduna (2010-2011).
She was appointed Justice of the Supreme Court of Nigeria (JSC) making her the first woman to be so honoured in Rivers State.
From the educational view point, the womenfolk are obviously not doing badly. Women have been able to leave a positive impact on the society with strings of firsts in the educational sector.
Dr. Constance Tamuno is the first female Registrar of Rivers State extraction. She was appointed Acting Registrar of the University of Port Harcourt on the 3rd of April 2000 and she was confirmed a Substantive Registrar on the 24th of October the same year.
The Pioneer Vice Chancellor of a tertiary institution from Rivers State is Professor (Mrs) Rosemund Dienye Green-Osahogulu of the Ignatius Ajuru University of Education, Port Harcourt. She holds quite a retinue of certificates from various schools both from within and outside Nigeria.
Prof. Osahogulu is a very prominent member and Fellow of several professional bodies.
Next is Dr. Balafama Wilcox, Provost of the Rivers State College of Arts and Science in the year 1991.
Still on education, in the literary world, we have Kaine Agary who returned to Nigeria from her educational sojourn outside the country to improve legal literacy through a quarterly magazine 'TAKAii;' Workshop and Pocket series. Her first novel 'Yellow-Yellow' won the NLNG Nigeria Prize for Literature, Chevron Prize for Environmental writing in 2007 and co-winner of the Nigerian Book Fair Trust 2007 and  Book of the Year Award 2007.
In the corporate world, we have Mrs Alice Omoni Ajeh who held sway in Shell Petroleum Development Company. Her career started as a Graduate Assistant at the University of Illorin from 1982 to 1983. She veered into Journalism as an Associate Editor with the defunct Sunray Publications.
She was appointed Publications Manager of Oil Minerals Producing Areas Development Commission (OMPADEC)
In 1998, Ajeh became Government Relations Adviser, Shell Petroleum Development Company. She rose to the position of the Manager, Public Relations East. Since 2012, she has been the Manager NGO and Stakeholder Relations, Shell Nigeria.
Dr. Ajeh has many awards and honours to her name including the Rotary Club of Trans Amadi Presidential Awards in 2005 – 2006. Ajeh belongs to numerous professional associations and has held different positions. Among other positions Dr, Ajeh was the Chairman, Nigerian Institute of Public Relations (NIPR), Rivers State chapter (2002 – 2004), senior member, International Public Relations Association and member, International Association of Business Communication, New York, United States.
Juliet Chinda Njiowhor
Assemblies Of God Women Move To Check Hypertension Prevalence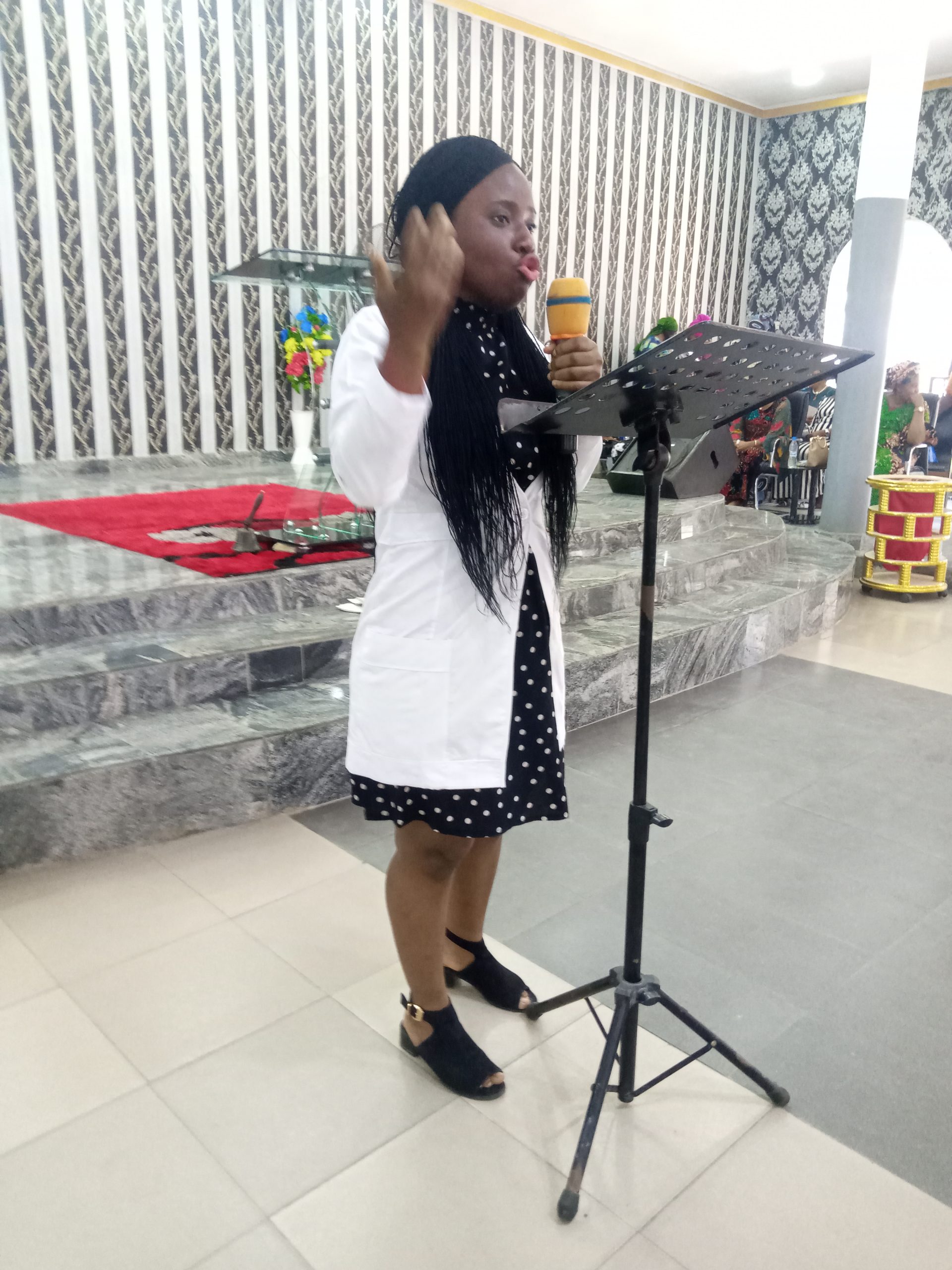 As the women of Assemblies of God, Ikwerre -South District, aka Canaan City, converged for a three-day religious summit in Alakahia, Port Harcourt, the need for a careful living to check the prevalence of high blood pressure, otherwise called hypertension, has been reechoed. This is part of the obligations of the management of the women department at the district level, at improving the wellbeing of its members.
Hypertension is a health condition in which the force of the blood against the artery walls is too high. Usually, it is defined as blood pressure above 140/90, and considered severe if the pressure is above 180/120.
Addressing participants at the conference, recently, Dr Okpako Ebruphiyo highlighted age, black race, family history, overweight and sedentary living as risk factors for hypertension and cautioned them against the intake of alcohol and table salt as such ingredients are not only capable of provoking high blood pressure, but could exacerbate its existence in the body.
The medical expert who emphasised the imperative for body relaxation as a measure against stress, called for regular exercise, regular medical checkup as well as intake of less carbohydrate with more vegetables. Referring to hypertension as a silent killer, she warned that a careless attitude towards it would lead to stroke, aneurysm, heart failure, weakened and narrowed blood vessels in kidneys, thickened, narrowed or torn blood vessels in the eyes. Others include metabolic syndrome, trouble with memory or understanding and dementia.
Hypertension is the most common modifiable risk factor for cardiovascular disease, the leading cause of death in both men and women. The prevalence and severity of hypertension rise markedly with age, and blood pressure control becomes more difficult with aging in both genders, particularly in women. According to research, hypertension is less common in women, compared with men, in those younger than 65 years of age, but is more common in elderly (65 years and older) women than men. 
As a primary risk factor for cardiovascular disease, keeping blood pressure under control is vital for preserving health and reducing the risk of these dangerous conditions.
By: Sylvia ThankGod-Amadi
Want Your Marriage To Work?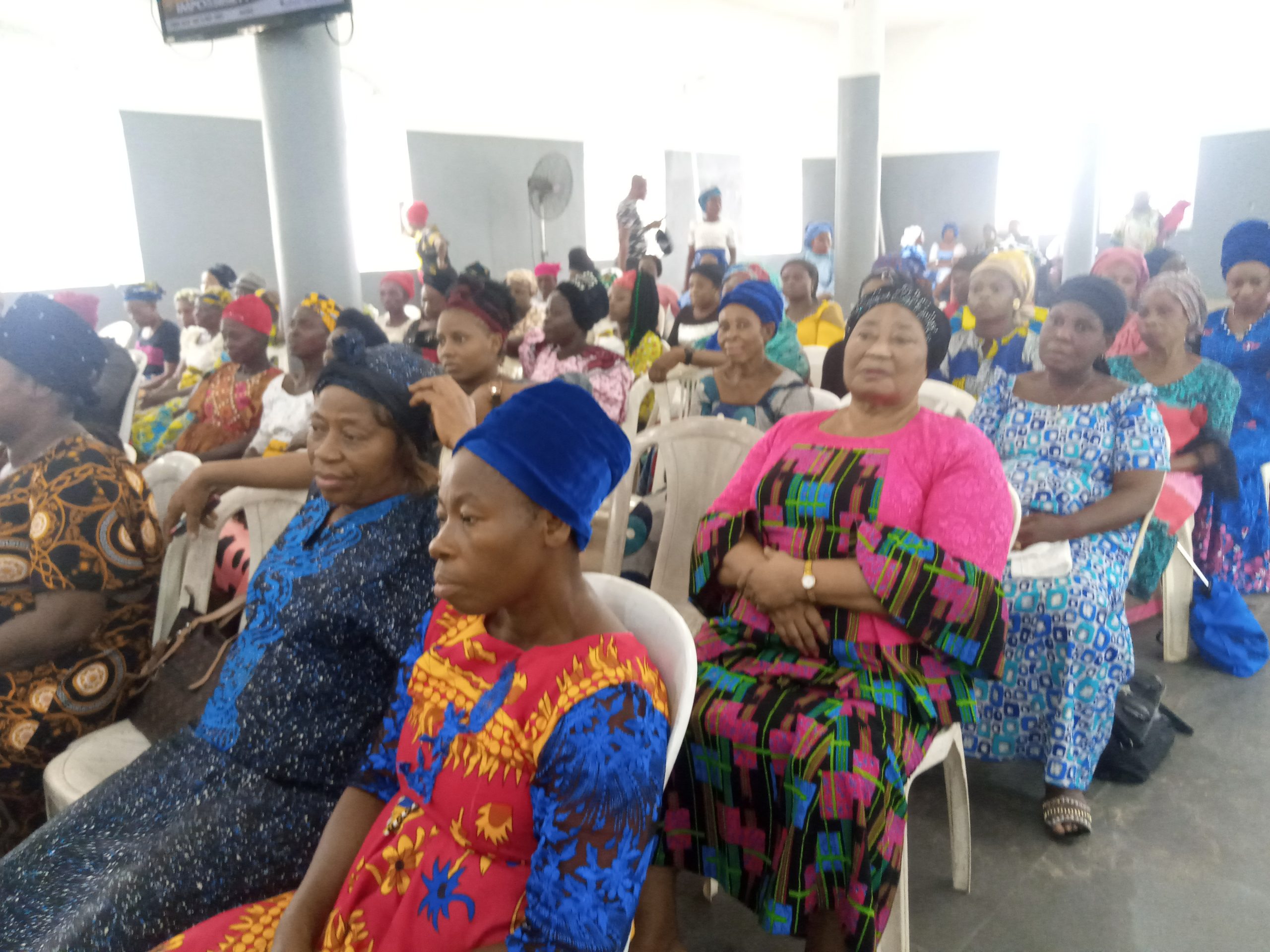 *Secret 1
Everyone you marry has a weakness. Only God does not have a weakness. So if you focus on your spouse's weakness you can't get the best out of his/her strength.
*Secret 2*
Everyone has a dark history. No one is an angel. When you get married or you want to get married, stop digging into someone's past. What matters most is the present life of your partner. Old things have passed away. Forgive and forget. Focus on the present and the future.
Secret 3
Every marriage has its own challenges. Marriage is not a bed of roses. Every good marriage has gone through its own test of blazing fire. True love proves in times of challenges. Fight for your marriage. Make up your mind to stay with your spouse in times of need. Remember the vow: For better for worse. In sickness and in health be there.
Secret 4
Every marriage has different levels of success. Don't compare your marriage with that of any one else. We can never be equal. Some will be far, some behind. To avoid marriage stresses, be patient, work hard and with time your marriage dreams shall come true.
Secret 5
To get married is declaring war. When you get married you must declare war against enemies of marriage. Some enemies of marriage are:
Ignorance, Prayerlessness, Unforgiveness, Third party influence, Stinginess, Stubbornness Lack of love, Rudeness, Laziness, Disrespect, Cheating etc. Be ready to fight to maintain your marriage zone.
Secret 6
There is no perfect marriage. There is no ready – made marriage. Marriage is hard work. Volunteer yourself to work daily on it. Marriage is like a car that needs proper maintenance and proper service. If this is not done it will break down somewhere exposing the owner to danger, or some unhealthy circumstances. Let us not be careless about our marriages.
Secret 7
God cannot give you a complete person you desire. He gives you the person in the form of raw materials in order for you to mold the person into what you desire. This can only be achieved through prayer, love and Patience
Secret 8
Getting married is taking a huge risk. You can not predict what will happen in the future. Situations may change so leave room for adjustments. Husband can lose his good job or you may fail to have babies. All these require you to be prayerful otherwise you might divorce.
Secret 9
Marriage is not a contract. It is permanent. It needs total commitment. Love is the glue that sticks the couple together. Divorce starts in the mind and the devil feeds the mind. Never ever entertain thoughts of getting a divorce. Never threaten your spouse with divorce. Choose to remain married. God hates divorce.
Secret 10
Every marriage has a price to pay. Marriage is like a bank account. It is the money that you deposit that you withdraw. If you don't deposit love, peace and care into your marriage, you are not a candidate for a blissful home.
So today let us pray for our marriages.
Oshoala Tasks Nigerian Girls On Education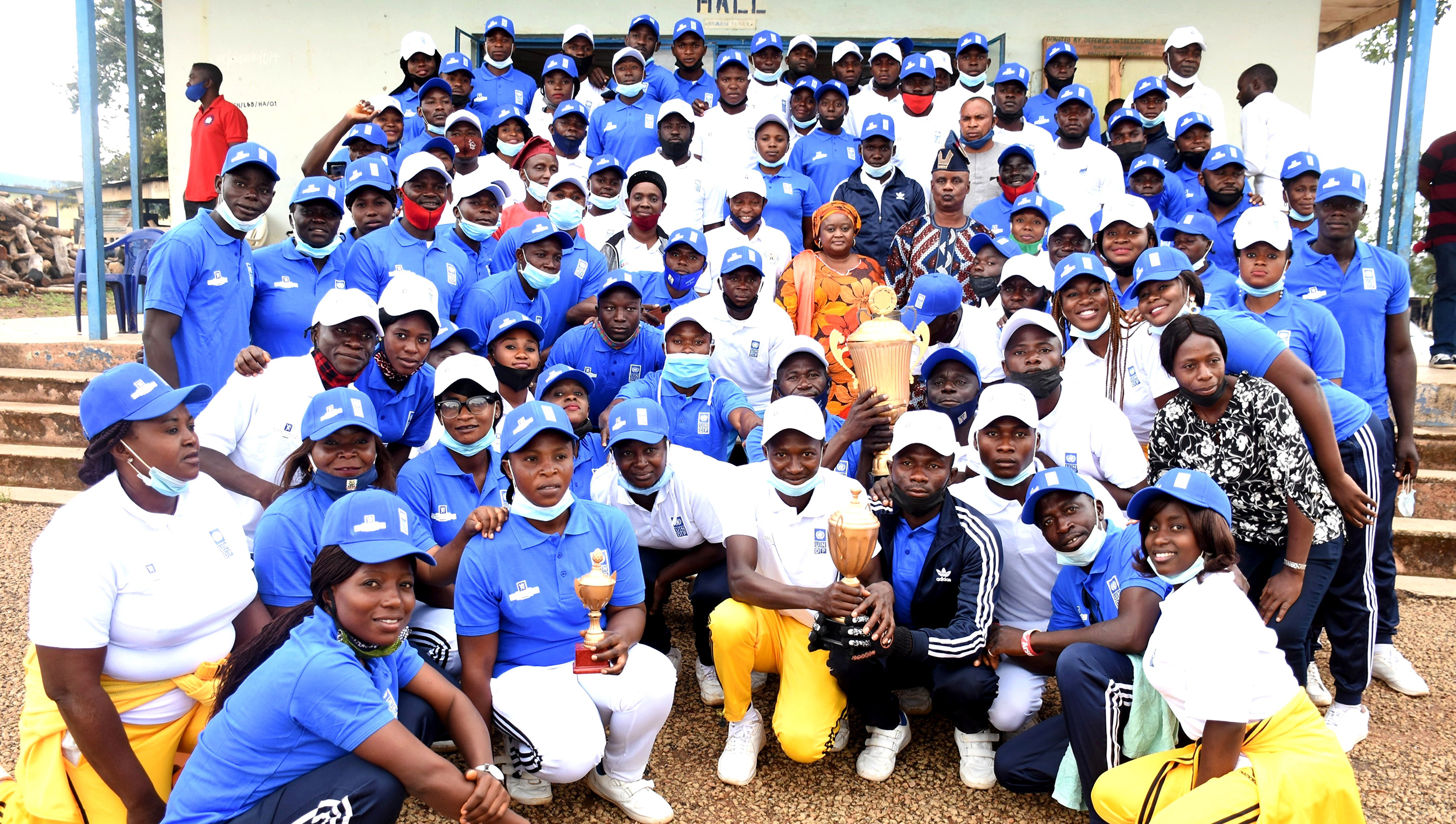 Reigning CAF Woman Footballer of the Year Asisat Oshoala, has urged Nigerian girls to focus on their education while  exhibiting talents in sports, especially football.
Oshoala, also the Captain of the senior national female football team, Super Falcons,  spoke at the 59th Inter-House Sports Competition of Queen's College, Yaba, Lagos, on Saturday.
According to her,  proper education can guarantee success of any individual and ensure production of exemplary future leaders.
She said that education could go side-by-side with sports, adding that in such a situation,  one should  not suffer because of the other.
"I feel very happy to be here today. I am amazed with what I have witnessed here today. It is very heartwarming.
"I am excited  seeing girls compete with much zeal in the various sports showcased at this occasion.
"It shows that these girls are discovering their passion for sports unlike what it used to be in the past, where it was an 'all boys' thing.
"Talking about football specifically, I will really love to have  lots of Asisat Oshoalas in Nigeria, but first thing first: education is very critical," she said.
The footballer said that there was the need to ensure that  young people, especially girls, would  take their education serious.
"This, however, does not stop them from showcasing their talents in the area of sports, especially football," she said.
The four-time CAF African Woman Footballer of the Year, who plies her trade with the  Barcelona Female Football Club in Spain, said that  she almost missed out when she decided to opt out of education to concentrate on football.
"I chose sports at some point, but at the end of the day, I realised the place of education and retraced my steps by embracing it, while still being active in sports.
"This, therefore, is the right period to let these girls understand that education and sports can go hand-in-hand," the Brand Ambassador of Emzor said.