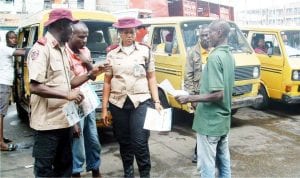 The Chairman of Nigeria
Union of Railway Workers (NUR), Rivers State Chapter, Pastor Woyengidengiyeta Ikoni, has given reasons why his union members both at the national and in the state shunned  the protest embarked upon by a section of the organised labour  over petrol price hike by the Federal Government.
Ikoni, in an interview with The Tide in his office in Port Harcourt, Monday said the strike embarked upon by some members of the organised labour was unnecessary as round-table negotiations were still on-going to resolve the increase in price of petrol from N86.50 to N145.00.
He noted that although the new increase was impromptu but there is room for dialogue because it had been the mood of labour that when negotiations are on-going, there should be no strike except when the negotiation ends in deadlock.
According to him, moreso, the Federal Government was ready to negotiate  with Labour on the way forward, pointing out that the strike was a total failure because of the crisis in the Nigerian Labour Congress (NLC) and its affiliate unions as banks were operating during the period, staff of National Union of Petroleum and Natural Gas Workers (NUPENG) were at their duty posts to ensure availability of  Petroleum Products, Electricity Distribution Companies supplied uninterrupted electricity and rail transportation among  others shunned the strike.
The union leader noted that Labour has nothing to do with delegates or number of members but the pedigree and experience stressing that, "issue of poor delegates is irrelevant.  But let the right thing be done by putting the round peg in a round hole.
"In NLC, National President or State Chairman rotates between those in Private Sector and those in Public Sector right from the inception of Comrade Pascal Bafyau.   That was the tradition but the present crisis in the organised labour had been because of the refusal of some labour  leaders to obey the laid down process developed by the founding fathers.
It had been the tradition of NLC that the seat of President or Chairman had been on zoning partern between the private and public sector unions", Ikoni posited.
He pointed out that the crisis in the state NLC was also as a result of the former NLC chairman, Comrade Chris Oruge who is from the Public Sector refusing to handover to his vice chairman, Comrade Ada Williams who is from the private sector.
The NUR boss however said that factions would not do labour any good and appealed that all should sheet their sword  when the truth is out for peace to reign as  the Nigerian population relies on labour,                                                     therefore the earlier the better for the factions to come together and move the labour unions forward, constitutionally.
Collins Barasimeye