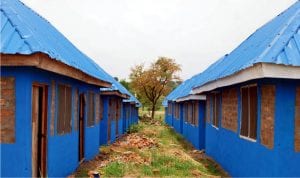 The Minister of Federal
Capital Territory, Malam Muhammad Bello, has given a call to the Nigeria Institute of Estate Surveyors and Valuers (NIESV), to find solutions to the high cost of accommodation in the country.
Bello made the call when members of the institute paid him a visit in his office at Abuja, recently, while urging them to reduce their professional fees.
He also questioned the rationale behind the annual payment of rents in the country, pointing out that in other places rents were paid on monthly basis, saying, "all  the people  you see here, including the minister, get their  rent allowances on a monthly basis, only very few organizations in Nigeria pay rent allowance annually in bulk, why can't  we start asking our tenants to pay rent monthly"?
The FCT minister stated that the FCT administration would soon come up with a law to ensure the downward review of accommodation cost in the nation's capital.
He said that  though the concept of estate development was laudable,  the industry was facing some challenges in the territory.
Bello pointed out that NIESV had a responsibility to ensure that accommodation cost was within the reach of the average man, given that they are a professional body concerned with the provision  of houses.
He said the present administration was working on measures that would guarantee  access to decent accommodation by the masses and less privileged.
According to him, "as a body, you must take deliberate steps to bring down the cost of accommodation through the reduction of your charges and commissions. I know that you change between 10 percent to 15 percent, but I think that rate needs to come down or else at some point in the future, legislation.
He promised to look into the issues raised by the institute on the need to enhance existing working relationship between it and the FCT administration.
Earlier, chairman of NIESV, FCT, Mr Emmanuel Alao, urged the minister to constitute the land use allocation committee in line with the provisions of the land use Act, stressing that it was critical to check abuses in land allocation processes.
He appealed to the minister to ensure that at least two estate surveyors were members of the committee.