Ideye Challenge: Awoba Stars Top Group
Village side, Awoba stars
topped Group A with 10 points to qualify for the quarter finals of the first edition of the Brown Ideye Challenge.
Already assured of qualification, following victories in its first 3 games, Awoba stars played out a goalless draw against Soccer Fire FC in its last group game to cement further their spot atop the Group A log.
Speaking to newsmen following its qualification, team manager Awoba Stars, Oseki Francis said his side which was underrated due to their village status were fully deserved of their qualification as they were a club with tradition.
"We deserve it because we are even playing upon sand (at home in Bille) you know what it means for one to play on top of sand, you'll be more fit than every other person.
Two years ago we took the state Super League. Awoba stars is not a today's club, it has been in existence for many years.
I also have played for Awoba stars, my seniors have also played and today I am the Team manager of Awoba stars.
So I am happy bringing them from the village to come and expose them to City life, Francis said.
Meanwhile, Gold Kings Soccer Academy played out a one all draw with Citadel FC meaning they finished with points thus earning second spot and a quarterfinal ticket.
Citadel's Coach Henry Moses who watched from the crowd, following a touchline ban, said the competition afforded his club the opportunity to test run new players and promised his side would do better at the next edition of the Brown Ideye challenge.
"I am not too happy about it (failure to qualify) but like I earlier said, this is a young team. I am trying to grow a new crop of players and this competition was supposed to serve as a test run for some of them, but all the same we would go back and we would prepare and by the next year of this competition we are going to give a very good account of ourselves, we would do better than what we did this year", Moses said.
NFF Blames Covid-19 For Salary Delay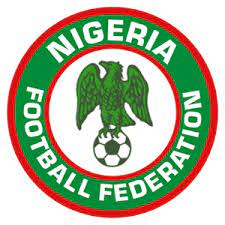 The Nigeria Football Federation has blamed the delay in the payment of players and coaches bonuses of the national teams on the coronavirus pandemic.
The pandemic brought sporting activities and other businesses around the world to a halt last year, which affected the federation in terms of sponsorship and funds availability.
Super Eagles defender, Leon Balogun, in a recent interview with newsmen,  revealed that players and coaches were owed match bonuses.
"About the bonuses, it's not even a secret, I've read something recently where people in charge contradict themselves saying they've been paid then they admit they haven't been paid," Balogun said.
"And as I said I'm always quite outspoken, probably I know if some people hear that they might come after me but I don't care because that's just how it is," he added.
In a reply to the player's outburst, NFF General Secretary, Mohammed Sanusi, said the challenges caused by the pandemic were still being felt by government's institutions and businesses globally.
"The NFF derives no joy in owing players and coaches their entitlements. The same players and coaches have been well-taken care of and provided the necessary facilities when things were normal. And as we work assiduously towards conquering the present challenges and seeing sunlight again, we expect the players, coaches and administrative staff to show the same level of understanding that they have been showing over the past 18 months," Sanusi said in a statement by the federation's media office.
"Of course, we are pragmatists and we realise that these things can be frustrating and some people will boil over and talk about them. It is normal. Last month, during the friendlies in Austria, we were able to pay some of the (Super Falcons) outstanding bonuses and allowances. We are working at a pace presently to clear what is remaining.
"As I speak, we owe the team bonuses and allowances from only the last two matches, and payments for these two games have been sent to the Central Bank some weeks ago. They will receive the monies shortly. We are equally working to pay the coaches what they are being owed as salaries."   Sanusi added.
WAFU B Qualifier: Angels Thrash AS Police 5-0, Book Semi's Ticket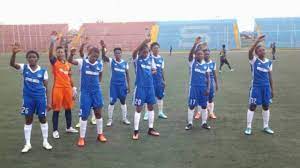 Reigning Nigeria Women Football League (NWFL) Premiership Champions, Rivers Angels on Tuesday evening booked their spot in the last four of the WAFU (UFOA B) Women's Champions League qualification tournament with an emphatic 5-0 thrashing of Association Sportive de la Police de Niamey.
 Maryann Ezenagu scored a brace while Oghenebrume Ikekhua and Alice Ogebe also registered their names on the score sheet.
 The Jewel of Rivers got their opening goal in the 13th minute through Ikekhua, who kept her composure to finish off a square pass by left back Rofiat Imuran, who had gone past two opponents.
 After a series of near misses by Angels' forwards, Vivian Ikechukwu provided a superb cross from the far right for Ogebe to tap in the 36th minute to double the lead for Rivers.
 In the 45th minute, Ogebe rounded the AS Police goalkeeper to lay the ball for Ezenagu who made no mistake in making it 3-0.
 After the break, the Jewel of Rivers kept mounting pressure on the defence of the Nigeriens which eventually paid off with an own goal by Chisa Marceline Bekumaka, James who diverted Ezenagu's low cross into her own net.
 Ezenagu herself then completed the rout in the 77th minute with a beautiful tap in after spurning an offside trap before rounding the hapless AS Police goalkeeper.
 With Tuesday's result, Rivers Angels have finished top of Group B and will wait for today to know who comes second in Group A for a Semifinal clash which will hold on August 2.
 Coach Edwin Okon after the game said the difference between his side and their opponents is the fact that they took their chances.
 "Football is football and there are no small teams as far as you're in this tournament," he stated.
 "As you can see, we are actually progressing as the competition continues.
 "The difference between us and our opponents today is that we took our chances when they came. 
"So I'm really elated with the result today and commend my girls for the outstanding performance", Okon added. 
And for the second consecutive game, Ezenagu was named Player of the Match.
Okagbare, Amusan, 10 Other Nigerian Athletes Cleared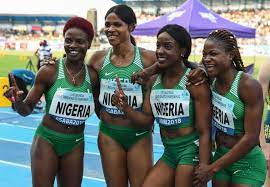 The Athletics Integrity Unit of World Athletics has cleared 12 Nigerian athletes to compete in the track and field events of the ongoing Tokyo 2020 Olympic Games.
This comes after jumper Ruth Usoro, sprinter Favour Ofili and eight other Nigerian athletes were on Wednesday disqualified from the track and field events of the Olympics.
Tidesports Source gathered that the athletes include sprinter Blessing Okagbare, who won silver at the Beijing edition of the Games in 2008; Ese Brume, Tobi Amusan, Divine Oduduru, Grace Nwokocha and Patience Okon-George.
Others are Enoch Adegoke, Imaobong Nse Uko, Itsekiri Usheoritee, Chukwuebika Enekwechi, Emmanuel Ojeli and Samson Nathaniel.
Reigning Nigerian sprint queen and 100m and 200m record holder, Okagbare, tops the list of the 12 athletes the AIU cleared to compete in the athletics event of the Games, which begins today.
Okagbare, who is making her fourth appearance at the Games, will be competing in the women's 100m heats on the opening day of the track and field events.
Amusan, who is ranked number four in the world in the 100m hurdles; long jumper Ese Brume, who tops the world list in her event coming to the Games, and Grace Nwokocha, the home-based sensation, who clocked 11.09secs in March at the MOC Grand Prix in Lagos to seal her qualification for the Tokyo Games are seen as medal hopefuls.
Oduduru, Adegoke and Itshekiri will be competing in the men's 100m while Oduduru will also race in the 200m, an event he holds the national record of 19.73secs, which he set two years ago in Austin, Texas in the USA to win the NCAA gold.
Shot put athlete, Enekwechi, who made it to the event's final at the World Athletics Championship in Doha, Qatar in 2019, will also be hoping to put up a fine outing in his event.
The 4x400m mixed relay quartet of Imaobong Nse Uko, Patience Okon-George, Nataniel Samson and Ifeanyi Ojeli will be in action today in the first semi-final heat.
Secretary-General, Athletics Federation of Nigeria, Adisa Beyioku, says the athletes are in good spirits as they are determined to return Nigeria to the podium for the first time since 2008 when Okagbare and the women's 4x100m won Nigeria's last medals in track and field.
Beyioku assured the 12 athletes that the federation would continue to be "the goose that laid Team Nigeria's golden eggs at the Olympics."
Athletics accounts for 13 of the 25 medals won by the country at the Games and two of the three gold medals won since the country's first participation at the Olympics in China.