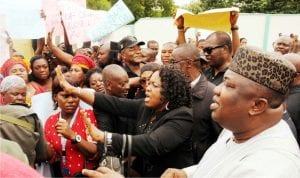 The Enugu State Govern
ment has constituted a judicial commission of inquiry to investigate the immediate and remote causes of all violent incidences in the State associated with suspected Fulani herdsmen.
The state Governor, Ifeanyi Ugwuanyi, who announced this in Enugu during a statewide broadcast, said the panel is expected to recommend appropriate measures to prevent future occurrence.
He said: "My dear people of Enugu State, on Monday, April 25, 2016, many of our brothers and sisters in Nimbo in Uzo Uwani Local Government Area of the state were murdered in cold blood by suspected Fulani herdsmen who have been grazing their cattle in that area for a while now. "May their souls rest in peace. Amen.
On Sunday, April 24, 2016, by 7 pm, the night before this carnage took place, I got security information from Uzo-Uwani Local Government Transition Chairman, Hon. Cornell Onwubuya, that such an incident was likely to take place in the state.
"I immediately summoned a meeting of the State Security Council which commenced by 10 pm," he said.
"In the meeting, we received assurances from the Commissioner of Police Mr Nwodibo Ekechukwu that the Area Commander of SARS was on ground in Nimbo.
The police commissioner, the governor said, had disclosed during the meeting that the Anti-Terrorism Unit was at Nimbo, adding that he was in contact with the Kogi State Commissioner of Police, who reported suspected herdsmen grouping at Odolu in Kogi State preparatory for an attack on Nimbo and Abbi communities.
Ugwuanyi, stated that the state police boss, equally assured him that the police mobile force and conventional police were already drafted to Nimbo and Abbi communities.
Nwodibo, had also assured the governor, that he has ordered the Area Commander, Nsukka to redeploy to Nimbo, and that the Garrison Commander on his part assured the meeting that military was already deployed to Nimbo.
"Let me state that the state government provided logistics for these deployments.
"After receiving these assurances of deployments to Nimbo, I felt quite confident that we had done everything possible to forestall an attack on Nimbo.
"Sadly, in the early hours of Monday, reports of this carnage reached me, more disturbing was the report that the attack of innocent and defenceless citizens were carried out at about 6 30 am.
"Further reports available to me indicate that apart from the killing and maiming of innocent and defenceless citizens of Nimbo, a church was also burnt.
"Following this development, I engaged the security agencies in order to ensure that the Nimbo area was secured from further attacks that might escalate the situation.
"On Tuesday, April 26, 2016, I visited Nimbo in order to establish first hand the extent of carnage.
"My visit to Nimbo was revealing, I came face to face with the wounded and bereaved. I saw burnt and damaged personage of Christ Holy Church.
"I saw a traumatized community in shock and despair. I saw dead bodies.
"I wept, I wondered what has become of our quest for a united, peaceful and prosperous nation.
"Only two weeks ago, we gave a posthumous award to Alhaji Umaru Altine, a Katsina born Muslim who was elected mayor of Enugu before the Civil War, in the period that Dr. Nnamdi Azikiwe was leader of the NCNC.
"Now in less than three months, violent clashes have occurred in Enugu State in Awgu, Nike, Abbi and Nimbo between suspected Fulani herdsmen and our people.
"This situation cannot be allowed to continue.