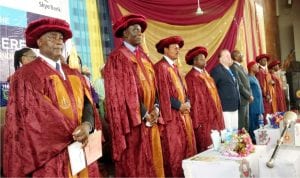 Rivers State Government
has said that it will no longer condone situations in which private, primary and secondary schools in the state are either not set-up, or operate in defiance to rules and guidelines governing their operations.
Making this known recently during a meeting with proprietors of private, primary and secondary schools in the state, the commissioner of Education, Professor Kaniye Ebeku, said such situations will no longer be tolerated and that measures will be put in place to check the trend.
"The establishment of private schools in the state is governed by statutory laws, namely, Education (Private schools) law, 1987 (as amended), which came into effect on July 7th, 1987, as well as Regulations and Guidelines made by the ministry of Education yet it has been found that there are more unapproved than approved private schools operating in the state. This is an archetypal failure by past administrations to enforce the relevant laws.
"Under my watch, this situation cannot be allowed to continue. I have the will and determination to insist that the laws must be obeyed to the later and will put all necessary measures in place and take all necessary steps to ensure compliance", the commissioner said.
Some of the issues warranting this action, Professor Ebeku explained, is the widespread noncompliance with rules and regulations governing the establishment and operation of schools.
According to him, while many private schools are guided by extant laws, rules and regulations, "some approved schools are run down and should not continue to operate.
"In some of the schools, I found teachers who are not qualified to teach, or are over-burdened with works. More over, I found that some schools pay peanuts to their teachers as monthly salary, and in some schools, teachers are owed for several months while the proprietors are having fun.
"It is also disturbing to find that school fees and charges by private schools are not regulated. The result is that primary and secondary education are over-priced and beyond the reach of some people who seek access to education in such schools", he said.
Consequently, Ebeku continued, in order for the state to achieve set goals under the stewardship of Governor Nyesom Wike, the government will address all key areas in which private schools are found wanting.
He noted that if such measures "drive away some proprietors from school business, it should be accepted as the price to pay in order to achieve good quality education."
President of the National Association of Proprietors of Private Schools (NAPPS), Hon. Victor Green, assured that his members will comply with the directive of the commissioner to abide by laws, rules and regulations governing the operation of schools.
He thanked the commissioner for convening the meeting, which, he said, was over due.
Sogbeba Dokubo