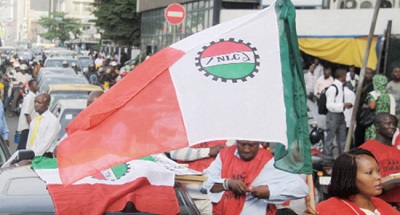 Last Tuesday, the
Nigerian Labour Congress (NLC) led by its president, Comrade Ayuba Wabba presented a new minimum wage demand of N56,000 for Nigerian workers to the Federal Government. The government is yet to make its position known on the demand. But how realistic is the NLC's demand in view of the nation's present economic crunch and the inability of many states to implement the current N18,000 minimum wage for workers?
Our correspondent, Calista Ezeaku and photographer, Ken Nwinune went to town to seek people's views on the new minimum wage demand, and they came back with the following responses:
Mr John Sampson
– Businessman
I think it is high time government had come to the help of workers in Nigeria because the workers are suffering.   Everybody needs help. So if the government and the Nigeria Labour Congress (NLC) decide to help us, it will be nice.  I think the NLC's move is in the right direction.  A minimum wage of N56,000.00 is ideal.  Despite the economic challenges currently facing the nation, I believe a minimum wage of N56,000.00 is still realistic because Nigeria is blessed with so many natural resources.  What government (both federal and state) need to do is to look inwards and see how they can harness these resources.  Let us diversify our economy and not depend solely on oil and we will surely have enough money for the new minimum wage and other developmental projects.
Mrs Ngozi Anozike
– Journalist.
I think the demand is in order because as the Bible says, a labourer deserves his/her wages. N18,000.00 compare to what is happening in the country these days is nothing. It can't even afford a decent meal for a reasonable family.  So the increment is worth it.
Inspite of the current economic down turn, the new minimum wage is still realistic and reasonable.  Where there is a will, there is a way.  Those in authority spend money on all sorts of frivolous things. I mean workers' wage is more important than all these things they spend money on. All these exotic cars, unnecessary trips abroad they should cut them down and ensure that labourers get reasonable salaries. Yes we know that some states still find it difficult to pay N18,000.00 minimum wage.  Every month we hear stories of some state governors going to the President to borrow money to pay workers' salaries and all that, but I still believe if our leaders both at the federal and state levels, prioritise  their things, they will be able to pay an increased minimum wage.  They have money but they spend it on less important things, I'm sure the states that have not been able to meet up with N18,000.00 minimum wage have not set their priorities right.  The money they are supposed to use in paying workers salaries are diverted into politics and things that are secondary.
So, my advice is that government should listen to labour.  Even if they cannot pay the N56,000.00 that labour is demanding there should be an increment, at least let the minimum wage be above N18,000.00.  This year is almost gone, we don't know what they are saying about budget.  But from next year, Nigerian workers should enjoy a new minimum wage.  Labour leaders should ensure that they pursue their demand to the end, bearing in mind that Nigerian workers are looking up to them and expect something realistic from this move.
Mr Ayo-Tamuno Omoni
-NUJ Chairman.
I think the recent NLC's demand is a good step in the right direction. I say so because the present minimum wage of N18,000.00 has over stayed.  If we are to follow the labour laws, salaries are supposed to be reviewed from time to time.
Inflation rate is getting higher and higher and the current N18,000.00 minimum wage is nothing to write home about.  Let's look at a city like Port Harcourt.  A single room goes for N10,000.00 per month.  So if a worker should spend N10,000.00 on accommodation, he is left with only N8,000.00. What can N8,000.00 do for him?  Will it take care of his feeding, transportation or what?  Workers are really going through stress.  Look at the on-going fuel problem in the country. For the first time in Port Harcourt, we bought fuel at N300.00 per litre at the petrol station.  So N18,000.00 minimum wage is nothing to write home about.  And if you take statistics of workers' salaries in other countries, you will discover that Nigeria has one of the most deplorable wages in the world.  Our salary is ridiculous.
So to my mind, N56,000.00 is good.  We know that government will always want to negotiate. I also want to say that some may think that workers are not reasonable in their demand. We are reasonable but we are suffering.  The poor state of the economy should not be a reason for not increasing workers' salary.  The utility vehicles that were purchased for senators recently, how much did they cost? One was about N37m.   Compare N37m to N56,000.00 a month, how many workers can  that cater for? So let nobody talk about the economy.  They are telling  us about poor economy, meanwhile, politicians' income keep increasing. So the workers who create the wealth should also enjoy it.  If our politicians should reduce their fat salaries and allowances, the N56,000.00 will be realized.  Let every Governor, let every politicians reduce his aides.  You see in some states, they have more than 30 advisers, over 30 commissioners who receive fat salaries and allowances every month. If they reduce their numbers why wouldn't they pay workers' salaries.
Another problem we have in this country is security vote. So much money is appropriated for security vote.  Nobody knows what they are doing with that security vote.  So if the politicians or those in power can reduce some of their expenses, they can conveniently pay a minimum wage of N56,000.00.  All that government needs to do is to cover all the loopholes and reduce their over-head expenses. Records have it that our President's Salary is higher than that of the American President – yet that is the richest country in the world.  Again, let's look at the current exchange rate.  Convert N18,000.00 to dollar at the rate of N300 or even N320.00 to a dollar, and tell me how much?
So N56,000.00 is okay, Moreover, that is just labour's demand, we know that at the end of the day government will negotiate with them and labour may shift ground.  Everybody knows that N18,000.00 is useless.  We can't continue to receive N18,000.00.  A labourer who does daily work how much does he receive.  Some are paid N2500.00, some N5000.00.  Calculate that for a month.  So I think government should consider labour's request.  Nobody should condemn labour for asking for an increase in workers' salaries because we have suffered enough.  We know that what Nigerian workers are paid monthly is a child's play compared to what our leaders,  both appointed and elected, receive monthly.  Let them reduce the cost of governance and they will have enough to pay workers and do other things.
Mr Osega Saturday
– Civil Servant.
As a Nigerian worker, I think what the NLC is demanding is good because the economy now is bad and for workers to maintain the salary structure of N18,000.00 minimum is not good. Labour should insist that minimum wage be increased to N56,000.00.  The constitution of the Nigerian Labour states that every five years there should be a review of the salary structure.  So they should abide by the law.  It is the right of the workers to have their salaries reviewed periodically and nobody should deny them that.
Even if government cannot pay N56,000.00, at least the salary has to be reviewed.  Government should look inwards and discover other sources of generating revenue instead of depending on oil alone. They can look into the agricultural sector and other viable sectors that will yield a lot of income, develop them and the country will have enough to cater for the workers even if oil prices crash.  States have internally generated revenue. What do they it?
Miss Nenye Charles
– Applicant
I want to support NLC's demand for a new minimum wage. I mean let's be realistic, what is N18,000.00 in the current economic quagmire?
It is nothing.  My parents are civil servants and I know how difficult it is to fend for our family even with their salaries put together. So, I think government should begin to pay attention to the plights of the workers, starting by paying them reasonable salaries like their counterparts in oil companies, banks and others.
However, I think NLC should have waited for the economy to improve before coming up with their demand.