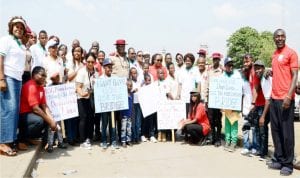 The Station Manager,
Nigerian Railway Corporation (NRC), Port Harcourt, Sanusi Abdullahi, has expressed delight with the impressive passengers patronage of rail transportation to and from Port Harcourt in Rivers State to Aba, Abia State in recent time.
Abdullahi made the assertion in a chat with The Tide at the railway terminal in Port Harcourt, Monday.
According to him, the increased patronage had necessitated the management to increase its coaches from the initial three to five, pointing out that they will add more coaches as the patronage improved.
He noted that the impressive turnout was as a result of people realising the importance of rail transport, pointing out that with the consciousness, people board the train in Aba, Abia State to trade and work in Port Harcourt, Rivers State and travel back without much stress.
The NRC boss in Port Harcourt also asserted that the increased passenger patronage might not be unconnected with the lingering fuel scarcity that had elicited fare hike by motorists,.
Abdullahi opined that with rail transport man-hour are not wasted as they are time conscious at any of their stopping points, stressing that there are no security challenges or traffic gridlock.
The Tide however gathered that the transport fare from Port Harcourt to Imo River is N100.00 while to Aba is N200.00 only, and it runs three trips each day.
The train leaves Aba terminal at 5.00am   and arrives Port Harcourt at 7.15am, while they used 45 minutes to re-marshal before leaving Port Harcourt at 8am to arrive at Aba 10.15am.
The last trip leaves Aba by 3.00pm and arrives Port Harcourt 5.15pm, remarshals and leaves for Aba finally at 6.00pm each day.
Meanwhile, the Port Harcourt to Kano Express Limited train service operates once a week as it arrived Port Harcourt on Saturdays and deports on Tuesdays at 7.00am.
Collins Barasimeye