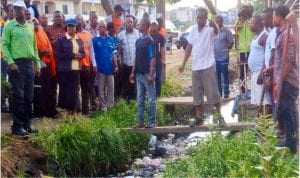 In its efforts to end noise,
air and water pollution, the Lagos State Government established the Lagos State Environmental Protection Agency (LASEPA) in 1989.
The agency's creation was backed with the state's Environmental Pollution Control Law of August 22, 1989.
The law empowers the agency to among others "provide for the control of pollution and protection of the environment from being abused due to poor waste management''.
Part of its mandates is to apply adequate enforcement measures to combat environmental pollution.
"To control street and industrial noise pollution; to issue effluent discharge permits; to control noise pollution and gaseous pollutants from generators in both residential and industrial areas.
"To demand pollution discharge charge from industrial/commercial/servicing companies or firm discharging any form of pollutants into the environment.
"To control the siting of industries in residential/commercial areas of the state''.
Pursuant to the above mandate, LASEPA has continued to strengthen its public sensitisation on the effect of pollution.
The awareness campaign, according to LASEPA, is to educate dealers in various trades that produce noise, discharge effluents and emit gaseous matters into the air about the implications.
It is also to make them aware of noise pollution and the need to avoid public disturbances while carrying out their businesses, especially in Lagos metropolis which has become highly dissonant, no thanks to lack of urban planning and the inefficiency of municipal authorities in enforcing existing regulations and laws.
The influxes of people, who do not have proper values in urbanism, from the rural areas to the cities, worsen this bedlam.
Most city dwellers make life uncomfortable for their neighbours with the noise generated from residences, bus stops, roads, churches, mosques and many others.
The agency says that the noise level is above the normal decibel, provoking people to anger, stress and in some cases, litigation.
To resolve all of these, LASEPA, the environmental regulator established in accordance with the constitution of the Federal Republic of Nigeria is now enforcing the laws against pollution.
It pertinent to note that LASEPA was created to among others protect and improve the environment and safeguard the water, land, wildlife, air and forest.
The agency's General Manager, Mr Adebola Shabi says that awareness on pollution was due to the occurrence in the last two to three years and the discovery of the health implications suffered by thousands of Lagos residents.
Shabi said that the environment was polluted when there were different types and levels of unwanted noise as a result of human activities or natural occurrence.
This, he said, easily damaged psychological health, causing hypertension, hearing loss, sleep imbalance and other health effects.
The general manager explained that noise comes from various sources such as aircraft, loud speakers, religious houses, music vendors and commercial noises which includes clubs, parties, and promotional adverts and among others.
Shabi disclosed that there were various degrees of impact of noise in the environment and such degree can be evaluated based on the degree of disturbance and its effect on the ear drum of individual within such environment.
He said the acceptable limit of nose in a residential area was 55 decibel (db) during the day and 45 dB at night.
"Unfortunately, noise level reaches as high as 90db and beyond in residential quarters. The value is not only unbearable but kills,'' he said.
He gave the permissible noise limit within the mixed dwelling area such as the computer village which should not exceed 65dB during the day.
But this has in recent times been recorded to be as high as 100db and above which is already above the limit for that environment.
Shabi disclosed that in 2015, about 248 religious houses, industries and clubs had been sealed in the state.
He said that before sealing was conducted, abatement notices were served and failure to adhere to the warning led to the sealing of facilities.
According to him, the penalty for churches and mosques and other religious houses ranges from N50,000 to N100,000 to ensure they do not constitute nuisance in their environment.
The buildings or facilities are not re-opened until they have met the required environmental standard set by LASEPA.
He put the number of religious houses that had been shut in the state in the past few years at about 7,000 presently, adding that if not checked, the state would not be able to cope with noise in the next five years.
"We know that the worship places are growing as a result of unemployment; we are going to ensure that we put in place laws that will make setting up of churches or mosques more stringent," Shabi said.
Among the affected business premises are ex-international footballer, Nwankwo Kanu's Hardley Apartment in Victoria Island, for air and noise pollution.
Others include Rain of Power and Miracles Ministry Church Lekki and Mela Rossa Club in Victorial Isaland also.
Also in August 2015, LASEPA took some steps to address the issues of air and water pollution which affects the underground and surface water.
Some pharmaceutical companies were shut down due to the discharge of untreated effluents into the drains.
Such companies were not reopened till they put in place abatement plans to treat their waste water.
Samples of the effluents discharged were taken for analysis to determine the level and presence of chemical substances and metals used during producing their range of products which could be carcinogenic.
"We serve them several abatement notices on the need for Effluent Treatment Plants (ETP) for which they failed to comply,'' the LASEPA boss said.
At the agency's October Environmental Compliance Workshop 2015, the Shabi called on the public not to relent in pollution control.
He observed that 228 industries had so far complied with the pollution control measures of the state.
Shabi disclosed that in the last 15 years the level of compliance was low for reasons of non-availability of compliance tools in waste management pollution abatement, effluent treatment and recycling technology.
"The good news for all industries is that environmental sustainability can be achieve through Environmentally Sound Technology (EST), effective Environmental Management System (EMS) and Good Manufacturing Practice (GMP).
"Since the last environmental Compliance workshop, I have visited 50 industries and observed that the level of compliance has improved.
"I urged other industries to also key into and be compliant.
"Others in the past protected the environment for us and we met it good, it is for us to do the same for our children and the generation after them.
"Should this tripod EST, GMP and EMS be well budgeted for in companies' year plan, then the road to environmental sustainability is nearer than ever," he said.
Some of the business owners whose premises were affected who spoke anonymously confirmed that they were given prior notices of abatement before LASEPA's official visit.
Most of them said they never knew their facility also constituted environmental nuisance due to the complaint made by the neigbours.
"We were given abatement notice but we never actually took it serious till they came visiting and sealing up our facility.
"But we are going to do whatever we are told to do. We were fined N60, 000 for noise from our restaurant and bar.
"We are going to reposition the sound system and ensure we no longer disturb our neighbours.
Offiong writes for the News Agency of Nigeria.
Okuanwan Edith Offiong