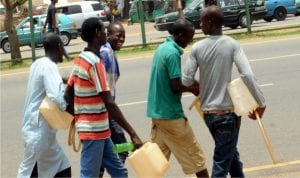 The French oil giant, Total
Exploration and Production Nigeria Limited (TEPNG), is set to boost power supply in the country with its Northern Option Pipeline Project (NOPL) which has capacity to deliver 300 million standard cubic feet, mscf, of gas daily to the domestic market.
At a media tour of the facility located at Owaza, in Abia State, the Managing Director of the firm, Mr Nicolas Terraz, said the project was in fulfillment of the company's domestic gas obligation, as required by the Federal Government under the Gas Master Plan.
Out of the 300 mscf gas, abut 100 mscf will be used to feed the Alaoji Power Plant, which is a 1,131 megawatts capacity plant located near the commercial city of Aba, Abia State, while the remaining 200 mscf/d would be delivered to the Nigerian Liquefied Natural Gas (NLNG) in Bonny to meet the nation's gas flare-out policy.
The project, valued at $900 million, consists of 50km, 24-inch and two above ground installation.
The Total Managing Director who stated that the project would be ready for commissioning in July this year noted that it also demonstrates the company's commitment to and compliance with the Nigerian Content Law, as over 84 per cent of project team are Nigerians.
Terraz further said, in keeping with safety which is a core value of the firm, the project is being completed safely with no major accident or injury, stressing that the project was being designed to protect the environment both in terms of operations and waste disposal.
The gas project is part of the OML 58 upgrade projects in which TEPNG has invested abut $5.7 billion he said, and mentioned Ogbogu Flow Station (OFS), Field Logistics Base (FLB), Obite Treatment Centre (OTC), and Obite Ubeta-Rumuji (OUR) pipelines.
The Deputy Managing Director of Total, Mr Ahmadu-Kida Musa, in his contribution, explained that TEPNG was passionate about helping Nigeria overcome her power challenges as it was also investing in alternative power solutions through its subsidiary company, Sun Power.
He said the solutions were being structured in line with available resources such as solar for the north, hydro for the Middle Belt and gas for the Niger Delta.
Musa noted that if Nigeria is able to harness its gas, solar and hydro potentials, it will be self sufficient in power supply for industrial and domestic needs.
"We are speaking with some state governments on alternative power solutions and we are in the process of finalising agreements with some of them," he said.
Chris Oluoh