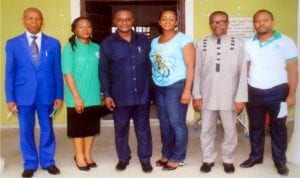 As the Rivers State
government prepares for the conduct of Local Government Election, the Chairman, State Independent Electoral Commission (RSIEC) Justice Chukwunenye Uriri (Rtd.) has warned the staff to strictly adhere to the electoral guidelines or risk jail.
He said this while presenting a paper titled "Electoral offences and penalties" in a three-day in-house Workshop/Training  organised by the commission in Port Harcourt.
According to him, ignorance of the law is not an excuse, stressing that any of the commission's staff found wanting would be severely dealt with in accordance with the law establishing the conduct of Local Government elections.
He warned against cancellation, alteration and mutilation of document, adding that it would not be tolerated by RSIEC.
He commended the staff over their exemplary conduct during the training and charged them to implore all they  had learnt during the election.
Some of the participants, who praised the RSIEC boss and his members, described the training exercise as a noble venture and appealed for more opportunities in order to enlarge their knowledge and understanding of election management.
Papers delivered at the Workshop/Training exercise include "Election Management Body and the challenges of conducting credible Elections" by Hon. Chimaraoko Mgba; "Time Management: A key for Effective Planning and Implementation", by Maria Nwakanma, "completing Electoral Forms correctly at various collation centres/points", by Dr. Kombo Johnson; while Dr. Robinson Olulu talked on "Ad hoc staff recruitment/training and Deployment in the council Elections", among others.