One Million Living With Diabetes In Rivers – Korubo
The Diabetic Associa
tion of Nigeria (DAN), South-South zone, has said that more than one million people are living with diabetes in Rivers State.
The Vice President of the association, who is also a consultant endocrinologist at the University of Teaching Hospital (UPTH), Dr. Ibitrokoemi Korubo, disclosed this to The Tide in an interview in Port Harcourt.
Korubo, who is also a former chairman of Nigeria Medical Association (NMA) in Rivers State, said the number of people living with diabetes in the state is on the increase.
The Vice President called on the people to adhere to medical advice and ensure regular checks of their sugar level.
Also speaking, National Secretary General, Diabetes Association of Nigeria, Comrade Bernard Enyea regretted the low government's interest in addressing the challenges faced by diabetes patients in the state.
Enyea pointed out that the lack of government interest was underscored by the absence of any office or desk officer in the state ministry of health, saying that other killer diseases such as Malaria, HIV/AIDS, among others, already have special offices dedicated to their eradication in the ministry to emphasise government's priority attention to them.
While calling on the government to create an office with competent staff to manage the state's efforts to reducing the impact of diabetes on the state, he charged the government to open diabetes front desks and offices in all primary, secondary and tertiary health facilities to facilitate the fight to halt the rise in the pandemic and eliminate the disease in the state.
The theme for this year's World Health Day, celebrated last Thursday, is: "Halt The Rise: Beat Diabetes."
Susan Serekara-Nwikhana
Immunization: RSG To Sanction Healthcare Providers For Demanding Money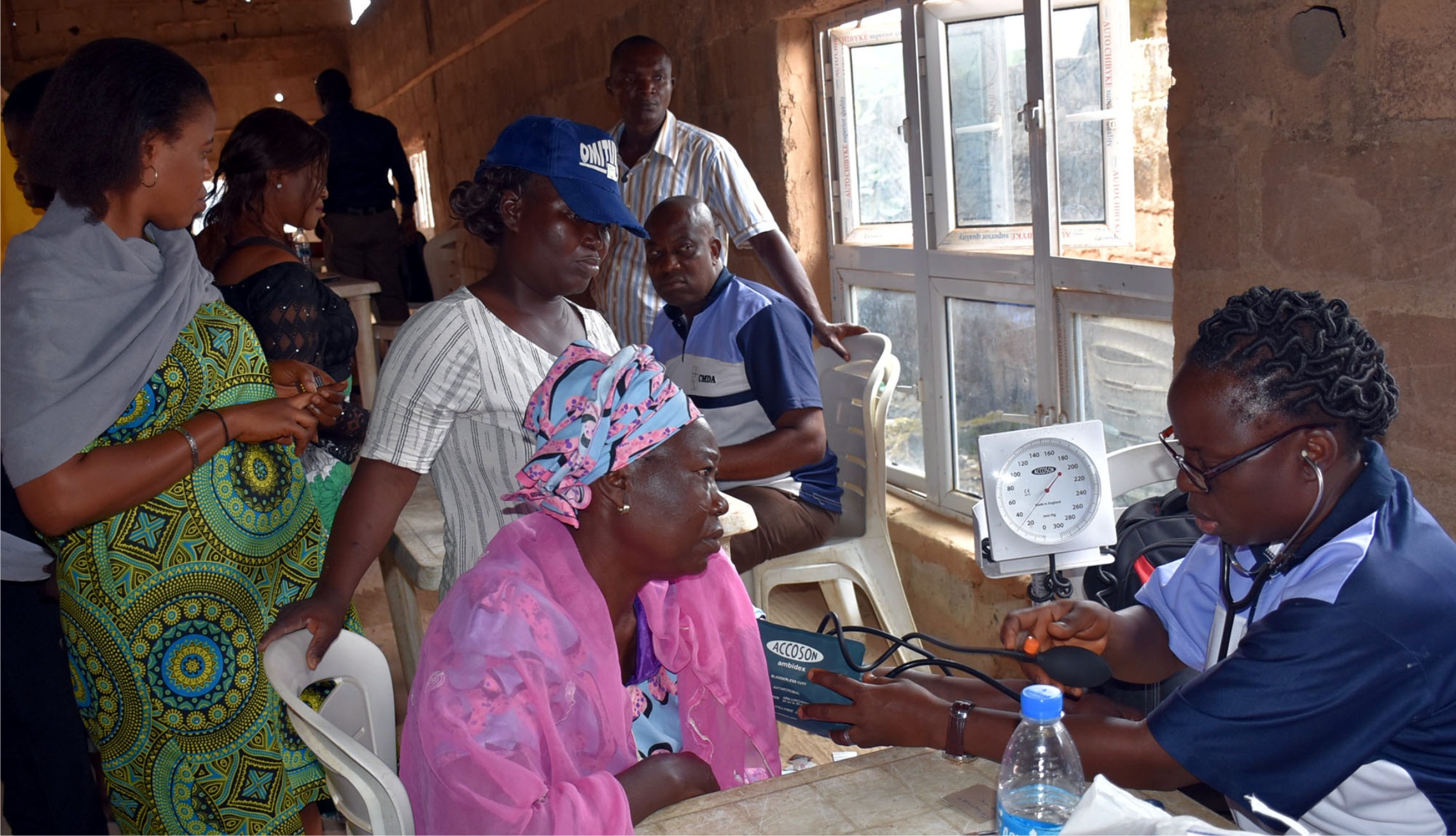 Any Healthcare worker under the employment of the Rivers State Government who demands for money before administering meningitis A Vaccines will be punished.
The Permanent Secretary, Rivers State Primary Healthcare Management Board, Dr Agiriye Monima Harry stated this recently during a media parley on the introduction of Meningitis A Vaccines popularly called "Men A" in Port Harcourt.
Dr Harry, who was represented by the Director, Community Health Services of the Board, Dr Isaac Opurum, stated that this measure is to ensure that Health workers do not exploit parents who bring their children to health facilities to be immunised.
While calling on parents to avail themselves of the opportunity by ensuring that their children within the age of 9 to 15 months are immunised, he emphasized that the immunisation is free and safe.
All they (parents) need to do is to take their children to the nearest government-owned health facility and get their children immunised against Men A.
"Any health worker found to be collecting money before administering Men A will be dealth with seriously", he said.
The on-going Men A immunisation, which started last Monday is a federal government immunization programme which was introduced into the routine immunisation programme in the country.
Speaking in a post-media parley interview, the state immunisation officer, Dr Inwon Joseph Urang stated that meningitis is a disease that affects the covering of the brain and spinal cord, resulting in a inflammation of the covering of the brain and spinal cord.
He stated that in children, meningitis starts like a fever, then the child will develop poor feeding ability and a feeling of sickness.
"Children will be irritable, cry uncontrollably and also develop a bulging forehead which would later develop an opening".
"For adults, they would develop stiffness in the neck.
According to Dr Urang the causes of meningitis include virus, fungi or bacteria, but that Men A is targeted at the bacteria that causes meningitis.
He stated further that meningitis is a respiratory disease and can be easily transmitted through droplets from sneezing, coughing and other forms of droplets, adding that the risk factors meningitis is overcrowding and inhaling of dust containing the droplets, especially during the dry season.
In order to prevent the disease, according to Dr Urang, there is the need to avoid poorly ventilated environments, regular watching of hands and general cleanliness.
Sogbeba Dokubo
FG Approves Lab Evaluation Of HIV With Rapid Test Kits
The Federal Ministry of Health on Monday approved the conduct of laboratory evaluation of insti HIV 1/2, and insti Multiplex Dual HIV 1/2, both HIV test kits, and Syphilis antibody rapid test kits.
The National Coordinator, National AIDS, Sexually Transmitted Infections (STI) and Hepatitis Control Programme (NASCP) Dr Araoye Segilola, said this at the dissemination of the antibody rapid test kits in Abuja.
According to him, the result of the evaluation shows that insti HIV 1/2 has specificity and sensitivity of 99.7 per cent.
Segilola, said that Insti multiplex HIV 1/2 syphilis antibody on its part had sensitivity and specificity of 100 per cent.
He said that the test kit was therefore, recommended as a first line kit in the National HIV testing algorithm.
He said that Nigeria did an evaluation of HIV rapid test kits using the World Health Organisation (WHO) guidelines and got appropriate evaluation of HIV Testing Techniques in Africa, where three phases of evaluation were recommended.
"These phases are: phase, I Laborary based, phase II, Field based and phase III, continuous monitoring of the algorithm performance.
"National HIV testing algorithms were developed from these rounds of evaluation conducted and all the test kits are antibody based kits," he said.
He disclosed that more than 1.9 million Nigerians were infected with HIV with about 1.1 million on Anti-retroviral Therapy (ART).
Medicinal Uses Of Lemon Grass
Lemon grass also known as "cymbopogon citrates" is a local herb commonly grown in many homes and gardens in Nigeria. It has a unique aroma that makes it a detectable to have around the neighbounhood.
It's claimed that lemon grass is a native of India, and other tropical regions in Asia. In parts of India it's used for soups and makes a delicious fasted in meals with its citrus aroma.
Apart from the culinary uses of lemon grass, it has great medicinal virtues. It's used in teas, curries and beverages to revitalize the body.
One quality that imbues lemon grass with healing properties is because it has lots of essential nutrients such as vitamin A, vitamin B, vitamin B2, foliate and vitamin C.
It also has lots of essential minerals including calcium, magnesium, potassium, phospharous, manganese, copper, zinc and iron.
It has been confirmed that lemon grass has therapeutic properties, drinking a cup of lemon grass tea can uplift the spirit and refresh the body. In other words, the herb has anti depression properties.
Not only that, the consumption of lemon grass in moderate will help to promote the body health as it helps to reduce high cholesterol. We know bad cholesterol is harmful and can give the body stress. High cholesterol can lead to heart disease including stroke and heart attack.
That said lemon grass help lower blood pressure. The herb contains potassium, so with regular consumption of a tea or soup made from lemon grass, one may not suffer the fear of high blood pressure.
Lemon grass is good for the digestive system, as it has huge contiseptic properties. These constituents have a role in killing the bad bacteria, parasites and other pathogens in the digestive system.
With a good effect in the digestive system, the herb can help reduce constipation, diarrhea, bloating, indigestion and vomiting.
Lemon grass is one of the healthy herbal plants that has analgesic properties which is valuable to deal with pain, and discomfort.
At this point, lemon grass is responsible for treating headache and migraines.
Also, other benefits of reducing pain are in improving the blood circulations that it help to relieve the muscle cramps, spasms, and back aches.
The grass further helps in building a strong immune system. We all need a strong body to fight diseases, and lemon grass is very effective.
Consequently, lemon grass has nutrients that promote a good immune system, as it promotes the work of digestion, respiration and also the nervous system with a good consumption of lemon grass, the body inhibits the presence of bacteria and viruses.
Finally, the herb has the effect to control fever. The way it cures fever is by inducing sweating when consumed hot. It deals with coughs, cold and flu. The grass is packed with lots of vitamin C, so that it protects the body with strong immune system against infection. Always make lemon grass your regular beverage.