Still On The 'Deadliest State' Toga
When President Muhammadu Buhari de-
clared that Rivers State was the deadli-
est in Nigeria a few weeks ago, the response for and against was huge. Sadly, none of the responses was based on scientific reasoning. It was all emotions and politics and that only served to confuse the issue the more.
Security is at the very heart of governance and the people's social, political and economic wellbeing. Statements on security should never be taken for granted or be confused with political or emotional convenience. In fact, if Nigeria is to grow and become a developed economy, it must first assure the security of the land.
Outrageous as the declaration of Rivers State as the deadliest State in the country may be, the fact must not be lost that it came from the Chief Security Officer of the land. The Commander-in-Chief of the Armed Forces of Nigeria, clearly has a wider picture of the state of affairs in Nigeria today.
On the other hand, if it is true that he was constrained to play politics with such a national duty, the nation should take note and, perhaps draw something beneficial from it. That an issue as heavy as being declared the deadliest state will come and go without any follow-up from any quarters is unsettling.
The Tide is of the view that if the President is convinced of the statement he made, by now something should have happened differently. As it is in the culture of governments, curfew would have been imposed in some places and security chiefs would have been changed with clear mandate for new commanders. Or was it a ruse?
On the other hand, we have not heard from the chiefs and people of Rivers State on the matter. Even as the State Government and its political party objected to the insinuation, the picture would have been clearer if the people have spoken up. This is because what that conclusion can do for the peace, economy and social life of the people is huge.
On the whole, what the international community will be interested in is the authenticity of the claim. In the first place, is there any institutional framework that feels the pulse and threats on the land and did they report any such danger to the President, did they note the causes and possible antidote?
In countries like the United States of America, things like this are not robed in politics. In fact, it is the home office and not the Presidency that issues such reports and also gives security advice. In those places it is well understood when it is said that alert level is either yellow or red. When will Nigeria get there and avoid using security reports to call a State a bad name so as to hang it.
The Tide is however not convinced that the President made that statement with the best intent. This is more so, because the basic indices that reflect the breakdown of law and order are not noticeable. Sometime ago, residents of Port Harcourt moved about with their hands in the air. That, thankfully is history.
Rivers State is the capital of the Petroleum Industry in Nigeria. As home to multi-national firms, one of the ways people notice crisis is when any of the firms declares a force majeure. This is a standard practice of stopping work in a particular place when the safety of lives and materials can no longer be guaranteed. We cannot recall the last time this was done in the State.
It is also a standard knowledge that the economy plunges in the face of insecurity. At least, television footages from Bornu make this very clear. But the Rivers State Governor, Chief Nyesom Ezenwo Wike said in a recent public event that the Internally Generated Revenue (IGR) of the State rose from five to N10 billion. This does not tell of an insecure State.
Indeed, the list of indications of conducive business environemnt is endless. Even International Flights come and go as ever, Federal Ministers and Senators come and go, Business kingpins come and go and members of the mass media report normal events. Our surprise is where the categorization of Rivers State as the deadliest came from.
As the conscience of the people, we are not saying that Rivers State does not have security challenges, but they are blown out of proportion. Like every other State, Rivers has her challenges with armed robbery, youth cultism and politically motivated violence. What is expected of the Federal Government is to use the forces under its command to quell the challenge and not to stigmatise.
We, however, cannot fail to note the effort of the military to mop-up arms in some local government areas before the re-run elections in Rivers State. But we have issues with the mode of operations, its selective application and the collateral damage, even on families of suspects and the innocent.
It is time for Nigeria to have a scientific assessment of security matters. It is time to develop the institutions to do so. It is time to get the best security advice to base the movement, investment and social activities of citizens of the country. No more politics, please.
Whither Nigeria's Democracy?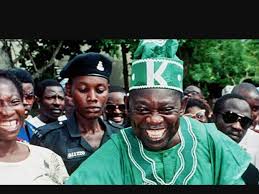 It will be precisely 28 years tomorrow when a historic presidential election was held and its outcome criminally overturned by a savage government. Former Military President Ibrahim Babangida's decision to annul the poll particularly had sinister, dehumanising and macabre political motives. However, the emerging national battle for liberty produced an incredibly defective Constitution, which returned the country to civil rule on May 29, 1999.
What eventually resulted in the recognition of June 12 by the President, Muhammadu Buhari, as the annual Democracy Day was the commitment of Nigerians to the ideals of that day. The day is also to commemorate the 1993 general election when the Nigerian people, across ethnic, religious and demographic fault lines, invested their hopes in freedom in Moshood Abiola, the winner of the poll and the supreme sacrifice he paid in his quest to reclaim his victory. 
But almost three decades after, rather than broad revelries, misery still dissipates throughout the land as Nigerians face the painful reality that the democratic pledge of liberty and the pursuit of prosperity have been soured terribly by visionless leadership, a warped Constitution and a complacent citizenry. Instead of the solemn declaration of democracy, the people paid dearly for the lethal combination that has merely delivered a civil rule with all its attendant declines.
Today, Nigeria is an empirical exhibit of a failed state. Nigerians are now realising the hard way that entrenching democracy goes beyond outward adornment of periodic elections, the presence of legislature and other extremely chaotic symbols of government. Democracy has become a mere covering for a few to seize power and public treasury when the institutions fails to achieve the real democratic goals of personal, political and economic liberty and the pursuit of the greatest good for the greatest number.
More than two decades of the civil rule charade, it is numbingly sad that a majority of Nigerians do not discern their lives to be better. Corruption still defines governance, as well as poverty, inequality, economic loss, inefficiency, public and private sector dysfunction, poor infrastructure, failed economic and political systems, impunity, injustice, organised crime, terrorism and diminished state capacity. 
Corruption has become the new normal as public frustration and cynicism pervade the land. The fundamental elements of democracy — rule of law, social justice, citizens' participation, responsible political parties, active free press, independent parliament and judiciary, in nominal existence, are similarly under the onslaught. Secessionist agitations are getting robust. If democracy truly thrives in the country, why do we have all these crises? 
Our progress can only be measured by how far the country has gone in attaining these key elements of democracy. Sadly, for the past 28 years, it has been difficult to deepen these basic values because the executive arm is incompetent, the legislature pathetically weak and the judiciary dangerously yielded. The three, of course, share a common DNA — corruption. Despots have been parading themselves as democrats and their common enemy is free speech.
The visionless Buhari regime is also trying to intimidate the media into docility. The regime is planning to criminalise "hate speech," under a law that may require mass surveillance and close monitoring of social media. Yet, it is acknowledged in free societies that what counts as offensive is subjective, so "hate speech" laws can be elastic tools for criminalising dissent.
One of the good things about the commemoration of Democracy Day in the country is that it should ideally cause a deep, national reflection on where we are coming from, the journey so far, and a re-energised commitment to stay the course. 
Democracy Day is not just another public holiday or an opportunity for ceremonies with vacuous speeches. It is a serious business. It is the best test we can give ourselves to determine how deeply rooted we are or how far we have strayed from upholding the fundamental doctrines of respect for the rule of law, free press, and respect for human rights.
The day should also be a gauge to measure the level of maturity of our political process in the conduct of free, fair and credible elections, and the quality of our civic engagements. How do we know if we have made progress? By asking questions. And if by doing so, it is clear that we have not, the question, then is: what are we celebrating?
This year's Democracy Day is another opportunity to reaffirm an unbending commitment to governance that holds the rule of law in the highest esteem and prioritises the right of every citizen. It must also be a time to hold conversations on the kind of leadership that can unite the diverse peoples of Nigeria in the days ahead. 
We cannot over-emphasise the power of visionary leadership in fostering strong democratic doctrines in Nigeria. That is the only way progress can be made on our democratic journey and we can once again be a shining example to the rest of the world. If that is not the purpose of the day, then what exactly are we celebrating?
Governance And Peer Review Mechanism
The Nigerian governance structure is predicated on the principle of federalism. The implication is that there are other levels of governance in Nigeria that make up the federation. Government at the Centre exercises exclusive list in certain areas of governance and enjoys concurrency with state Government in others. In principle there should be a residual list of governance items, but this does not exist in actual practice as the local government administration is yet to enjoy full autonomy.
The various state Governments exercise concurrent list of governance items with the federal government in such areas as Education, Road infrastructure, Health, Environment and others.In the area of security, the constitutional provision which states that the business of Government is the protection of lives and propertyof citizens applies to all the levels of Government.However, the convoluted nature of governance structure where the federal government is in control of too many governance items has made the management of security architecture by the states very difficult, but not impossible. Governors who are described as the chief security officers of their states, cannot not have full control of the Armed forces and police. For example the commissioners of police take instructions from the Centre, precisely from the Inspector General of Police.
The states and local Government areas are the closest government to the people. This gives the states gargantuan responsibilities and challenges. The states owe their citizens more responsibilities than the federal Government but have limited resources and powers to accomplish them despite their potentials in natural resources and revenue generation. Unfortunately, the states are held down by the absence of Fiscal Federalism in the Nigerian Federation.
These challenges and more have affected and afflicted development in the states in the areas of infrastructural development, poverty alleviation, environmental control, security and human capital development.Some commentators are of the opinion that the impoverishment of the states by the federal government is partly responsible for the spread of insecurity, growing agitations and secessionists tendencies in Nigeria.
Peer Review Mechanism can be a major tool which the states can use to alleviate their burden. It is in consonance with the local aphorism that problems shared are problems solved. Peer review mechanism can be referred to as self-assessment for good governance by peers in similar enterprise.
For example, peer review mechanism is an instrument of Governance among African States tagged the African Peer Review Mechanism (APRM) .It is a mutually agreed instrument which member states of African union acceded to as a"self-monitoring mechanism". This self-assessment is to encourage conformity with regards to political, economic and corporate governance values among member states. It is important to observe that the African union Agenda 2063 and sustainable Development Goals 2030 have been monitored and evaluated by AU members through Peer Review Mechanism instruments.
Simply put peer review is the evaluation of values by one or more people with similar competencies. Governors of states who are saddled with governance challenges can go into self-assessment of their governance capacity by looking at what other governors have done in their states, evaluate and copy for the development of their own states.It could also be a source of motivation for good governance.
Peer Review Mechanism is not a copy and paste mechanism, it should be a positive way of avoiding the pitfalls of a particular governance style while evaluating and copying what is good.Peer Review Mechanism as an instrument of governance in Nigeria has very fertile pedestal. Different regions in Nigeria have platforms where their Governors gather to foster social, political and economic integration. These groupings are envisioned to rub minds on development issues in their various states. In the south-south there is the BRACED.There are others including the South East Governors forum, South West Governors forum and the various Governors fora of political parties as well as the southern Governors forum recently convoked.Governors in these groupings can pick up models of development from their colleagues after thorough evolution of such projects on how they can impact meaningfully and add values to their constituents. For example, the south East Governors can copy models of development from Ebonyi State where the Governor has defined Governance through infrastructural development and little bits of what other Governors are doing.
Governor NyesonWike stands tall in the south-south. There are so much the Governors of south-south and indeed Nigerian Governors can learn, from him, especially his prowess in prudent management of Resources, Revenue Generation and infrastructural development, particularly in the area of Road infrastructure, tertiary education and Health. The sign posts in these areas of development are models that can be copied by sister states.
Also, Lagos state as the center of excellence and industrial development has a lot of exemplary blue prints and projects execution that other states in the west and even the country at large can copy. It only requires a proper study and evaluation.So many states in Nigeria picked the traffic control model of Lagos state in their LASMA scheme. This is a good example of peer review in the right direction. Recently the Nigerian Guild of Editors went to kano for their Bienal convention and one of the highlights of their trip was the inspection of projects embarked upon by the kano state Government in the last six years.
What stood out in all the projects executed by Governor Ganduje is the security infrastructure. The entire state capital is covered with CCTV Cameras that monitor every movement in and around the metropolis. This model in security architecture can be copied by the states in the North especially in the North East to stem the tide of insurgency and banditry in the region. This is what Peer Review Mechanism entails.
Let the Governors exchange ideas and rub minds to move their state forward in the realm of development.
Education: Dangers Of Early Start
There are worries these days about the way parents are sending their kids to school earlier than it was many years ago; for example, a situation where children of six and nine months are sent to creche and day care centres all in the name of starting them early.
Although some parents whose schedules are tight say they have no choice than to do so since getting a house help or nanny has a lot of implications for the child and the family. But aside that, some people feel that the benefit of sending their children to school so early will help them secure job early. And the issue of starting life early. 
So many years ago, children of school age were not allowed to start school until their hands could cross from one part of their ear to another. That was the yardstick used to ascertain whether one could start school or not.
It is important that our wards acquire education early but their lives should not be put to danger because we want them to finish school early. The truth is that parents are pushing their children into school these days as if there is competition among families and friends. This is not healthy enough for our young ones.
I don't understand why a child of 12 years should be in Senior Secondary Two (SS2). It means that the child will be a graduate at age 13 or 14 in SS3.  This should be discouraged by government and private school operators.  
Which university will admit a student of 14 or 15 years when universities insist that they must be 16-years old before being admitted? I've seen a child who performed well both in SSCE and UTME but was denied admission by one of our universities because he was below 16 years.
That is a welcome development. Maturity is one of the factors in the teaching and learning process. We should not send our children to school earlier than it should be. No matter how intelligent a child is, he should not be allowed to jump any class. School managers should resist parents who may want their children to jump from one class to another.
Even if a child scores Excellent in all subjects in a particular class, that child should be allowed to touch all the classes, complete primary 6 of lower basic. That will make a significant impact on that child. Years back, many of us started secondary school at the age of 12 and 13 and never lost anything, as we finished at 17, 18 and 19 before seeking admission into the university.
Back in secondary school, some students were already 20 years and never bothered being in the same class with younger persons. There are children who are exceptionally good but that does not mean a child should be sent to school prematurely. That child may suffer inferiority complex in the midst of seniors. 
Children should be allowed to move with their peers. This will give them a sense of belonging among peers. When a child begins to nurse the problem of inferiority complex, he will certainly experience withdrawal syndrome. Peer group pressure becomes a problem on the child.
Those are some of the challenges resulting from keeping younger persons among the older ones. We are not in danger so we should not put our children into such uncomfortable scenario. Nowadays, children are getting into school at tender age as parents dictate. There are things children are supposed to learn as kids at a particular level and when they jump such level and get to a point where parents want them to be, one day, those children will definitely feel it and the significance of the level will manifest.
Children should be allowed to enjoy whatever thing they are meant to enjoy at every level. No level of a child's development should be ignored. Every stage of development is important, no matter how intelligent that child may be. Stakeholders know why every curriculum is prepared in a way to suit every child. So, parents should allow children to enjoy every stage in their lives.
A teacher once told me that children below 10 years who find themselves in secondary school do not concentrate in class.  They find it difficult to concentrate, no matter what the teacher does.
Parents deny their kids parental care.  Sometimes in schools, parents abandon their wards at the mercy of minders after school hours, up to 6:00pm.  Whereas they should have gone home earlier to prepare for the next day. Even at home, they are left in the hands of house helps and nannies while parents are busy looking for money. Children are denied parental care and are not getting full maturity because of these factors.
Another reason for this rush by parents is pride. A parent may be boasting that his child is either in ABC school and representing the whole world while another person's child is at home or one "inferior" school.
Children who are pushed into school prematurely do not sustain it most times. Students of 15 and 16 years old going into university can suffer depression according to research. Researches have also shown that they (younger ones) risk the problem of mental health more than their older classmates.
In the case of creche and day care centres, the idea is not really to acquire education; yet, parents decide to keep their babies so that they can go about their daily businesses. It is true they need money to cater for their households.
Teaching and learning process begins with the parents. No matter how tight our schedules may be, we must take care of our kids. Parents must devote time to nurture and teach their children many things that they cannot be done in classroom. We should not rush them through life all in a bid to acquire education early.
It is worrisome that parents rush their children to school while they cannot speak and understand their languages and dialects. One of the guidelines in the National Policy in Education is that children should be taught in their mother tongue at home while they learn foreign language in school.
The Policy also stipulates that every child at the basic level should be taught the language of the place of residence. I'm not sure school managers are obeying this instruction and parents do not do a follow-up.
Parents rush their children to school while they do not understand their environment, culture and tradition of theirs and others. Although few schools devote little time to mark cultural day for the kids. It is good that people start school early and graduate at 20, 21 and maybe get a job at 23 and 24 as some employers will indicate.
There was a period when students secured admission between the ages of 22 and 23 years as a result of either delay in obtaining credits in their choice of disciplines and high scores in UTME.  They still graduate at 27 and 28 before proceeding for national youth service.
By: Eunice Choko-Kayode