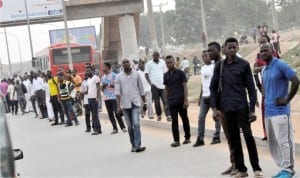 All Directors and
Engineers of the Rivers State Ministry of Works have been charged to monitor contractors handling government road projects in the state in order to ensure quality job delivery.
Special Adviser to the Governor on Special Duties, Cyril Dum-Witee dropped the charged during his maiden meeting with Heads of Department and other officers of the ministry on Monday.
Dum-Witee, who was recently appointed to head the ministry by the Governor, Chief Nyesom Wike, following the suspension of the Works Commissioner, Mr Kelvin Wachukwu, said the directive became necessary in order to ensure that projects embarked upon by the state government were not compromised by the contractors.
He said they are expected to strictly monitor the road projects for standard and effectiveness of the jobs for the people of Rivers State, as to be in line with the present administration's New Rivers Vision.
According to him, it is a new dawn for the people of Rivers State and further enjoined them to live up to expectation, stressing that they should all be at project sites to properly supervise all government projects to ensure quality in standard for durability and in the interest of the people of Rivers State.
Collins Barasimeye