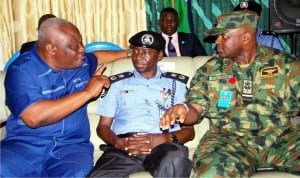 State Broadcast By His Excellency, Nyesom Ezenwo Wike, Con, On The Re-run National And State Assemblies' Re-run Elections
My dear people
of Rivers State, as we all know, the court-ordered National and State Assemblies' re-run elections will take place on Saturday, March 19, 2016 to fill the State's 3 Senatorial seats, 12 out of the 13 House of Representatives seats and 22 out of the 32 State House of Assembly seats.
The re-run elections are pivotal to us as a State and as a people. As you cast your votes, you will be making fundamental decisions and choices on who gets elected to stand for our rights and promote our collective interest in the National Assembly.
You will also be electing worthy representatives to the State House of Assembly to join me to deliver our developmental agenda and help chart the future of our State through effective legislation and oversight.
Now that the Independent National Electoral Commission (INEC) is set to conduct the court-ordered National and State Assemblies' re-run elections in Rivers State, it is incumbent that we take full advantage of the opportunity to, once gain, exercise our democratic rights to vote for the candidates of our choice.
It is important to reiterate that the will of the people freely expressed through the ballot is the root of the democratic process and Rivers State cannot be an exception.  Thankfully, I have received concrete assurances from the INEC that the re-run elections in the State shall be free, fair and credible. I believe that we can all trust on INEC to live up to this solemn promise.
However, let me warn that political party leaders and candidates must come to terms with the fact that elections are not and must not be turned into a do or die affair, just as no political ambition warrants any person, no mater his position, to threaten the peace of the State by inciting and making unguarded statements in their desperation to win the re-run elections for their parties and candidates.
As the Chief Security Officer of the State and Chairman of the State's Security Council, I assure every one of us of our security and safety before, during and after the re-run elections. The Nigerian Police and other security agencies have put adequate measures to keep the peace and ensure an orderly conduct of the re-run elections throughout the State.
I have also received assurances from the armed forces that they will not deviate from their constitutional role of safeguarding law and order before, during and after the re-run elections and I am satisfied with this assurance and believe that it would not be broken.
However, in line with the ongoing security operations to rid the state of cult-induced violence and criminality, I have requested the armed forces to increase security surveillance around some identified flashpoints of cultism and banditry in Abua/Odual, Andoni, Akuku Toru, Ahoada-East, Ahoada-West, Emohua, Ikwerre, Opobo/Nkoro, and Ogba/Egbema/Ndoni Local Government Areas of the State.
There is really nothing to fear for every law-abiding citizen of the State while exercising our right to vote. On the Election Day, simply take your Permanent Voters Cards (PVC), walk to your polling units to be accredited, peacefully cast your vote and, wait at a reasonable distance as allowed by law until the results are counted,announced and documented.
Do not submit to any intimidation by those who seek to scare you away from voting with the military. Take note that no person is allowed to go to the voting areas with uniform security personnel or thugs.
The security agencies have definite instructions to strictly enforce the restrictions on human and vehicular movement on Election Day and consequently, arrest any person or group of persons, including government vehicles, that violate this order and or attempt to act in any way to undermine the peaceful conduct of the re-run elections in the State.
Finally, I hereby declare Thursday March 17th and Friday March 18th 2016 as work free days in Rivers State to enable workers from the public and private sectors fully participate in the re-run elections and exercise their franchise.
Consequently, all public and private offices, including banks must remain closed for the duration of the holidays.
Thank you and God bless Rivers State.