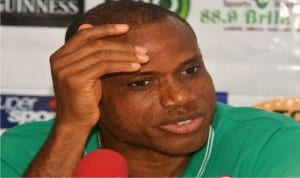 Reactions have started to
trail the statement made by the President of Nigeria Football Federation (NFF), Amaju Pinnick, which says enough is enough for Nigerian coaches in the Super Eagles.
Last week, Super Eagles head coach Sunday Oliseh voluntarily resigned his appointment as the Coach of the Nigeria Senior national team.
Oliseh said he resigned because NFF failed to cooperate with him and also breached their contract terms.
In his reaction, a grassroots football coach, Sunday Amadi said Pinnick statement is an indication that the country does not have competent home based coaches.
According to him, Nigeria has more than enough good coaches, but NFF has refused to exploit their talents.
"Honestly, I am not happy with that statement made by Pinnick, because it is an insult to all the coaches in Nigeria. NFF just want to bring low grade foreign coach that may not be better than any Nigerian Coach" Amadi said.
Simeon Akpan, a sports analyst said the leadership of NFF is not sensitive to the present reality of the country's economic situation, adding that the present administration is struggling to conserve monies to boast the economy, but NFF is looking for away to waste it, by bringing foreign coaches.
Akpan explained that there is no need to hire a foreign technical adviser because the country has good coaches.
"This country does not need a foreign coach, after all Stephen Keshi has achieved all that foreign coaches had achieved in Nigeria.
What I want NFF to do is to keep to contract agreement with indigenous coaches" Akpan said.
In his opinion, grassroots football player, Dokubo Ngeribo, said the statement of Amaju Pinnick the NFF President is to domoralise indigenous coaches, saying that Samson Siasia, Emanuel Amuneke and Stephen Keshi have achieved so much for the country, but they NFF do not want to appreciate them.
According to him, it will be difficult for any foreign coach to surpass what they have achieved in terms of laurels.
"We should learn how appreciate our home based coaches so that they can give us the best. It is only when we value and believe in them we can begin to get positive results" Ngeribo said.
Tonye Orabere