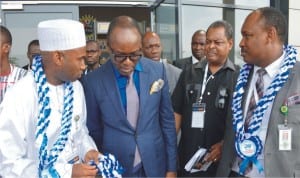 The Federal Govern
ment has declared that it would henceforth hold oil firms accountable for pollution in any community in the Niger Delta.
The Minister of Environment, Amina Mohammed, made the declaration in Yenegoa, the Bayelsa State Capital.
Explaining that her visit to Bayelsa was in fulfillment of the campaign promise made by President Mohammadu Buhari on the cleanup of Ogoniland.
The Minister stated that her ministry would soon commence the clean-up of Ogoni and the rest of the Niger Delta.
According to her, the ministry was working to make oil companies accountable for pollution in their areas of operation, and promised that measures  would be put in place to ensure that the enivonrment remained clean.
Mohammed said, part of her ministry's mandate involved seeking alternative livelihoods for the youths in the Niger Delta, through the diversification policy of the Federal Government .
She said her ministry would also devise ways of ending gas flaring by channelling flared gas into economic use to guarantee sustainable development.
"The clean-up also has to bring dividends to the people, so we hope that, whatever work that comes out of it in terms of the cleanup, we hope that it is one that will benefit first the people of the Niger Delta.
"And, then we are very keen on the concerns that we have over the issues that have caused pollution in the past that we do hold the oil companies to account and that the polluter pays policy is firmly entrenched, so that there are resources for this to happen", she said.
In his remarks, Gov Seriake Dickson of Bayelsa State urged the Federal Minstry of Enrionment to convene a stakeholders meeting involving the government, the youths, community leaders, security agencies and oil companies to address the lapses in the operations of multinational oil companies in the Niger Delta region.
"It is a huge problem, but these issues for those of us who are living with them daily; these issues go beyond promises, conferences, talkshops and beautiful press statements", Dickson said, and commended the ministry for showing such a huge interest in the issue.