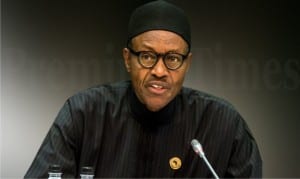 Recently, a Port Harcourt-
based lawyer, J.P. Ebenezer urged the Federal Government to maintain respect for the rule of law. He flayed the reaction of President Muhammadu Buhari  over obedience to court orders, saying that respect for the rule of law was sacrosanct and a basic ingredient of democracy. The lawyer condemned the re-arrest of the Director of Radio Biafra, Nnamdi Kanu and the former National Security Adviser to former President Goodluck Jonathan, Sambo Dasuki in spite of their subsisting bail by a competent court of law.
A legal luminary and Senior Advocate of Nigeria (SAN), Femi Falana, had earlier expressed similar feeling by calling on President Buhari to obey the rule of law and respect the bail order by a competent court of law. Buhari had vowed not to release the duo and rather clamped more charges on them. Barrister Ebenezer observed that Buhari is not ready to obey the law, saying "the rule should not only be obeyed when it favours us but when our very interest is not at stake, yet we allow it to have its way. The absence of the rule of law will invariably lead to anarchy and breed indiscipline."
Law is a body of rules in any society at any given time, considered binding and which a breach is met by a sanction. Law refers to a set of formalised or codified rules stipulating the rights and duties of individuals, powers and obligations of authorities, with their limitations and remedies as well as the manner of redress in any case of breach. When rules involve the idea of obligation they become law, but when  they merely represent the notions of good and bad behaviour, they are mere rules of morality. Mere coincidence of patterns of behaviour does not indicate the existence of law, habits must thus be distinguished from obligatory rules.
A man's philosophy forms part of his character, outlook and relationship with fellow man and his society, and it undeniably dictates the line of his action or conducts, whether good or bad. In some sense, this bad conduct of man, taking various criminal or tortuous forms if done while in the position of public authority, may be termed "misconduct," gross or grave enough to ground his impeachment and removal from office.
In another sense, if the conduct of man's affairs deviates from the accepted legal standards, it may appropriately be pronounced wrong, illegal and unconstitutional within the disregarded legal principles. The political arrangement in any society the world over is principally to ensure its ultimate cohesion, continuous existence and smooth administration.
The power of the state or country is reservedly vested in the government with its organs arranged in such pattern that one organ checks the other to avoid or prevent the consequence of ugly behaviour of a man vested with such power.
All these arrangements are necessarily codified in a body called law to avoid doubts, uncertainties and obligatory manipulation, whether in exercising the power so vested without abuse or in impeaching anyone found to have abused such vested power. For a man entrusted with the leadership of Nigeria such as President Muhammadu Buhari to be seen as flouting the law is not in the good interest of the country and the people he is ruling. When the leader fails to obey the law, what does the followers do? The leader must lead by example.
Justice is not a one-way traffic but a three-way thing- to the accused, the society and victim. Where the rule of law exists, the rule of self-help is abandoned. One major problem facing the country is that the political class is intolerant and practically immature and this has been one of the causes of military interventions or anarchy in Nigerian politics. Most Nigerian politicians see themselves as divided Nigerian citizens based on their political party affiliations, and perhaps ethnicity or religion.
These do not help matters but make government policy-making become excruciatingly difficult and the working relationship between the Executive, Legislature and Judiciary becomes sour. We must begin to appreciate that it is not in the interest of the nation for the three arms of government to always be at loggerheads on enforcement of and obedience to the law.
Practically, obedience to the law is secured by sanction and sanction serves the purpose of protecting the general community against persons of deviant behaviour. Without sanction, the continued existence of the society would be in danger and society would ultimately disintegrate. Some people consider law as a command and some rules of law are couched in terms of command given by an authority and directed to an individual. Most laws or legal rules are not in that form. Law is seen by some as normative in character as it prescribes the norms of conduct-what people ought to do. It is imperative in character, that is, law states what people must do and what they must not do.
Although there is no universally accepted definition of law, but it consists basically of a body of rules of human conduct which are binding on all, including the president in spite of the immunity he enjoys when in position. There is a limit to which a country's leader exercises  his power and not to always interfere in court processes and influence the decision or judgment of a competent court in a matter. Every society, primitive or civilized, developed or developing, capitalist or socialist, is governed by a body of rules, which the members of the society regard as the standard of behaviour.
Law is a complex phenomenon and any good definition of it must be complex and thus aptness must not necessarily be the important criterion. Any form of intolerance of court judgement would not be in the best interest of anybody and Nigeria in general. What is more important is the welfare of the people of Nigeria, which must override the personal feelings of Nigerian leaders and politicians.
Several years of military reign in Nigeria has affected the psyche of most politicians who are by-products of military training, thus making their actions, dispositions and utterances in the governance of the country fall short of the attributes of democrats.
A Nigerian leader was sometime quoted to have said "I do not need anyone to rule, I can rule alone." If such statement was truly made, then it portrayed the undemocratic mentality of some of our democratic leaders. Buhari was also quoted as saying that he will never allow Nnamdi Kanu and Sambo Daduki to be released and vowed to deal with them. Such comments are only fashionable during military reigns and cannot serve any good purpose in a constitutional democracy.
The ordinary citizen may think of law simply as a body of rules which must be obeyed because he sees it from an external point of view and the judge may consider law simply as a guide towards conduct because he sees it from an internal point of view. This confirms why law is indeed a complex phenomenon. Our national peculiarity must be borne in mind when enforcing our laws. This is because we have witnessed and still witnessing in this country where the political party in power has mustered all the state power to harass and intimidate the opposition members by orchestrating several unlawful arrests on any flimsiest allegation trumped up to keep opposition out of their way.
The judiciary in any sovereign territory is an organ which is saddled with the primary tasks of interpreting the law and apportioning blame among warring parties who have submitted their cause to its adjudicatory jurisdiction. This task is carried out by the courts and their officers in any legal system. They are seen as the defenders of the rights of the people and the protectors of the down-trodden. The court is the last institution trusted with the power to keep all persons and authorities within the bounds and limits of the law.
It is the duty of the court to declare unconstitutional any infraction of the law and to right the wrong occasioned by the excess of power play in appropriate cases. Unlike their executive and legislative counterparts who are elected into office for a fixed period, judiciary officers assume their offices by virtue of appointment by the Executive head of either the federation or a state as the case may be. This does not mean that the judiciary officers must work under the influence of the Executive who does not know about the rule of law and its proceedings.
To disobey the rules of law or court orders is to deny the judges and Justices their legitimate assignment and to provide further leverage for politicians and the public to commit atrocities while in office, and assuring them of security of office against any judiciary checks and balances under the Nigerian constitutional democracy. A president or governor or any of their deputies should be made to face impeachment for inefficient performance in office because a poor or bad leader is a burden to the society he leads, just as the society is equally a burden on him.
A poor leader does not add to the development but his lack of contribution can bring retrogression to the lots of his people. The society is better off having such a leader removed from office as the last resort to save the country or state and its people from the oppression of retardation by an unproductive leadership. An immoral  leader, an abysmal dictator who has lost the favour of the people must be removed from office through impeachment. That a president is covered by immunity should not be misconstrued as a leverage to disobey the rule of law.
In so far as we expect our executive leaders to demonstrate responsibility and eschew mischievous tactics in order to shy away from their duty to be accountable to the people, it is, however, not unjustifiable to recognise some exceptional "smart" ones who may want to catch in on the lacuna in the  nation's constitution to assert their shameless, criminal boldness and still secure their office by a simple act of mischief.
Shedie Okpara