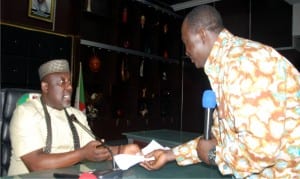 The apex umbrella or
ganizations, Ohanaeze Ndigbo and Arewa Consultative Forum (ACF),yesterday threw their weights behind the federal government's ongoing war against Corruption in Nigeria.
They said: "We support the federal government's war on corruption", calling on President Muhammad Buhari to sustain the effort.
The two ethnic organizations equally called on all Nigerians to cooperate with the federal government in its efforts towards "reducing the tide of corruption in the country", adding that the war is already bearing fruits.
Rising from a one day meeting in Enugu, the two groups said they had formed an alliance that would see  both organizations working together for promotion of the welfare of their people.
The alliance they said, would also help them discuss national issues affecting their people as well as advise government on issues that could engender development in the country.
They also commended President Muhammadu Buhari on the fight against insurgency in the North East.
National Publicity Secretary of the ACF, Muhammadu Ibrahim, who read  communique of the meeting signed by the two groups, stated that the cooperation would further be extended to other areas of interest for the two bodies.
It read in parts: "We have resolved to work together for the good of the country and welfare of the people of the two organizations.
"We extend our condolences to the federal government and families of the bereaved and equally sympathize with families of those who lost their lives in the various IDP camps.
The communique continued: "We support the federal government's war on corruption and call on the federal government to sustain this effort, and for all Nigerians also to cooperate with the federal government to reduce The Tide of corruption in the country".
It also hinted that the two groups had agreed to meet regularly for purposes of discussing issues affecting their wellbeing, stressing that decisions reached at such meetings would be transmitted to the federal government to aid good governance in the country.
"We will also continue to meet with our other brothers, such as the Afenifere, the South-South Peoples Assembly amongst other groups.